It's that time of year again, and we're here to rate our top porn movies for Valentine's… after a long dark, austere winter, spring is finally just around the corner, and life is beginning to emerge, a bit bleary-eyed, we'll admit, but that sap will be rising in no time and a day dedicated to love is surely in order.
Yes, it's Valentine's Day!
Lust is most definitely in the air, and what better way to make sure your 14th of Feb is your hottest yet than to watch some delicious romantic porn with your Valentine?
Romantic porn? Yes, sex and sharing desire and pleasure can be a deeply romantic thing, and it's something we celebrate a lot here at Frolicme.
Don't believe us? Here's six of our sexiest porn movies for Valentine's day to get you worked up in the most wicked way…
We're arming Cupid with some fiery film arrows just for you!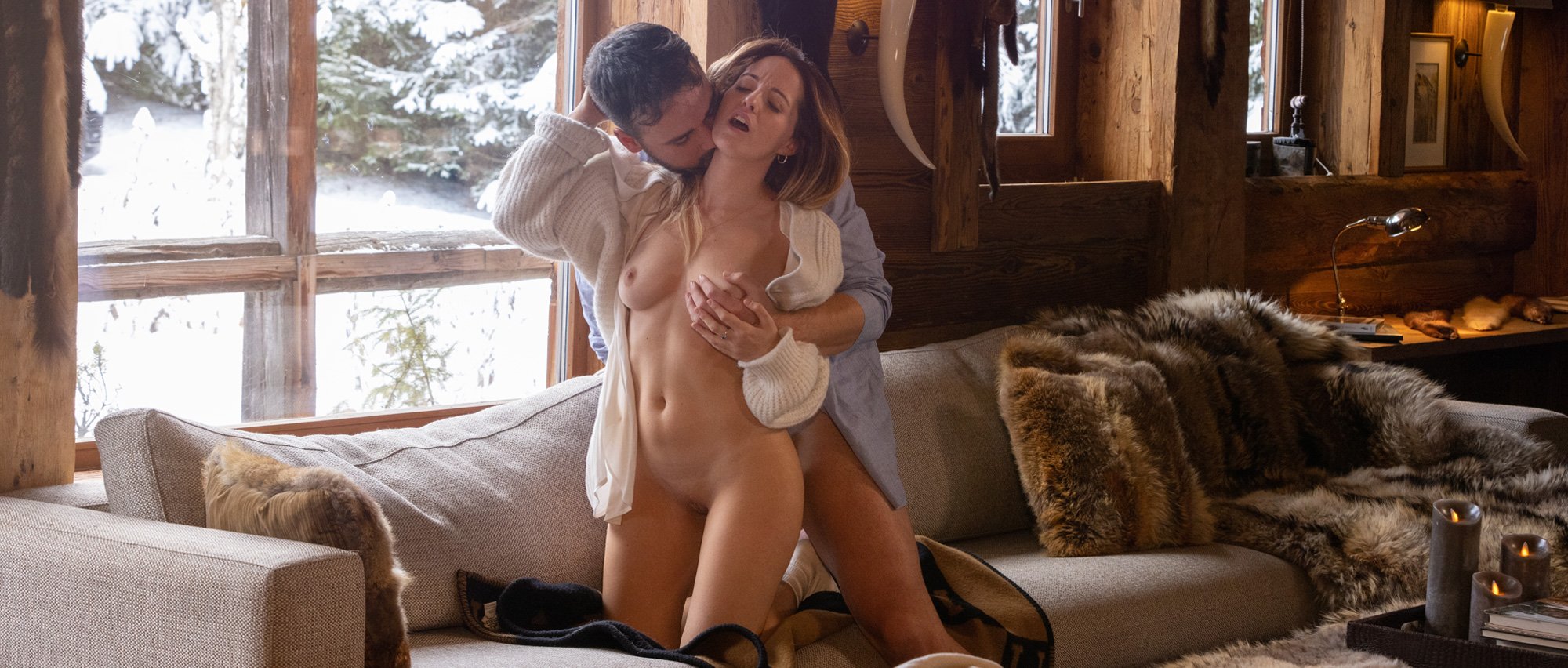 To give a nod to winter retreating, we take a final look at this couple's sexy secluded retreat. All fresh and rosy from their morning ski, Natty and Sylvan spend the afternoon holed up in their Alpine cabin, feasting and devouring each other in the sweetest way. The ultimate gift to your lover, whisking them away to a place where they are the sole focus of your every attention. All soft and cosy, wrapped up in cashmere and furs, these two indulge in the simple decadence of sweet love down by the fire.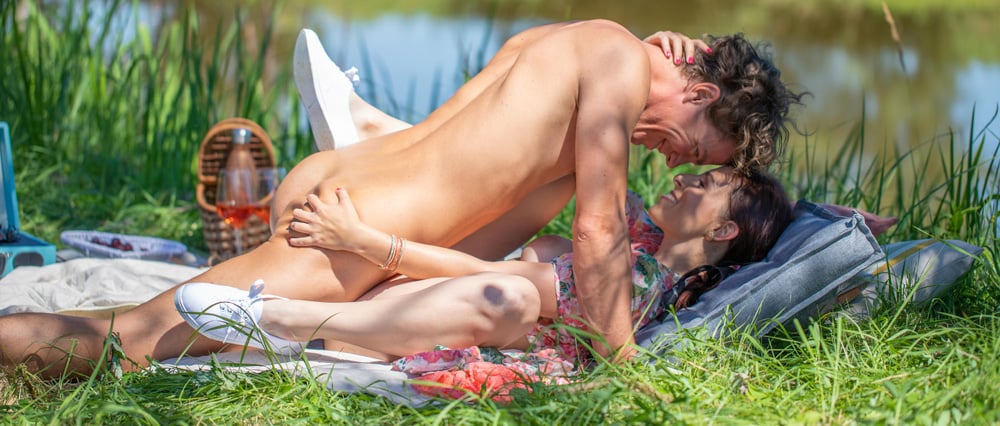 And to counter our winter retreat and look forward to dreamy days in the sun, we go outdoors with Ricky and Antonia as they share a very sexy picnic in the countryside. Hidden in a meadow, the drinks are poured, picnic blankets laid out, and Antonia rides her bicycle to the clearing her lover has prepared. Dappled light peppers our lovers as they fuck and frolic in their secluded spot. A gorgeous afternoon spent together featuring some alfresco debauchery. If it's still too cold where you are to venture outside, why not recreate the scene and have an indoor picnic complete with a blanket and basket full of delicious treats? It soon won't be the only thing laid out and spread on the floor… 😉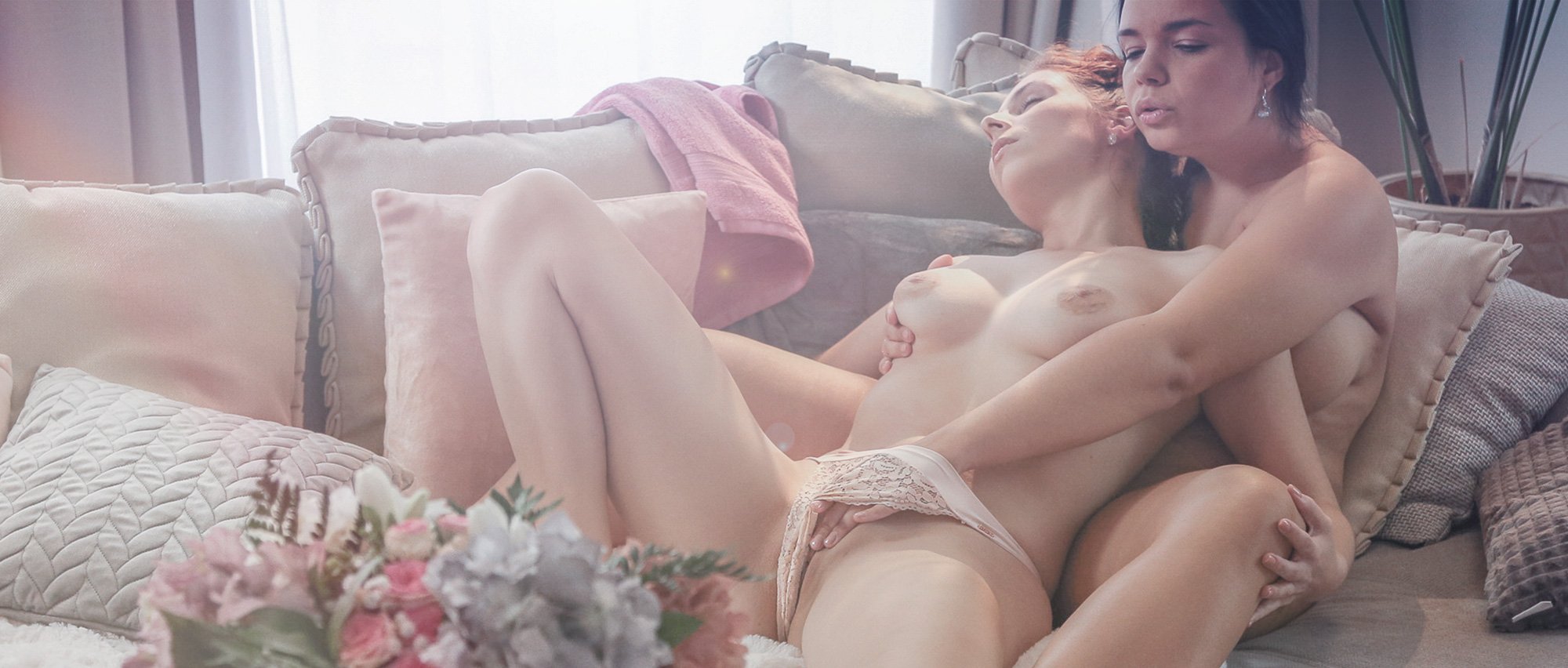 And what about the perfect gift? You know your lover enjoys to experiment and this film will surely get you both excited to try out new things. A sex toy is the gift that really does keep on giving time and time again, as we see in this beautiful film of lesbian loving. Sophia and Antonia get down to some thrilling sofa sex, adoring and pleasuring each other's bodies, knowing exactly how to please and tease one another. Later, when Antonia brings her vibrator in to play, we know we are all in for a visual treat. Anal sex with your partner can be something so very special and intimate, and this film shows just that as these lovers cavort and explore until they are both dripping with satisfaction.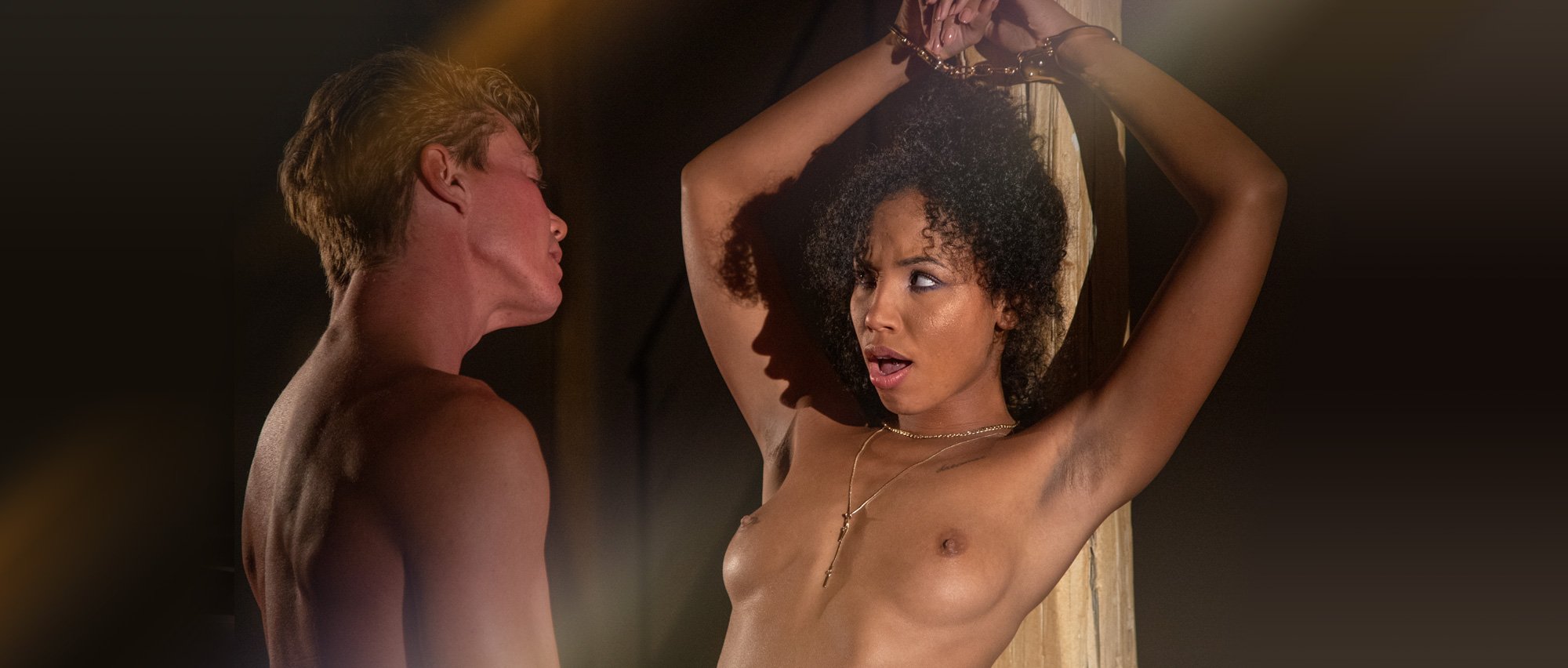 What if your lover has hinted that they'd like to get kinky? Valentine's is surely a day to indulge their sexy desires. In this gorgeous exploration of loving BDSM, Romy finds a mystery box waiting for her—a gift from her lover. She's been given instructions to arrive wearing only her gold chain and knickers. As she opens her gift, her face lighting up shows just how much she was hoping for this experience. As she waits in her new cuffs, submissive and obedient, the atmosphere is palpable as these two begin their sexy dance of domination and submission. To be so worshipped and adored by your lover, and to be at their mercy… this film is a sensual delight from start to finish.
The way Ricky fingers Romy's mouth as if it were her pussy gets arousal flowing almost instantly. A mystery box just like this one for Valentine's? Oh yes please! Oh, to be trussed up and teased, to be left a dripping wet sated mess, twitching in satisfaction as your mingled juices spill to the floor.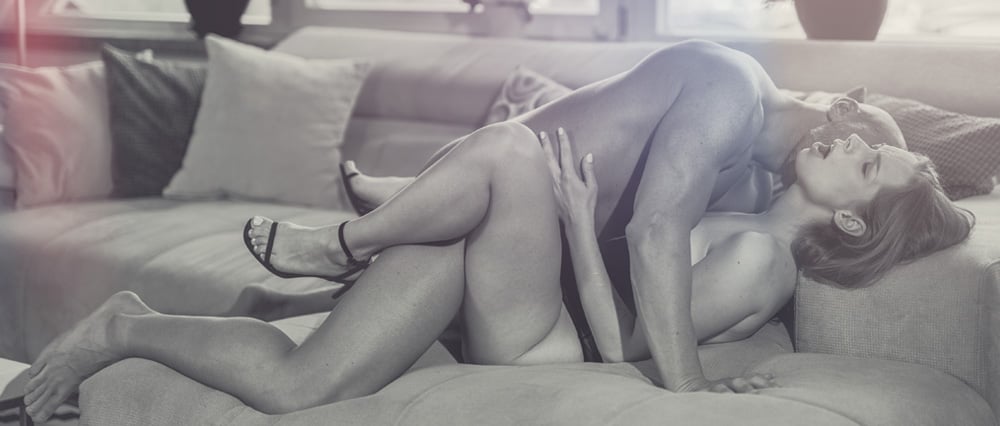 Imagine being taken away from it all to one of the most romantic destinations in the World—Paris!
Ridge and Kinski have booked their penthouse apartment overlooking the city and begin their gentle seduction of one another. Beautifully shot in sepia tones, the atmosphere is soft and otherworldly as our leading lady begins the seduction. She trails her fingertips across her body, arousing and touching herself to invite her lover over to where she sits. You can tell by the eye contact these two share, that they are very much into taking it slow and making this a moment to remember. We think St Valentine would wholeheartedly approve of this very sensual, moody film.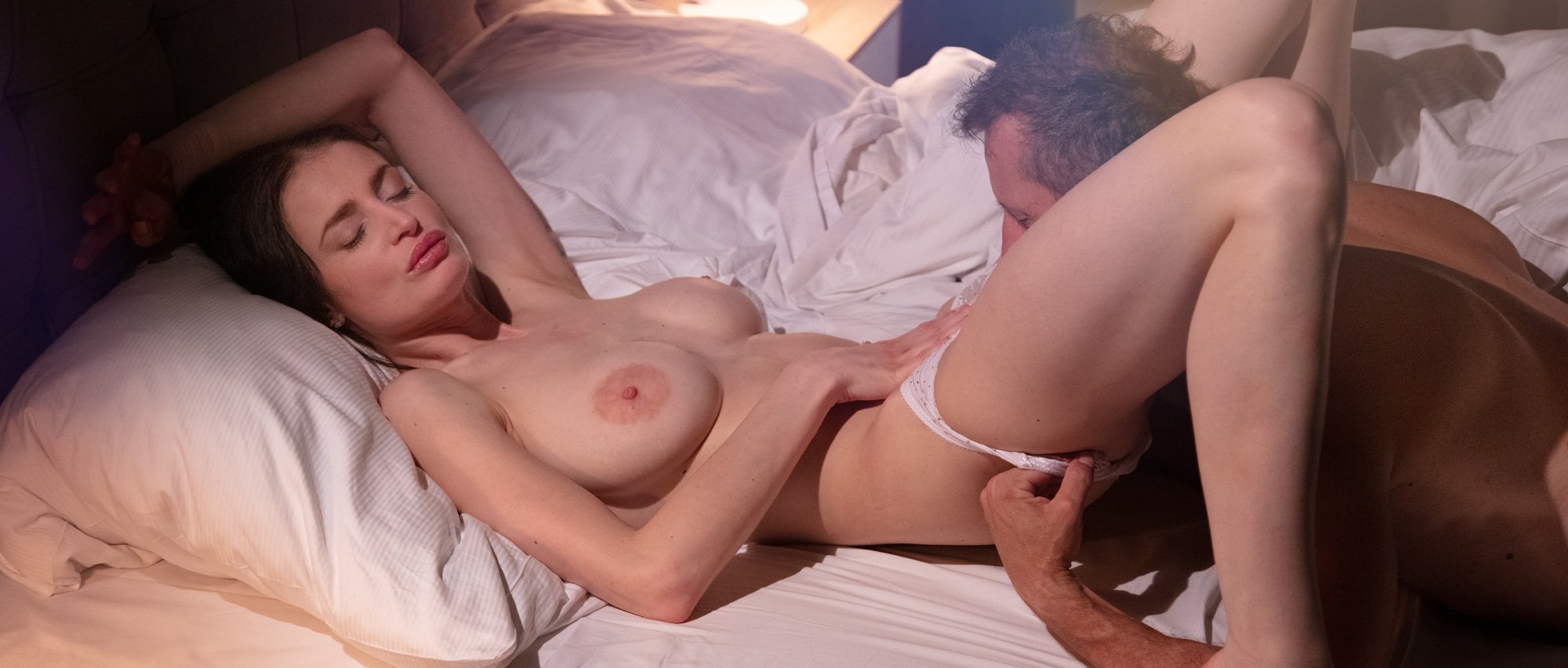 And how about this lush film for a truly romantic depiction of midnight couple sex?
You've been working late, you've forgotten the card and flowers, your lover has given up and gone to bed. How on earth can you make it up to her? George has the perfect strategy. He gently wakes his sleeping beauty with the promise of worshipping her body to orgasmic bliss—and who wouldn't love that!
Ahh, the smile that plays on George's lips as he rouses Silvia from her slumber with a kiss. It's simply magical. Love, joy and excitement all in one expression. A truly wonderful erotic video featuring intimacy and trust, which is fast becoming a Frolicme favourite. The soft, soporific, yet passionate vibe of a midnight fuck is just glorious.
We hope these suggestions of our top porn movies for Valentine's Day elevate your romantic side and get you in the mood for a good long lovemaking session.
And remember to scroll below the films after watching to reveal the accompanying story for a truly immersive erotic experience.
Happy Valentine's Day!