FRESH SNOW - Film
Couple keep warm with a gentle winter fuck on the sofa
Comment
A festive snow-filled film featuring sex on the sofa to mark the beginning of the Christmas countdown, we hope this gets you feeling warm and naughty. What could be more inviting than a cosy fire, soft fluffy pyjamas and a sexy man collecting logs to ignite the flames as well as your passion?  
Out on the chalet's snow-covered balcony, Sylvan gathers fuel for the stove, ensuring the heat will build inside in more ways than one. There's something so sexy about being all cosy on a winter's day while the cold frosty chill is visible outside. After his brush with the outdoor frost, Sylvan can't return to Natty's hot body fast enough.  
He stacks the wood on the fire and then crosses to his lover, pulling her close to instigate some delightful sex on the sofa. Sylvan knows that a lover's embrace is the quickest way to break a winter's chill. Can you just imagine the cool of his touch snaking up beneath your cosy warm layers, sending that shivery thrill over your skin… raising goosebumps and arousal in equal measure. 
Wrapped in luxurious woollens, the couple start kissing and arousing each other's bodies with lots of intimate touching and sensual exploration. Natty reaches into Sylvan's jeans, pulling out his thick dick and fisting her hands around it. His fingers are all over her, she's naked beneath her cashmere, and the scene continues with a delicious display of nipple play, pussy licking, sensual blowjobs and… a good long fuck on the sofa. 
Who doesn't love the thought of some afternoon lovemaking? While this erotic movie starts with a slow tease, this winter sex on the sofa scene quickly spices up from a naughty blow job to some gorgeous horny fucking. I hope you enjoy this little treat of wintry naughtiness. 
This is the perfect winter scene to celebrate the beginning of December.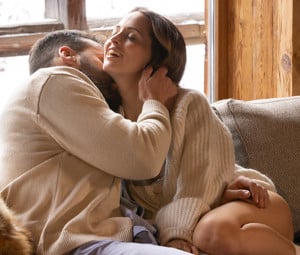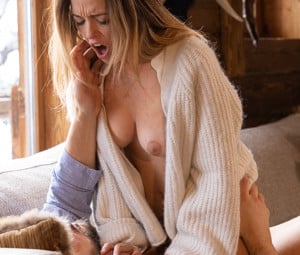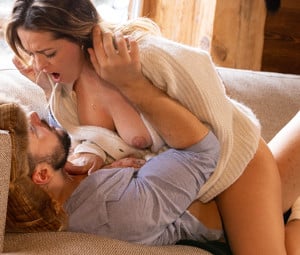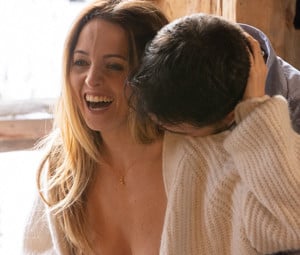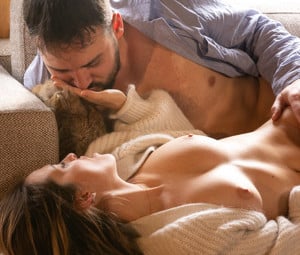 Other Films you may enjoy
Below is a selection of recently updated films and stories, just click on the image to view in greater detail