MESSY LOVE - Film
The joy of non penetrative pleasure with your lover during pregnancy
Comment
This intimate erotic sex video is another pregnancy sex film in our unique collection focusing on the sexual pleasures couples can enjoy and share during this very exciting chapter of change.
All sex is good sex if it is pleasurable and offers a beautiful way to connect intimately with your lover. Partner pleasure during pregnancy does not need to be penetrative but can still be a way to engage in the satisfaction of some horny orgasms with your lover close at hand.
Real-life couple Vinna and Angelo allow us to witness this most intimate and special of moments as they tantalise and arouse each other. Angelo teases Vinna with some melting ice cream, indulging and feasting in those delightful pregnancy cravings—which do not always revolve around food. We can see this as the passion builds, body heat and lust melting the ice cream, their bodies entwine as they smear and smother each other in sweetness and hot kissing.
When Angelo dips to lick the cream from Vinna's swollen heaving breasts we can't help becoming aroused as they begin to get into some sexy hot partner pleasure during pregnancy. The chemistry is absolutely sizzling and they simply can't get enough of each other—Angelo making sure to take care of Vinna's burning desire, making her orgasms the absolute focus of this gorgeous attentive and touching film. He's at her beck and call, bringing all she needs to keep her, and her gorgeous body satisfied.
Angelo expertly makes her come again and again by using the vibrating magic wand over her engorged succulent vulva—there's no mistaking the delightful twitches and moans as Vinna clenches and releases her way to several intense orgasms.
The love that flows between them is palpable—pupils dilate, breath catches, and we watch a true and deep connection through delicious intimate sexual contact.
This erotic movie is a true masterpiece of partner pleasure during pregnancy. For more information, browse through our supporting articles on sex when pregnant and sex during pregnancy in our online magazine.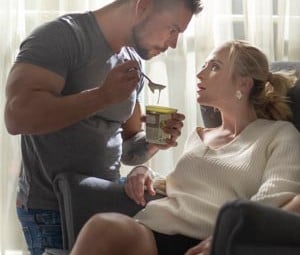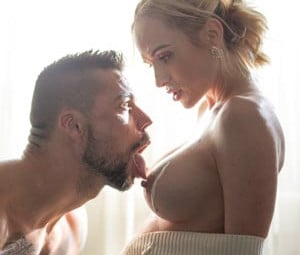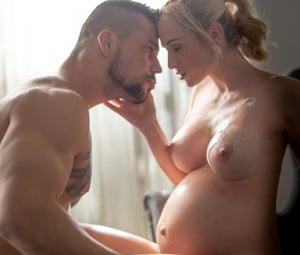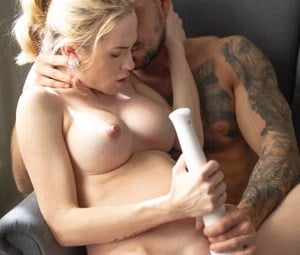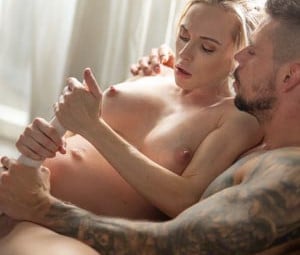 Other Films you may enjoy
Below is a selection of recently updated films and stories, just click on the image to view in greater detail