If you're in the Northern Hemisphere you must have noticed the distinct autumn chill having you reach for that jacket or extra jumper. Well, with the nights beginning to draw in we thought we'd remind you of a joyous fact – wearing socks during sex can not only increase your chance of orgasming but also make them stronger!
That's right, according to a study by the University of Groningen which has been cited many times, even though the study sample was small, those wearing socks during sex were a third more likely to orgasm than when they were barefoot. And we absolutely love that statistic! There's something so very thrilling about getting down and dirty by a roaring fire all hot and cosy… fingers roam beneath cashmere jumpers, cold lips tentatively kiss warm necks making goosebumps rise.
Oh yes, it just about makes us feel less robbed of those summer days!
Here are some examples of just how raunchy sex in socks can be! You'll notice it's our ladies taking the lead and showing the fellas how it's done.
SWING – a female masturbation video
Wrapping herself in a huge chunky cardigan while suspended in her swinging basket chair, Stella treats herself to some glorious solo pleasure. With her headphones blasting out sexy tunes, she knows just how to immerse herself in her orgasmic experience, all while wearing those crucial pristine white cotton socks.
CHELSEA IN LONDON – a voyeuristic tease
Witness Chelsea giving her lover a master class in masturbation. As she begins her seduction on the leather chaise longue, inviting her lover to turn his attention solely to her, the film takes on a voyeuristic quality as he puts down his book and looks her way. She puts on a fantastic show stripping down to just her bra and matching black socks and opens her legs wide to display her expert solo ministrations. Her lover may look but not touch in this delicious sexy flirtation.
SWEET RED  – an erotic sex film of solo pleasure
Who said socks during sex can't be hot? Not us, and especially not Katie here. She's cast aside the cosy cotton option and chosen some long sparkly over the knee thigh-highs to enhance her self seduction. Feeling cosy as well as sexy is key in this beautiful masturbation film. And the added bonus of being able to watch double the fun in the mirror behind, this is a stunning portrayal of a woman who just can't keep her hands off herself. And when she slides to the floor to mount her glorious thick dildo… Gorgeous.
AWAKENING – some masturbation and self-love in the morning
Ah the morning horn, don't we all just love it? Letting your hands roam while your body is still soft and languid from the previous night's adventures. Still warm and in that dreamlike state, Vanessa wakes to relive the sexy evening. Her lover gone, she has to take her own pussy in hand and casts aside the thick luxurious duvet, safe in the knowledge that no chill will disturb her while she has on her cashmere bedsocks. She indulges in her arousal and treats her whole body to some solo attention, then focuses on her sweet well fucked pussy, giving herself over to the pleasure again and again.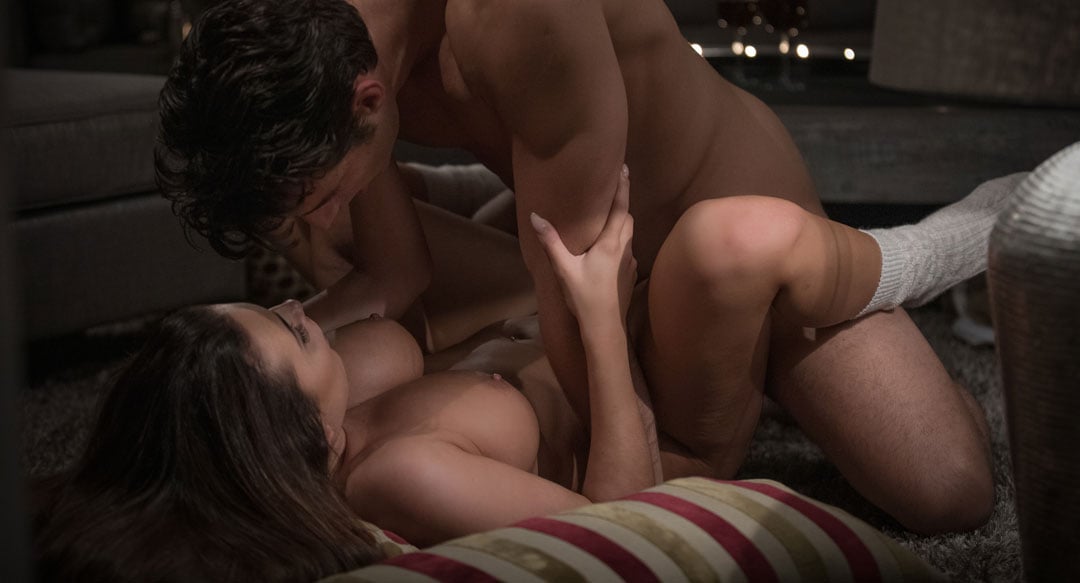 CAMPFIRE – girls enjoy the fun of outdoor sex
What better way to celebrate the passing of summer than a last night of camping with your lover. Are these two escaping the throng of a festival? Or are they simply off wild camping to enjoy a night of delicious al fresco sex down by the campfire. We have double the fun in this film with booth girls opting to keep their footwear on – Lovita in her sexy yellow wellies and Katy in her thick woolly camping socks. These two will definitely escape the night chill with their sizzling campfire and hot orgasmic sex. What a glorious film depicting sex outdoors.
FIRESIDE TREAT – couple enjoy kinky sex by the fire
And the perfect complement to our previous erotic videos, how about some partnered massage on the fireside rug that delves into some sweet gorgeous anal sex to satisfy and arouse all of your senses. This is a deeply sensual film and while Stella isn't strictly wearing socks, we think her fur-lined slippers definitely count in this list – especially knowing her cosy toes will be enhancing an already explosive and mind-blowing orgasm.
And so there you have it! Pick out your cosiest pair and make your socks feel sexy again!