CAMPFIRE - Film
Girls camping trip leads to carefree sex in the outdoors
Comment
Join us on our glorious wild camping trip where we celebrate the joy and freedom of sex in the outdoors!
You've found a little secluded space away from any prying eyes, imagine the fun you could get up to in the glorious wilderness. That's exactly what these girls have planned as they set up their tent and get the fire roaring, ready to turn the music up and frolic around the flames. Camping out amid the earthy simplicity of nature offers Katy and Lovita a chance to cavort and play together in a deliciously carefree way. Tent erected, and the campfire glowing, our free-spirited girls' zest for life is all apparent and it's not long before the mood turns frisky.
Giggles abound as melted marshmallows stick to sweetened lips, we begin to sense some mischievous erotic play. And who wouldn't want to heighten the atmosphere further with some saucy advances? Semi-naked with all but her bright yellow wellies and lacy panties, Lovita's flirty dancing ignites Katy's passion. In no time at all the girls give themselves over to sensual kissing and touching which soon turns to tearing each other's clothes off as they start to explore sex in the outdoors.
Katy can't help but devour Lovita's beautiful pussy as she languishes on the picnic blanket, spreading her welly-clad legs and looking like a stunning forest nymph. Katy laps and feasts on the desperate pussy spread wide before her and it's not long before Lovita is squirming in pleasure.
The dusk shadows are drawing in and the campfire casts its warm flickering light across the flesh of the girls' entangled bodies. It is wonderful indeed to witness the sexy image of Lovita's excited pussy being pleasured and watching her juices glistening in the seductive warm glow of the wild hearth. A camping trip well worth the hike!
You'll be packing up your rucksack and craving some wilderness sex in the outdoors of your own after watching this delightfully joyful erotic movie.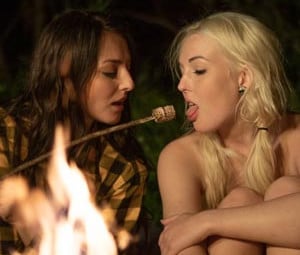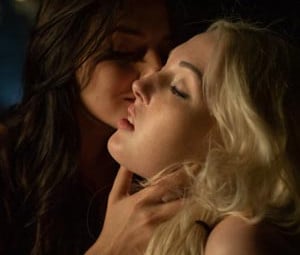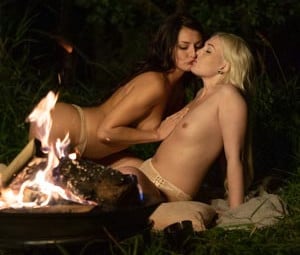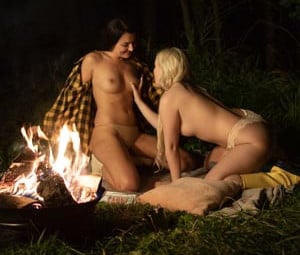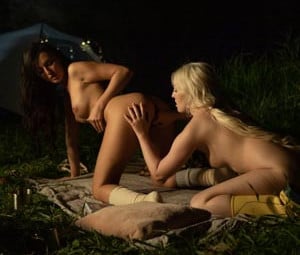 Other Films you may enjoy
Below is a selection of recently updated films and stories, just click on the image to view in greater detail