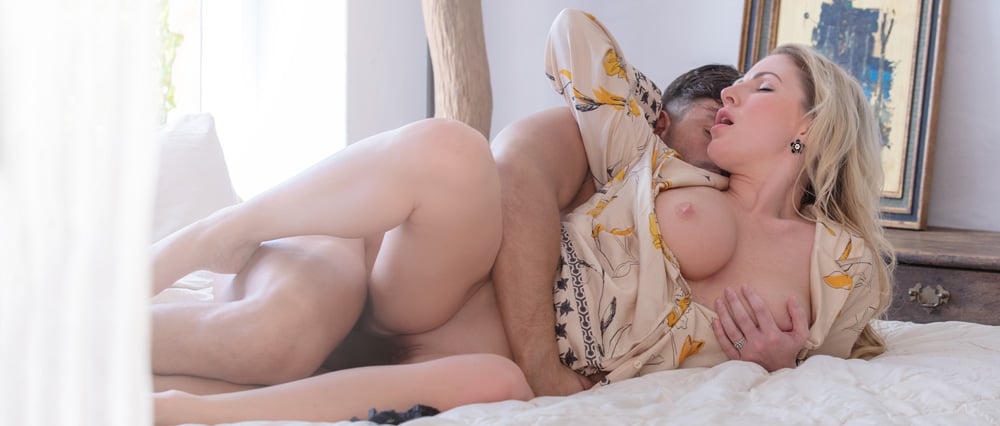 A GOOD FUCK - Story
Two lovers enjoy intimate passionate sex together
Comment
I wanted him to know it had aroused me to do it so I'd gone to the bathroom at work and rubbed myself to climax through the pretty fabric, pushing the gusset good and hard into my moistening folds. They were still damp when I slipped them into the dark rose envelope that contained the letter I'd been composing all morning instead of stock entry.
The words that had spilt from my pen had drawn from me the most unbearable yearning, and I'd read and reread them until I could take it no more.
Dear Nick,
I was shocked at your request for my lingerie, you seem to think me some kind of hussy who would do such a depraved thing as send panties, used ones at that. I was warned of men like you, men who seem to think they can demand such trophies from women. If it hadn't made me wet to think of it, I would have cast your request aside and forgotten all about you. But it did make me wet Nick, I slicked my knickers thinking of you pressing them to your face in between meetings with your oh-so-important clients. You shaking their hand as they enter the room, no idea they will be leaving with my scent on their fingers. Yes, the thought of that makes my pussy clench, yearning for more. So I enclose a pair, specially fragranced with my own perfume brought forth from myself with my fingers and thoughts of you wrapping your hand around your thick cock and pleasuring yourself for me too.
I wait in anticipation for your reply,
Yours, Georgie
I tongued the gum along the flap and sealed down the envelope, pressing my fingertips firmly along the ridges, feeling the patterned lace of my panties inside.
I squirmed a little in my seat, my bare thighs and pussy rubbing up against each other. I'd have to spend the day naked under my skirt, and the arousal that flushed through my entire body brought a blush to my cheeks, at the thought of the romantic sex we'd be having later if all went to plan. I'd have to make sure there wasn't a wet patch on my chair.
Now to deliver. I toyed with the idea of popping it in the post special delivery, but I wanted him to get it today while my scent was still fresh and brimming with sex hormones. I was excited, we used to behave like this, but work and real life seemed to be getting in the way recently.
When I walked up to his office door, it was slightly ajar and peeped round it, disappointed to find the room empty. I peered out into the corridor to check no one was watching and darted inside, hoping to surprise him before he came back. I skipped around behind his desk, pausing to pull up my skirt before I sat. I gasped as the cold leather seat streaked my buttocks and I almost leapt off. I wriggled around and soon got used to the chill. The room was very smart, very organised. Not like my own office which was chaotic and disordered. I didn't care, I've been told only the most creative people keep their desks messy. I checked the clock, he was taking his time. I gazed at the papers on the desk, my breath hitching at perhaps seeing something I shouldn't. There was a personal document right in front of me, I didn't want to read it, but the red letters splashed across the page said PRIVATE. What could I do, I lifted the paper and turned it over out of my reach only to discover an...
...to read the rest of this story please login or
register
to read the full story free.
Read all about the wonderful author: Tabitha Rayne
You can also listen to this story