A GOOD FUCK - Film
Beautiful couple enjoy a good fuck together
Comment
When commenting on this erotic film the best and only way to describe it would be quite simple to say that it is a beautiful sex video. This is after all what this erotic site is about. Creating and portraying the delights and sheer raw pleasure sex can offer, and in return stimulate that fabulous arousal in all of us the viewer. 
Like all my films I want to present the beauty and pleasure of sex in a style that is both visually appealing and horny as hell! I want to bring the positivity that good sex can offer and make it far more acceptable for couples and individuals to enjoy.
If you are looking for great porn for women, this film has plenty of sex and beautiful pleasure in abundance as the gorgeous and naked blonde, Georgie relaxes on the bed in her sun-soaked Ibizan room until her sexy lover Nick catches her through the window. Looking relaxed and casual is just a silken print top where the outline of her naked body is subtly revealed in sexy glimpses. A few stolen kisses through the window soon give way to their intentions and the need to interact in a far more intimate manner.
Then this erotic movie moves from just a pretty view of a beautiful girl to a vision of sensual and steamy sex as this couple get very heated. 
They are lovers who want to fuck passionately, and fuck they do in this beautiful sex video. There is lots of physical action and bodily desire as Nick, the big guy he is just can't get enough of the naturally voluptuous Georgie. That is to say that Nick also knows just how to turn on a woman who loves her sex and wants to be desired and fully pleasured. As the title suggests this is a fucking hot couples sex video. It is intense and focused even a little hardcore at times when their bodies pound each other through their need and desire for more.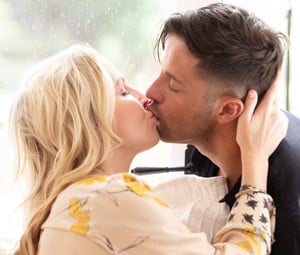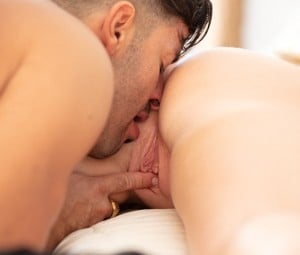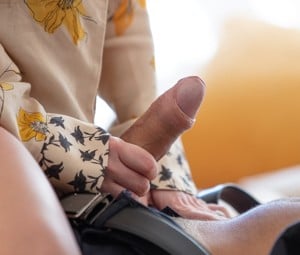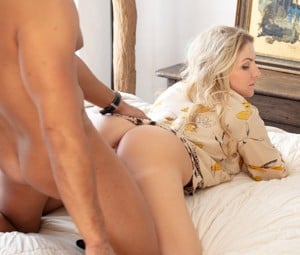 Other Films you may enjoy
Below is a selection of recently updated films and stories, just click on the image to view in greater detail