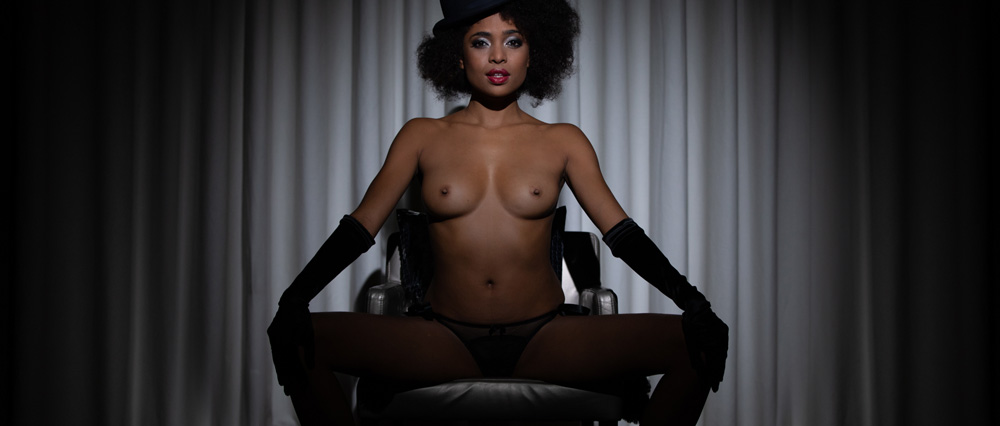 DING DONG - Story
Erotic striptease story
Comment
Tonight I will give a special performance. The moonlight shining through the dressing room window, illuminating all it surveys, confirms my thoughts. I lean forward, jiggling my boobs, cupping the flesh and squeezing ever so slightly. Raising my arms above my head, I slowly start to move. Hips swaying back and forth, getting faster, until my whole body is on fire, aglow with the heat from the dance. As I tweak each nipple my sex pulses in anticipation of the evening ahead. I can't help but sensually caress my limbs. Now I'm ready to display myself. I adore entertaining voyeurs and seeing the desire on stranger's faces, it is the ultimate turn-on.
Pouting I apply a rich burgundy wine, shade of lipstick to my ample mouth and add a dash more glitter of eye shadow. Topping my outfit off with a bowler hat I take a glance at my reflection and smile. The girl looking back at me is a million miles from the one who left Spain three years ago to start university in England.
*
I was a child sports star – a middle-distance runner – and won the athletics scholarship to Loughborough University. This meant the world to me and my family. It was my way out of the Spanish, shabby little town where I was born and raised, along with five brothers. One less mouth for my Dad, a cockney from London, to feed. He'd met my Mum on holiday in Spain years ago and stayed.
In England I had to juggle running, studies and a part-time job. I soon realised bar work fitted in time-wise and paid enough to bolster my grant. I was always being told I had the perfect athletic physique – all five foot eight was slender yet toned. My appearance went down equally well where I worked. I'd wear enough make-up to promote my large eyes and plump lips. There was a definite correlation between how much leg I had on show and the tips I pocketed.
But I was always tired. Running began to bore me. Fatigued and anxious from the added pressure of late night work it came as no surprise when Coach pulled me aside and said he couldn't keep me in the team if I didn't improve.
What could I do? I didn't have a loan, or rich parents to send me money each week. The inevitable happened: I dropped out before the end of year one and Utopia, a nightclub, hired me. Accommodation above was thrown in, so I was never late to work. All the local bar staff came to hang out in our chill room at closing...
...to read the rest of this story please login or
register
to read the full story free.
Read all about the wonderful author: May More