SO NATURAL - Film
Beautiful and very sexy film of sensual lesbians making love
Comment
In our own classic Frolicme style of tasteful sensual erotic vision, here is a beautiful film of two sensual lesbians making love together. It is an elegant online feminine soft porn film. It depicts a real charm in the focus and presentation of how two gorgeous girls can get so deeply aroused and turned on. They show an easy understanding of just how to generate their own sexual stimulus to orgasm while they frolic together on the bed.
Some people question some aspects of what is deemed sexual pleasure between two women, but just as we show in this film it includes all manner of pleasure enhancing actions with plenty of touching, stroking, kissing and caressing. There is beautiful cunnilingus, clitoris stimulation and lots of oral pussy pleasure with these sensual lesbians making love. The girls take enjoyment in multiple positions and 69 each other in order to both be aroused and stimulated with oral at the same time. There are moist tongues and active fingers stroking, massaging and penetrating each other, with gentle biting, pussy licking, nibbling, and tweaking of nipples, while offering in response delightful arousing sounds of sexual involvement.
Both Emylia and Ria engage in plenty of erotic stimuli and focus delightfully on their female erogenous zones, rubbing and grinding between each other to ignite a growing sensation between their inner thighs.
Girls naturally understand just what it feels like to enjoy being fingered, the inner manual stimulation to tweak and activate those sensual sexual zones to encourage the muscular spasms. So few women can orgasm by penetration alone. Manual fingering and caressing of the clitoris is much more likely to be a sure-fire winner for reaching orgasm.
This charming adult film is one of many girl on girl films that we feature on the site. If you enjoy watching films with just women, do check out our lesbian sex videos for this and many others.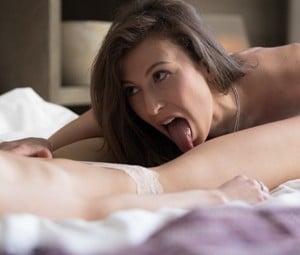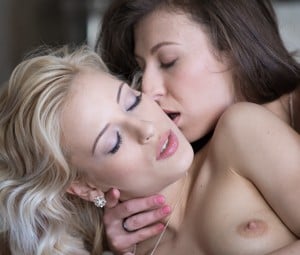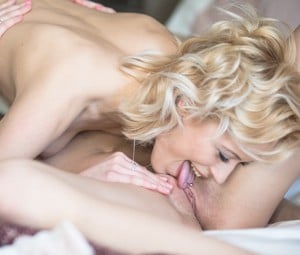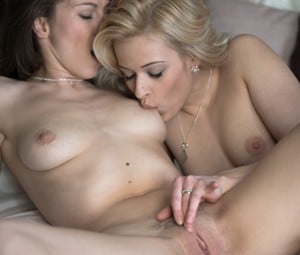 Other Films you may enjoy
Below is a selection of recently updated films and stories, just click on the image to view in greater detail