ABSOLUTELY - Film
Ice masturbation pleasures with temperature play
Comment
Starting with delicious close-ups of Sybil seductively preparing her drink, this erotic ice masturbation movie focuses on female pleasure, latex and self-lust. It's a true tease of eroticism and moody pleasure. 
Even the sight of the glistening ice dropping into the glass and Sybil wrapping her fingers around the frozen vodka bottle, has us shivering in anticipation. Teasing her senses, Sybil runs the chunk of ice over her lips, slipping it seductively into her hot mouth, melting and sliding it in and out provocatively. 
An empowering female self-pleasure tape, Sybil looks to us, her audience, and moves to the dimly lit table.  
Wearing only nipple tassels and black latex panties, she climbs atop the table, desire and lust for herself growing. Placing the ice-cold glass between her spread wide thighs, obscuring the view of her pussy, Sybil displays her love of frosty sensations. She doesn't even flinch as she lifts her drink, revealing her crotchless underwear. We gasp as she allows the freezing vodka to spill and pour down her body, soaking her breasts and pussy with the chilly liquid. She is clearly a lover of ice masturbation and opens herself up to the sensation, playing with her latex panties and fucking herself hard with her long cool fingers. 
It's not long before she snakes seductively onto her hands and knees giving us a stunning view of her sexy solo antics from behind. The perfect position to watch her take her pleasure as she dips to lap at her drink. 
A slow erotic tease, heightening female self-pleasure and the importance and benefits of masturbation, this erotic movie seeks to explore the sensitivity of temperature play through ice masturbation whilst introducing the kink of latex ouverts and nipple tassels. After such intense cold, Sybil knows exactly how to heat herself up again.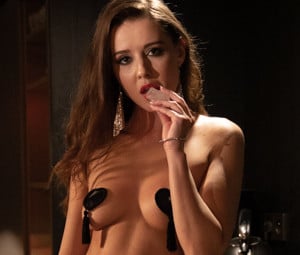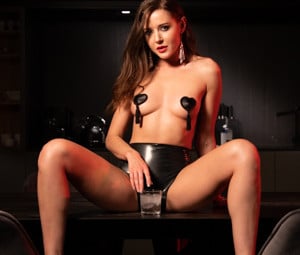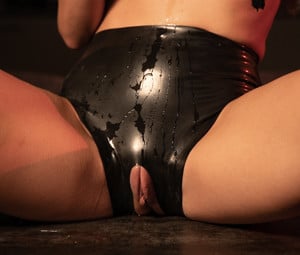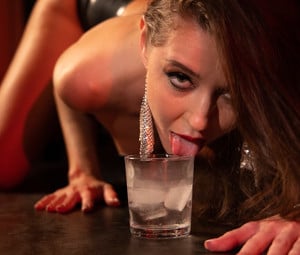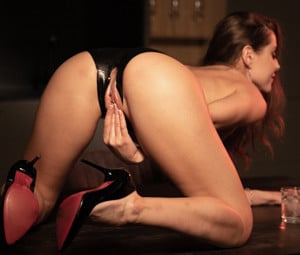 Other Films you may enjoy
Below is a selection of recently updated films and stories, just click on the image to view in greater detail