A & P - Film
Sensual soft same-sex pleasure
Comment
This is a pretty girlie and erotically charged adult film of same-sex pleasure that takes a softer approach, the essence being gentle sensual lesbian love. It is very feminine in both image, style and content featuring two gorgeous nude brunettes Angela and Mia in their matching skimpy clad and very colourful lingerie as they play and frolic together. For those, of you who like a little less explicitness in their viewing and a softer teasing to the eye approach, this more gentle vision of sexy girl on girl erotica may be one to choose.
The opening of this erotic movie is focused on the vision of these two gorgeous girls looking very desirable together in their elegant lingerie. Bodies adorned in bright colours complementing each other, they become girlie and playful, touching and stroking each other's bodies as they cavort together in a carefree manner. Artistically shot, there is a play both on their fun and the way their bodies are portrayed.
The sex that is captured features plenty of same-sex pleasure, sensual play, girl on girl kissing, and mutual female masturbation where their pussies are explored and teased gently stimulating the sexual pleasure they both give and receive. Fingers gently massage and probe, instigating more intense sensation helping to fuel and build the desire for orgasm. Tongues lick and circle clits ensuring the nerves are triggered and aroused. Clitoral fun is provoked and stirred giving rise to their ultimate release and the waves of pleasure that then ripple through each other's bodies, as they enjoy some passionate lesbian sex.
While the girls enjoy each other and play we get to view and watch as voyeurs a very pretty, feminine and sexual experience of a sensual bisexual film. Whoever said girls have more fun, well they are definitely right as these girls know how to have the fun and enjoy the pleasure of each other and their bodies.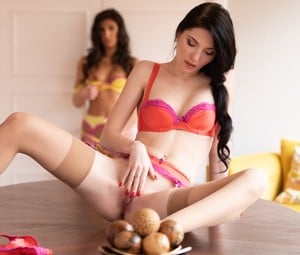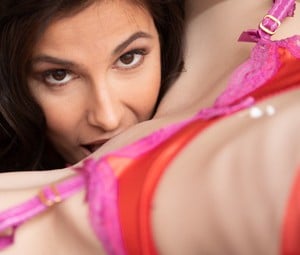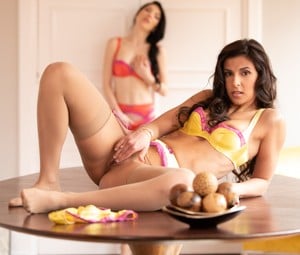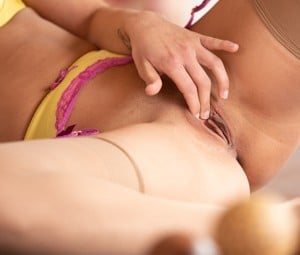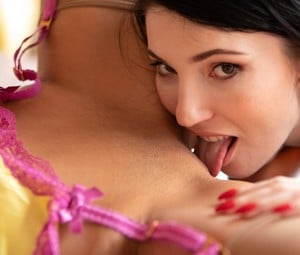 Other Films you may enjoy
Below is a selection of recently updated films and stories, just click on the image to view in greater detail