The shallow water in the bath shimmers as I swish the bubbles back and forth. I rinse the strange shiny soaped garment clean and it makes a heavy whacking sound against the bath. I let the water run out and refill, this time adding a few drops of the specialist Vivishine latex cleaner. The oily slick it makes on the surface of the water now coats my black and red latex dress satisfyingly. I hang it up to dry, always on a plastic hanger, allowing the water to drip down, leaving a beautifully protective sheen on this astonishing shiny material. When it's completely dry I will carefully fold and store it away in a bag under my bed.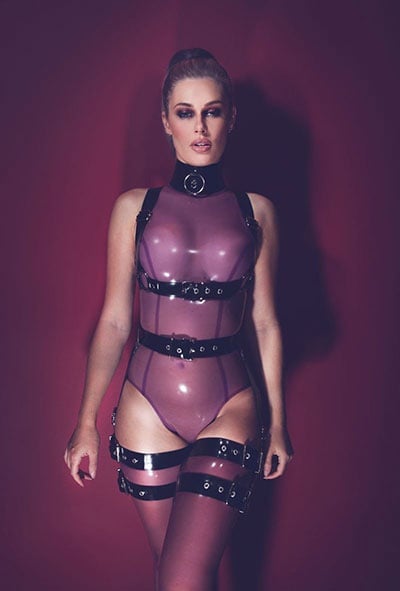 As I admire the sleek shape of the dress, my thoughts roam to last night, 'Oh my god I felt fantastic in it!' The high gloss hugging my curves tightly like a second skin making me feel invincible.
I move on to the next items; a pink latex bikini and deep suspender which all receive the same careful treatment. This process is laborious but worth it to preserve my precious garb.
I've been wearing latex for nearly 20 years. I simply can't imagine my play-wardrobe without it; for naughty nights in and for going out clubbing or to parties.
I remember standing nervously in the boutique shop of House of Harlot being measured for my first piece; a figure-hugging zipped skirt with a fishtail detail at the back. It was being purchased for a Fetish Club night and I wore it with a satin corset and thigh boots; I was hooked. Since then I have amassed quite a collection which I store safely in the dark away from damaging sunlight or other garments with metal that can stain or tear latex.
My husband too! He has some great pieces acquired in Libidex and some of the many online stockists too.
As a straight man he was initially concerned that he wouldn't look 'butch' or 'manly' enough, however when he has his two-tone latex trousers and tight top on coupled with some funky NewRock boots I think he looks hot as hell!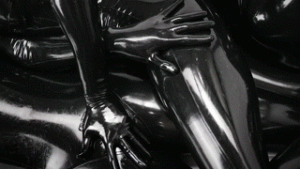 In fact, latex clothing is for everyone and anyone who dares to try it. It feels amazing and can give your sex life an injection of filth. You can cleverly wear a corset and hide that tummy that bothers you or just celebrate your shape in the array of awesome colours and designs available. Hold your head high and show off your best assets! You don't have to spend a small fortune on things from Atsuko Kudo as many places like LoveHoney, Ann Summers and Honour and an array of online stockists now have more affordable pieces.
The first time you squeeze into a piece of latex clothing it feels incredibly different; it's otherworldly, thrilling, futuristic, empowering like nothing else you've ever worn. Think Kate Beckinsale in Underworld and the outfits in the Matrix or Marvel movies. And obviously it feels provocative, very rude indeed. The way body parts are showcased the shine as it glistens and encases you. I feel as if I become an alter-ego and temptress when I do these extraordinary ensembles.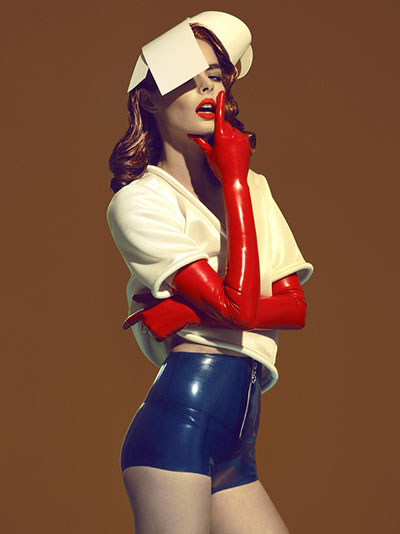 Admittedly it can feel like a slight battle getting it on! Latex is not for the faint-hearted, it's a commitment, but so worth it. I highly recommend having the help of someone patient to rub silicone dressing aid onto your skin; not only is this like foreplay and erotic but makes it a much easier process. It's also lovely to have a partner in crime as you swap personas in such a dramatic way. This person, ideally with short nails and no jewellery to catch and rip your precious outfits, can assist rolling the garments on, slipping them over limbs, gently prising the delicate material over your various body parts. It does take time, but the end result will be more comfort, fewer lumps and bumps. The final job is to rub a latex shine over your outfit and take photographs as you will undoubtedly want to document how fantastic and goddess-like you look!
I really enjoy making an entrance in latex. It feels and looks stunning, jaw-droppingly sensational and always turns heads. Over the years I have progressed from wearing the odd skirt or latex bra, to wearing it head to toe in the form of jackets, stockings, dresses, gloves and even acquiring some fabulous latex headdresses and face harnesses. In fact, my last club night before the first lockdown was to Torture Garden in Berlin, where my metallic look zip-through latex catsuit made its debut.
It is no small feat wearing something which encases all your limbs and torso in a constrictive material that doesn't allow your skin to breathe. You will sweat. A lot! When worn clubbing know that you will be moist inside your outfit, very damp indeed. However, I have come to adore the feeling of perspiration dripping down my body, it adds to the excitement and filthiness of wearing it. I just make sure I drink plenty of fluids and rest regularly between dancing or playing as you can boil. If I've been brave and managed to wear it all night I will shower as soon as I get home or to an after-party. It's always sensible to think where you'll end up and possibly bring something cooler to slip into!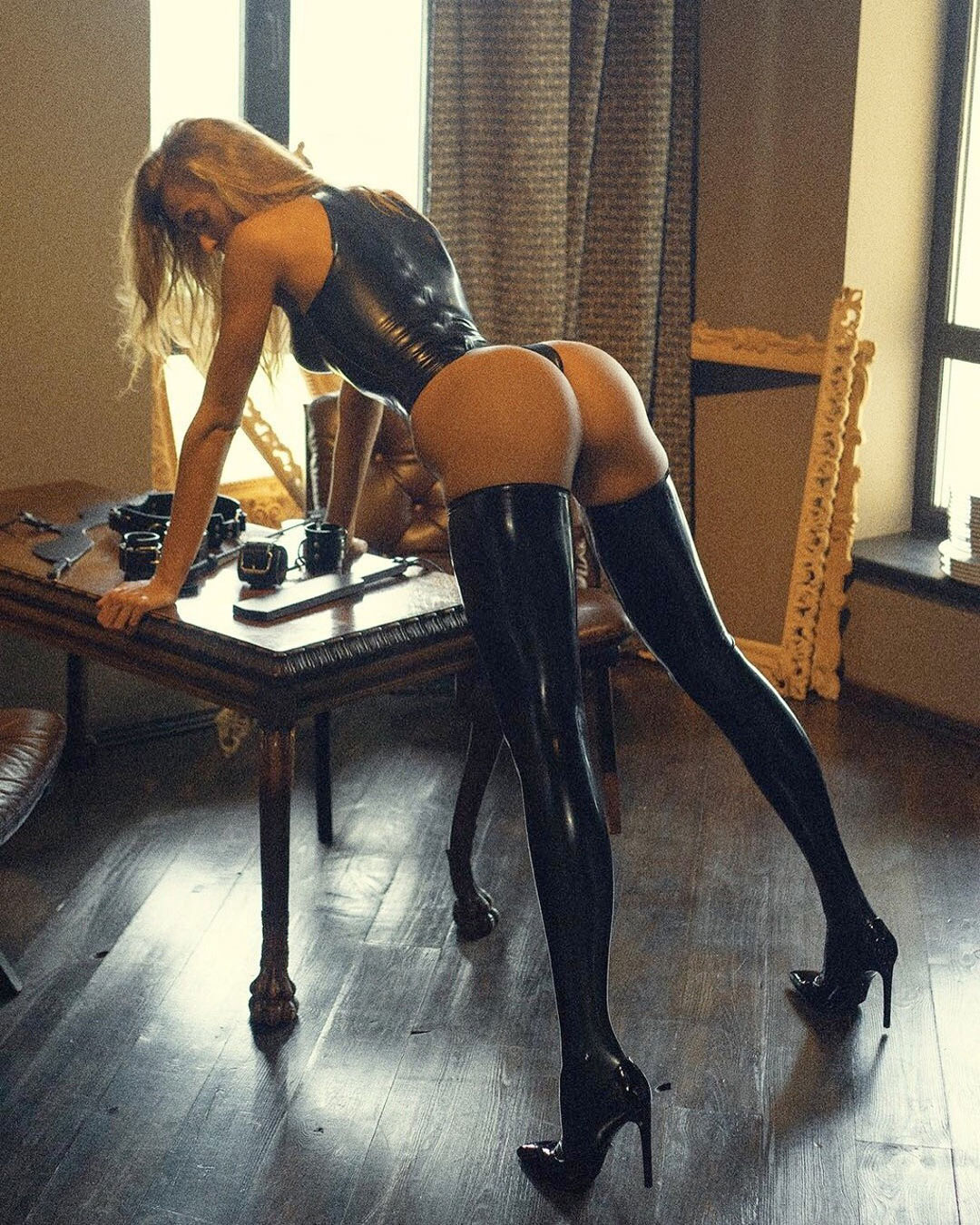 When I'm having a night in with a partner or my husband, wearing latex for part of the evening is less of an endurance. I can cavort around in my 6-inch latex thigh-high boots and one of my many figure-hugging skirts or spanking pants teamed up with a PVC corset knowing that I won't have to stand in a queue or tackle stairs. In fact, I think trying out latex at home first is a great way of acclimatising to the whole process of learning how to put it on, and how to move in it. Personally, I adore the restrictive feelings and how I'm limited, it's a big turn on for me and my partners.
If I'm being dommed I love the anonymity of wearing my latex hood which has only holes for nose and mouth. This is next level latex wearing! It is utterly wicked playing, sucking and fucking while I'm unable to see what is going to happen next accompanied by the slight squeak or squelch of skin against latex. I strongly advise choosing pieces with strategically placed zips to allow access, (with very careful opening to avoid catching any delicate bits!) as you are sure to feel like exploring your kinkier side…