LAID BARE - Film
The temptation of a muscular naked man laid bare
Comment
We immediately see a vision of masculine godliness in the form of a muscular naked man to feast our eyes upon. Confidence—that's what makes a nude man so sexy, and Aaron has it in oodles, as he poses before us in all his splendour.
The scene opens with Aaron in a presented form lying in wait on a dimly lit table, shadows highlighting his supine form. The classical position ascribed to nymphs and goddesses in Ancient Greece, Aaron alludes to a higher being about to be worshipped. Known as the Odalisque pose, the term referred to the Turkish Ottoman Empires' concubines. However, later in the 19th century it was adopted by Elitist Europe. The term became synonymous with male reclined postures of artistic eroticism.
Aaron, manifests his Odalisque pose. His nude taut body is a picture of human eroticism waiting to be touched and enjoyed.
And touched and enjoyed he most certainly is about to be. Dressed all in lace, Alexis enters the scene and teases this godlike muscular naked man, straddling him and cuffing him down, restraining his movements so she and she alone is in control. Aaron is blindfolded, shutting off his vision so his other senses take over—heightening his pleasure and building his lust.
With only hints of what is going on, Aaron must guess by the lacy fabric being trailed across his lips, just what item Alexis is removing… at first a brassiere, conjuring images of the breasts that are surely on display. And Alexis just loves to tease this muscular naked man who is thoroughly at her mercy, to be adored and given over to pleasure, that's what this scene celebrates. A woman most definitely on top.
We hope you enjoy watching this artfully produced erotic movie playing with the delicious erotic theme of lustful temptation and worship.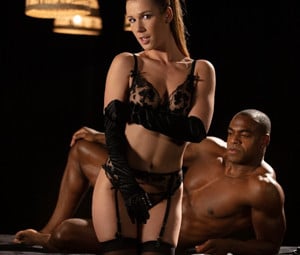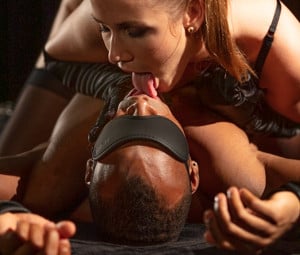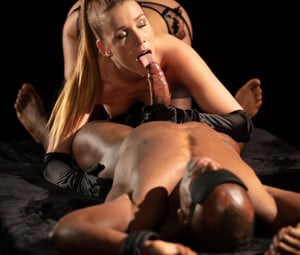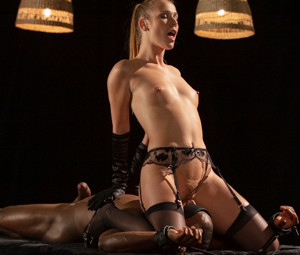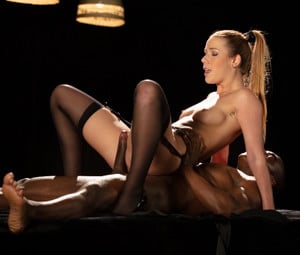 Other Films you may enjoy
Below is a selection of recently updated films and stories, just click on the image to view in greater detail