USE HIM - Film
Beautiful dominating pussy sucked and eaten by lover
Comment
It is time for some kinky sex and BDSM adoration at very close quarters in this latest erotic film showing the deliciously sexy antics of a woman dominating her lover and demanding to have her pussy sucked on over and over again.
This erotic film is a very hot portrayal of a beautiful woman seeking her personal needs from her lover. It is softly dominating in a "don't take your eyes off me" kind of way. With a sculpted body and big breasts that are hard to stop watching, the mesmerisingly statuesque Anna Rose is such a naughty temptation for Jayden. He's harnessed in a collar and leash so he'll make no mistake about when and where Anna wants him. And she is all bout getting her delicious shaved pussy sucked. She tugs him closer, gripping him to her while she watches, taking exactly what she desires from her submissive whose only job is to serve and worship her, catering for her every need.
It is a real treat to see the way he feasts and adores her, coming up to her breasts and giving her nipples a good oral seeing to while she commands and teases him, giving him the occasional brisk slap when his hands stray somewhere they oughtn't.
Sometimes she leans back, taking herself in hand and Jaydan is only allowed to watch until she winds the leash around her fingers and drags him to her, explaining exactly how she wants her insatiable pussy licking.
The sexy heat is amped up to burning point when Anna starts fucking herself enjoying sex with vibrator in front of Jayden, who has to keep his hands off while he watches her nipples engorge and hips buck with arousal. This is a glorious film with one woman who just can't get enough of having her body adored and her pussy sucked. She pushes the dildo into Jaydan's waiting mouth and he obediently sucks off her juices while readies herself for round two.
Poor Jaydan can only watch, waiting for the next time she wraps those chains around her fingers and draws him back in…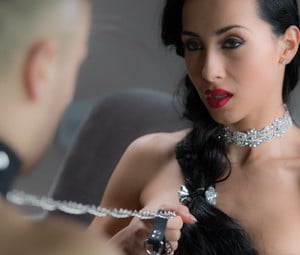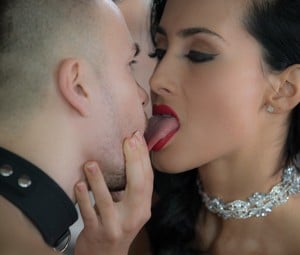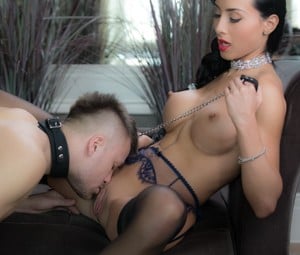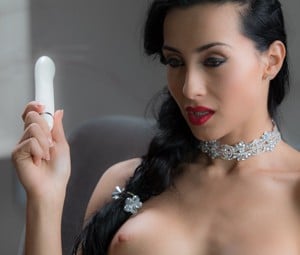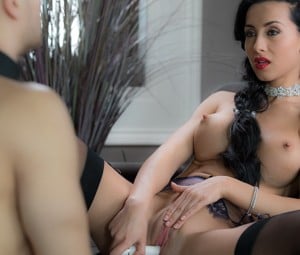 Other Films you may enjoy
Below is a selection of recently updated films and stories, just click on the image to view in greater detail