Here is the Chaiamo from Rocks Off,  a beautiful looking vibrator. I am not a huge fan of phallic-shaped sex toys on myself (though I absolutely love watching them being used on others – especially this ) so for an insertable dildo, this ticked a few boxes for me. Sleek and elegant, almost the shape of a new lipstick, it is stylish and versatile.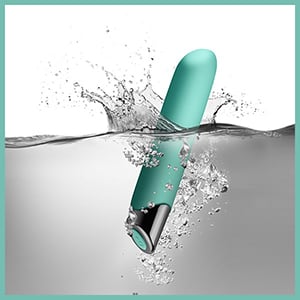 The Chaiamo vibrator packaging is classy and simple and the toy itself is fully submersible and rechargeable. Delightfully, it comes ready charged so the excitement of having new mail is not interrupted as you eagerly unwrap the gift to yourself. It comes in three colours, deep crimson, black and turquoise. I chose turquoise and love this colour for a sex toy.
The material is deliciously smooth silicon on an ABS inner with the controls at the bottom, on a slant – a nice accessible touch. The 'head' or 'business end' of the Chaiamo vibrator is gently tapered for pinpointing the clitoris or ease of entry if you're using as a penetrative toy.
Power settings
Wowza. I was not expecting so much power to come from such a discreet sized toy! The motors in the Chaiamo give deep rumbly vibrations that cause ripples of pleasure to emanate from wherever they're applied. I tried my nose of course and almost started a sneezing fit. If you like subtle buzzy vibrations you may find this a little strong as even the lowest setting is still quite a thrill. It has the usual ten vibration pattern from a single buzz that intensifies through to the pulsing and throbbing, all getting stronger with each click.
I loved the weight and girth of this toy, light enough to be very easy and portable but heavy enough to give it some authority. It is fairly slender for a dildo but I really like that. What it lacks in girth it makes up for in power!
So, did it work?
For a straight toy with no curves or twists, the Chaiamo did a lovely job of administering gorgeously strong vibrations to my clit. It was very arousing and the sensations rumbled right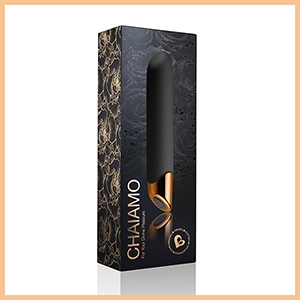 through all the fronds of my clitoris and deep into my vagina, so much so that I found my self-lubrication more than enough to tease this toy inside. I'm not really one for
internal sex toys so I'm always delighted if the toy inspires me to give it a go. The build-up was fast and so intense that I was overstimulated – to the point where my orgasm subsided, which was initially disappointing but soon became a form of self edging. An unintended but very interesting twist. It didn't take long to build back up, buzzing me into orgasmic delight.
The Chaiamo is a wonderful for a quick and very satisfying orgasm. I would thoroughly recommend. Buy yours now and enjoy an automatic 15% off the item and other items purchased when you go to checkout.
Looking for other toy reviews, check out the Doxy wand massager and Womanizer Liberty.