I'm a huge fan of female sex tech entrepreneurs, so when I heard about a sex toy invented by a busy mum who needed a quick orgasmic fix to keep her going for the day, I knew I had to try it!
The Zumio is the most unlikely looking vibrator—picture a slender electric toothbrush with a tiny oscillating wand where the bristles would be.
I couldn't wait to try one out.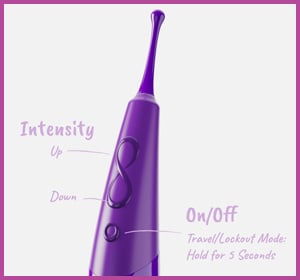 A note must first be made on the packaging. The Zumio comes in a beautiful outer box which you slide open to reveal yet another gorgeously made sleek presentation case. I am a sucker for a pretty box so I was very excited by this—like a proper gift to yourself. On opening the box, the Zumio really looks like nothing you've imagined before (apart from any dalliances with a toothbrush of course!). It is very slim and lightweight with the buttons to the front, easy to navigate and fits in the hand beautifully. On, off, faster, slower.
The recharging unit is a little upright holder which you simply place the Zumio into.
That's enough teasing about the Zumio! To the action
When it is switched on the oscillating head whirs into blurred motion. It's very fast but fairly quiet. If you hold it on your skin the vibrations are pretty intense. The wand head is only about half a centimetre in diameter, so the power that comes from it is quite a surprise. Almost too intense when you consider where you are going to apply it.
As every sex toy tester knows, to get an idea of how it's going to feel without applying it to your clitoris, touch the end of your nose. Even on the lowest setting, it was clear this was going to be a sneeze inducer!
Let's give it a whirl!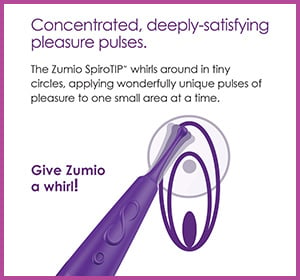 So as someone who can't take too much direct pressure on her clit, I tried it first not just through my knickers, but also through my skirt.
It felt absolutely amazing! The vibrations, which are sort of rumbly, radiated throughout my crotch area and delivered some really powerful stimulation.
Here's the thing though, it is quite a counter-intuitive toy, the harder you press it onto yourself, the lesser the vibrations become. So for the biggest bang for your buck, you need to place it very gently where you want it. It does make for some fascinating playtime!
I did get brave and venture below the clothing and wowza, once I'd found the perfect spot—not directly on my clit but nearby—and held it absolutely still and light, I came very quickly! One of the strongest and most satisfying solo orgasms I've had. It is a sure thing too.
Sometimes I can find orgasms a little elusive, having to concentrate fully to make sure I get to that glorious tipping point. With Zumio there was no doubt I'd be scaling the orgasmic heights in no time, in fact, I had to try and hold back.
Definitely perfect for a quickie, perhaps use later in your play as the sex toy of choice if you're looking for a long self-seduction session.
So what about partnered play with the Zumio?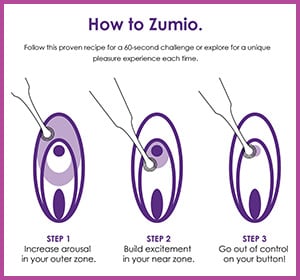 My Zumio is so small it is perfect for sex with another. Especially good old penis-in-vagina missionary style, which I have always found partners' toys almost impossible to use due to being crushed against me, not fitting between us, and all sorts of space issues. The Zumio is perfect as it's so small and discreet that it fits easily on the sweet spot between you and works in almost any position. It is also fabulous for perineal stimulation behind the testicles. That certainly went down very well!
Another great thing is that the vibrations don't travel up the shaft much at all meaning if you're sensitive to that sensation, this might be a great option for you.
Super lightweight, powerful, fast and satisfying, it's a definite YES! From me 😊
You can treat yourself to this magic little wand in our sex toy shop now.