What on earth is a Tenga Egg?
The Tenga Egg is a wonderful egg-shaped box containing a soft stretchy sleeve that you use to pleasure the penis in your life, making masturbating your member much more magnificent! It's like a joyfully grown-up version of a Kinder Egg and lasts way longer.
Unlike some other male masturbators, the Tenga Egg does not have any humanoid anatomical features so might be less intimidating for some people.
Unwrapping your Tenga Egg
Open the plastic shell and take out the jelly-like silicone egg. There's a cavity within where instructions and a lube packet are stored. Remove these and feel inside where textured nodules and deliciously tactile patterns make you instantly know that this going to feel amazing. What's next?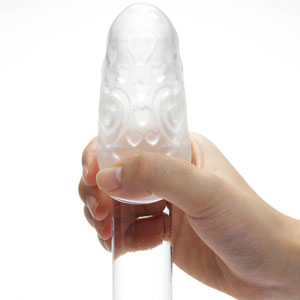 I must say, when I first saw one of these, I was trembling with excitement to try it out on my fella. The way it feels in your hand, slipping your fingers inside, you can only imagine how wonderful it would feel on an erect penis. And then, how it glides and slides up and down is mouth-watering indeed.
It makes the thought of giving a handjob so (egg)citing groan and I couldn't wait to try it out.
How do you use a Tenga egg?
Once free of the shell, fill the egg with your preferred water-based lube, or the sachet included and roll it about in your hand to heat it up.
Place over the head of the penis and again, roll it around, teasing as you go, keeping at all at the top for a few moments. Slowly get into sliding it all the way down the shaft then back up—the super stretchy silicon accommodates all lengths and girths with plenty left over to twist and massage up and down as far as your partner can take it. You can see it in action in this male solo masturbation film where yes we used one in one of our men masturbating videos.
How does it feel to use?
It makes a lovely soft grip for your hand as you play meaning you can really experiment with the types of pressure you can apply.
The feeling of the soft fleshy cushion between my hand and my lover's cock had me absolutely dribbling with arousal. Such a new sensation for both of us.
It is great for circumcised penises too as there is no restriction to being able to slide and tug all the way up and down.
The only downside is that it such a turn on to give and receive that your play might not last too long! Although, you could be absolutely merciless and use it for a brilliant edging session.
When orgasm happens all the fluids are contained within the Egg which is easy to wash and dry inside out ready for next time. They are sold as single-use but with good care, they can last for quite a while.
What are the different types of Tenga Eggs?
I absolutely adore using Tenga Eggs and often buy them as gifts for my friends and their lovers. They come in several different textures, varieties and sensations, 23 at the last count, with beautiful fun designs on the outer packaging so you're sure to find one that tickles your fancy. Each style has its own cute name offering a texture variant to enjoy. You can choose from the Stepper, Twister, Wavy, or Silky. Soon you find your favourites.
Things you can love about Tenga Eggs
So, in a nutshell, what's there not to like about these Tenga Eggs. They come in such fun designs and by their shape and style not off-putting to use. They are highly portable and can be discreetly carried around. They come in a great variety of textures and sensations. Lots of fun for solo or partner play. Inexpensive to buy and you can enjoy a collection and they don't have to be a one-off use. Oh, and they contain the mess too!
For some sexy male masturbation inspiration why not enjoy some of our male masturbation videos and then pop on over and treat yourself and your lover to a new sexy Tenga Egg experience and enjoy a Frolicme 15% discount too.