If you've ever asked a sex blogger to give up their Doxy Massager, (click on the link to get 15% off from Frolicme) you'll get some form of the phrase "From my cold dead hands…"
I myself am a long-time fan, my purple Doxy original has been kept carefully in the nightstand for over 3 years now. It is a powerhouse of a sex toy. It is more than a sex toy—it is also a sports massager, healing every part of your weary body.
It is not what one would term a discreet toy. Indeed, it is loud and proud, mains powered with a 2m long cable to ensure maximum pleasure without any charging or battery issues to stop play.
During my 30-day orgasm fun project (a thing I do for a mental health boost) I sometimes feel the pressure to 'perform' and my fingers just won't do. Last year my I could barely walk for three days after the first diary entry, my efforts demanded powerful concentration.
Why reach for a Doxy wand massager?
Doxy for me at least is best used in those moments where you are insanely desperate for a sexual release but for whatever reason your best efforts are just that—effort without the climax.
I am sticking to the Doxy original for this post as it is my favourite. There are another two of these magic wands:
The Doxy Die cast is made from cast aluminium and a silicon head. And the Doxy 3 is a smaller and lighter version. For me, the Doxy 3 with its metal ring around the rim of the silicon head made it uncomfortable and more awkward to manoeuvre – I had to be careful of how I placed it and that can lead to my concentration dipping.
The original has a gorgeous giant body-safe PVC bulbous head which you can wrap yourself around, cuddling it between your thighs or hold it in place without having to think about any hard edges.
How should I use a wand massager?
Sometimes I just lie back, letting it rest down my body, head at my mound and switch it on. Mine comes on at full power, so I have to quickly reduce it quickly. The newer versions may have changed.
I can just lie there reading erotica or watching some sexy films and let Doxy do the work as I lie passively enjoying the adoration, albeit from a mains powered lover.
In this position, even if I am not feeling particularly turned on, the rumbly nature of the vibrations produces a deep resonance throughout my lower abdomen, working magic from inside. Then boom, all of a sudden, sometimes from as if nowhere, I start climaxing. It is usually long and repetitive, a lovely swell and come, swell and come over and over again until I can prise it off myself. It can leave you feeling slightly numbed and buzzy, so it is quite intense, but sometimes that is the perfect way to orgasm yourself out.
It is designed as a clit and vulva stimulator so not really meant for insertion.
What do we know about the Doxy?
It is made in Britain by the dedicated company Doxy which was set up in 2015 in order to make the best sex toy ever. William and the Doxy team have won several awards for the toy which has enabled a lot of people to orgasm over the years.
It is of course, not submersible in water, so to clean it you can use a damp cloth and soap, a good cleaning wipe or your usual sex toy cleaner.
You can also use it through your clothes, perfect for a quickie!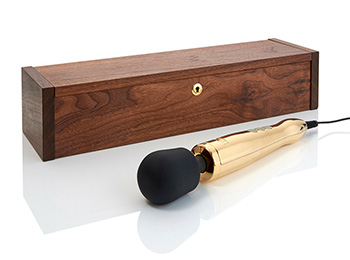 There are many wands on the market but the reason I keep coming back to Doxy is the fact that it has so many fans in the sex blogger and reviewer community. If there are folks who know what they're talking about it's a load of sex toy reviewers. And I absolutely love the fact that it is hand made in Britain. Indeed, Doxy shared a video of a craftsman in their factory grinding off the sharp edges against a sanding machine. Truly attention to detail.
And it works!
In certain kink clubs, Doxy wands are strapped to merrymakers' crotches by leather harnesses and orgasms are administered over and over again.
You might think that the Doxy is rather too cumbersome for partnered play but there are some great positions where you can use the Doxy to maximise sensations for both parties. One of the best is doggy style—there's plenty of room to hold the vibrating bulb to your clitoris and it has the added benefit of transferring the glorious rumbly vibrations to your partner. Yes, they are that strong!
As I mentioned before, the Doxy can be rather loud, so if that puts you off at all, it is easily remedied by some good old earphones and perhaps some sexy audio porn.
So if you'll excuse me, I feel a date with my Doxy coming on! Remember you can enjoy 15% off Doxy wands here at Frolicme by clicking on the links and adding them to your basket.