I remember the first time I had oral sex. Boy was I naïve! He was barely twenty, had been obsessed with porn and now wanted me to get face-fucked. Little me, barely legal, had no clue and agreed that he could ram his cock into my face. It even sounded kind of cool. Not surprisingly, it turned out to me a miserable experience for me, and I seriously doubt he had much fun either. We both figured, there had to be a better way.
I love to be in charge and give amazing blowjobs
Fast forward two decades and I'm obsessed with giving my lovers not just a blow job but guiding their cock as far down my throat as they want. I'm usually very submissive and like to have him take charge and use me. Giving amazing blow jobs and deep throating is the one area in my sexual repertoire where I want to call the shots. I've never had a lover, even very dominant men, argue with me. Guys are almost without exception thrilled if their lover goes down on them. The experience is completely different from vaginal or anal sex. As one of my lovers told me once, just knowing that his girlfriend enjoys deep throating him puts a smile on his face.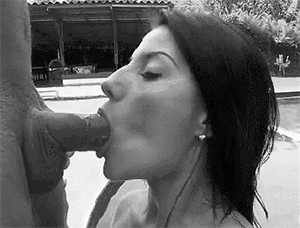 Personally, I like to spoil my lover. He can kick back, doesn't even have to watch, perhaps sex isn't even on his mind. That's perfect for really enjoying every aspect of oral sex. To this day, I love feeling how his cock responds to just the slightest touch of my tongue. Good old saliva is the best lubricant for going deep, and like with all things sex, good lubrication makes all the difference. The fun part is, while I slide my tongue up the underside of his cock, start wrapping my mouth around his head, move myself into a comfortable position, he gets harder by the second. One of the greatest joys for me is feeling his response, knowing that I'm getting into his head, and I haven't even started deep throating.
Since I'm in charge, everything happens when I'm ready. Sometimes I feel like I'm marinating a good piece of meat and take my time. Then there are days when I just want to devour his cock and can't wait. There is a great playful aspect to getting ready for taking him deep into my throat. Teasing him to get a good erection. Frustrating him until I'm ready. And all the while, I get to see his cock in all its beauty.
Whether his cock is small or large, I know what he wants. As long as I keep gliding with my tongue around his shaft, he knows I'll eventually want him inside me. The size of his cock is always perfect. If anything, smaller is better. Sure, if you're a porn star, deep throating an enormous cock looks great, but for everyone else, it can be a size too big – at least for now.
One important reason why I want to be in charge is to make sure I'm ready to go from a hand job to a blow job, to deep throating. I must want it. I must be hungry.
How to handle the gag reflex when deep throating
Seriously, his cock becomes a gorgeous piece of meat that I get to swallow. Deep throating is not about overcoming a gag reflex, it is about tricking the mind and genuinely wanting to swallow his cock. Not just a bit, all of it.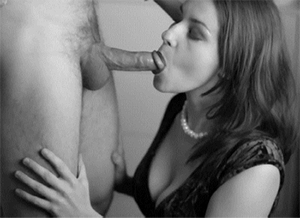 I've never learned to suppress my gag reflex. And there really is no need to practice with a toothbrush handle only to realize it's not working. Instead, make the gag reflex your friend. It will drive him insane and think something absolutely amazing is happening. Once my lips have worked his shaft deep inside me, it takes some conviction to push further. This is where it helps to know what to expect, and to be comfortable with it.
The gag reflex will kick in. Perhaps not right away, but eventually, it will. It may feel like you want to throw up. At some point, his cock blocks the air passage and breathing is impossible. All this will almost inevitably trigger tears.
So why is deep throating such a sensual and overwhelming experience?
Because it's the mind taming the body to bring joy to a lover.
I need to work my way up to it (most of the time, at least). It's almost a mental foreplay for myself. Well lubed cock, check. Nice and hard, check. Do I want all of him?
Hell, yes!
The last step is to find the best angle. His cock is hard, and it is going into my throat. I like to have him on his back, legs slightly apart, and me kneeling between his thighs. Just far enough back to make it comfortable. You're in charge, you decide what's comfortable. It may take a few tries to find the best angle and that's quite alright.
Now it's showtime.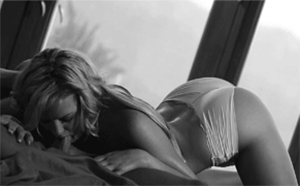 Breathe. Relax. It's time to swallow some meat. If you want to get all of his cock, keep swallowing. But don't take more than you can swallow, don't force it. Your gag reflex will be fooled as long as your brain keeps eating his cock. Before you know it, his tip is in a place he's never been.
Your body starts fighting back. The meat isn't going down. Your gag reflex makes your throat spasm. You can't breathe, tears are running, but you want to go deeper.
Now you realize that you're running out of air and have to pull back. You pull back, but not all the way. Your throat begins to relax. There may be some bitter taste that comes up. You swallow it back down where it belongs.
Take a deeper breath, determined to keep him inside you longer and deeper than before. You're hungry, you want every inch of him. Don't wait for too long, don't let your throat relax too much. Just enough to be sure you want it more than before. This time his cock goes down deeper. You think you have this conquered, then your gag reflex kicks in again. You fight it by sucking his cock deeper inside you. You're not done eating your meat! Whatever happens, you keep your lips tightly wrapped around his hard shaft.
He is in heaven. Your lips on his cock felt great. But by the time he feels your throat squeeze the head of his cock, he knows you are a sex goddess. He doesn't know what the gag reflex does to you. All he can feel is that his cock is squeezed deep inside your mouth like you have hands inside your throat. While you still have some air left, keep fighting the gag reflex by squeezing your throat together, just like you would trying to swallow a large piece of steak.
When you come up, give him some time to digest what just happened. Just smile, let him wonder how you turned from 'novice' into an amazing pro at deep throating.