A while ago, in an article about being naked on a beach,  I mentioned seeing a rather naughty incident on a beach in the Caribbean.
Of course, back then, I was revealing all anyway. My wife and I were totally naked on the beach. We were pretty much alone. That wasn't surprising really as it was only 10am and there had been a big carnival in town the previous evening and not many people were yet up. We had just enjoyed our first skinny dip of the day and were sitting back on our loungers when a couple, rather smartly dressed, appeared at the side of the beach. They both had drinks and shoes in their hands, and it was pretty evident they had been partying for a long time.
They smiled at us and walked a little further up the beach, but not too far. They clearly wanted to squeeze a bit more fun out of their night—and now morning—out. I can remember what happened next so clearly. That's hardly surprising bearing in mind what was to follow.
The woman had magnificent long hair, pulled over to one side of her head, held in place by a band with a large, brightly coloured flower in it. She was wearing a short dress which she unzipped and put on a deck chair. Next, she slipped out of her pants and went up to her partner, took his drink, held the back of his head and kissed him deeply. She took off his shirt, placed it on the chair too, and then started to rub his groin. His trousers were still on, but I could see a bulge from where I sat.
I have to be honest, I was beginning to get a little hard myself.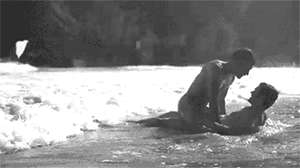 And soon I became even more alert, shall we say, when the delightful woman took off her bra and pulled her man into the sea, trousers and all. They started to, well, frolic, in the waves—mainly kissing, but the guy was now running his hands over her truly incredible breasts. I have never seen such nipples—a staggering size—which stood out like bolts.
After a while, the man stood up and his partner pulled down his sodden trousers, pumped his rather large cock and then took him in her mouth in true porn star fashion. She bobbed up and down while cupping his balls in one hand. She even took his whole shaft right into her mouth—her lips were touching his body. Deep throat or what? There was no doubt that she was a very skilled practitioner in the art of blowjobs.
Given all this action, no more than about thirty metres from us, it was hardly surprising that I hadn't noticed another couple appear on the beach. They were every bit as hot as the ones already entertaining my wife and me.
They seemed to be friends with the other couple and walked up to the deckchair where the first woman had deposited her skirt. The guy—rather taller than the first man—sat on the chair, and his girlfriend (a fair enough assumption to make) sat on his lap. The duo in the water broke away from their activities and the four began to talk.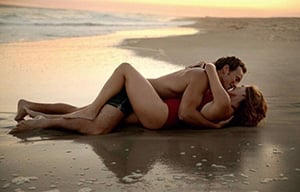 I really should have given them some privacy, but I was so hooked into what was going on I was desperate to hear what they were saying. The wind was in the wrong direction and I couldn't make it all out. But I did catch something initially from the couple on the chair the woman said that they shouldn't have interrupted an amazing blow job and they found it really hot watching her in action.
Very shortly afterwards, the newly arrived duo took their clothes off, too. The woman did exactly the same as her predecessor—removing her skirt, then pants and finally her bra. Her breasts were smaller but deliciously pert, and she had a gold chain around her waist, which matched a similar chain around an ankle.
Holding hands they walked into the surf to turn the two into a four. The waist chained woman had the tightest of butts which were clearly appreciated by the first man who ran his hands over her cheeks.
The women then kissed. It was a long, slow kiss, which ended with the one in the water dropping her head to lick her friend's nipples. Her friend then reciprocated.
By now, I have to admit, I was as rock hard as the two men. My wife, who had been reading at the start of all this, continued to pretend to be engrossed in her book, though she was looking over the top of the page at the action in the waves. She turned to look at me, and her mouth dropped. Neither of us had ever seen anything like this before—well, only in a film of people having sex on the beach and not in the flesh. She then nodded at my erection and smiled.
As if all this was not hot enough, what happened next was almost too much for my very inexperienced eyes. The two guys stood next to each other and both women, kneeling, took their respective partner's cock in their mouths. And then they shuffled around and swapped. Each sucking on a new cock!
But the finale was what did it for me. The woman with the big hair stopped—said something to both the guys—and then the other woman moved away to give her space. She settled herself, took both cocks in her hands, then took both men into her mouth. Two cocks in one mouth.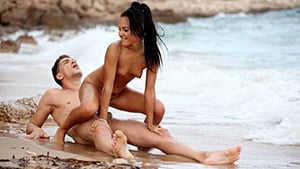 I could go on, but by now my wife had moved across to me and was easing my cock into her pussy, which was incredibly wet. Her back was towards me and she began to slide up and down my shaft. Both of our eyes remained glued on the foursome. It was hardly surprising, but I came rather quickly. And so did she.
But the four performers on the beach, despite being out all night, had the stamina to keep up the performance for another hour.