There is something brilliantly liberating about being naked on a beach.  Whether it is the hedonism, exhibitionism, voyeurism or perhaps even atavism, it's an experience that few others can beat.
And I have to confess, I am a closet naturist.  No-one knows that my partner and I enjoy nude sunbathing.  We haven't told family or friends.  But that, somehow, makes it even more special.
We are quite recent converts.  Of the two of us, I was always a little keener to give it a go.  We are lucky enough to have a large garden, with a totally secluded area at one end, and a few summers ago we celebrated being recent empty-nesters by sunbathing and reading books totally naked.  It was a bit naughty, but we loved the freedom of it. And yes, it did make us both rather horny.
Then a couple of years ago we took a spring break to Greece and, when driving around to find a quiet beach (simply to avoid the crowds, rather than to find somewhere to bare all) stumbled across a delightfully quiet cove.  There was just one couple, lying down on the beach in the distance.  We didn't realise at first that they were naked.  As far as we were aware, this was just an ordinary beach – there was nothing to suggest that it was an area reserved for naturists and nude sunbathing.
My partner took her clothes off, just leaving on her bikini bottom (she always goes topless if she can; indeed I have known her to be the only topless woman on a beach on several occasions).  I then noticed that the woman on the other side of the beach had stood up and was wearing one item less than my partner.  The exhibitionist within then got the better of me and I told my beloved that I was thinking about slipping out of my trunks for a spot of nude sunbathing. I stood up, caught the woman's eye and tugged at the waistband of my trunks and shrugged my shoulders – asking if it was OK to remove them.  She gave me a thumbs up.  I had second thoughts, but luckily had the courage to continue and quickly pulled my trunks off.  The woman applauded.  The bloke with her sat up, looked at me and applauded too.
And then I went for my first skinny dip and it was just magical.  I loved feeling water all around me.  I loved the way my cock was suspended in the water and enjoyed the way it was swayed by the waves.  I did rather worry that I might emerge with a hard-on, especially when my wife discarded her bikini bottoms and joined me.  But I waited until it subsided before wading out and returning to the beach.
Now one of the practical advantages of being bare emerged.  There's no sitting in horribly damp swimwear after a dip in the sea. And, of course, no white patches on our skin after a day nude sunbathing in the sun.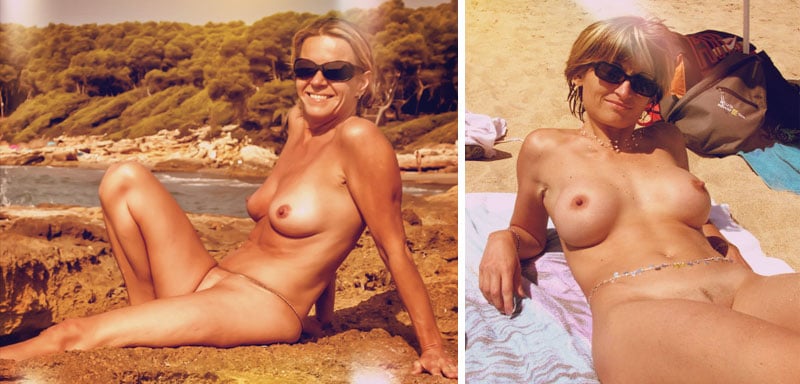 So we were hooked and now always look out a naturist beach when we go on holiday.  Perhaps it's because we are now part of the club and more aware of the practice, but we sense a growing number of people – especially older ones – are enjoying being naked on the beach. Among them is The Other Me, who has quite a following on Twitter (@The_Other_me_9), many of whom are naturists. She explains how she began.
"I had always wanted to give it a go," she says.  "One year, when on holiday on our own in southern Spain we noticed that there were some naturist beaches clearly marked on the map and decided to give it a go. We were a little nervous at first, but once the clothes came off it felt wonderful and liberating."
I have to confess that I do take a peek at others on the beach who are nude sunbathing (far more so than my partner who is usually far more interested in the book she is reading).  The Other Me says she looks at others, too.  "Everyone is so relaxed and beautiful.  It's only natural and I can't help looking at all the boobs, bums and cocks.  We always point out the lovely ones to each other."
Trends on the nudist beach are apparently changing.  Older women seem to wax or shave their pubic hair either removing all of it or just leaving the tiniest of landing strips.  While many younger women do the same, it does seem that the bush is making a bit of a comeback.  In general, most men of all ages are pretty groomed down below.  Some are totally smooth, but a larger number leave a bit of hair above, but shave or wax their balls.
Of course, there are tattoos aplenty, especially on younger women and men.  The once ubiquitous navel piercing, while still common, is not quite the must-have adornment.  Pierced nipples are certainly more apparent, too. However, the big trend of the summer was anklets.  They ranged from gold and silver ones to bohemian leather bands and also some really chunky baubles.  My partner succumbed and bought a really bold one and it looked amazing on her.  The other really hot jewellery trend of the summer was the waist chain.  They were really necklaces worn around the waist.  The best ones were a fine chain of gold or silver, which you only noticed when they caught the sun whilst nude sunbathing.  On a slim body, where they hung down below the navel and hugged the hips, they were amazingly erotic.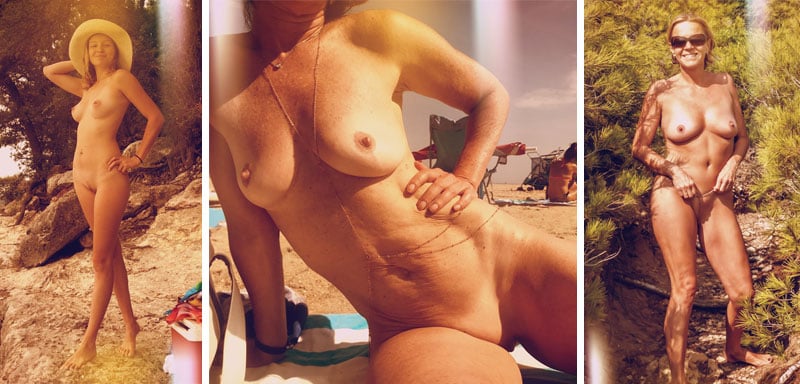 Being naked with others can be sexy.  I certainly was delighted when this most beautiful woman and her partner sat down near us, then came up to have a chat about the resort at which we were all staying. Indeed, when I went over later the same day to talk about the rather poor service at the hotel this delightful woman, who was sitting on a lounger at the time reading, put her book to one side seemingly to give me a clear sight of her lady's parts and then she put her feet down either side of the lounger almost as if she wanted to give me a better view.  I did notice my cock harden a touch; the guy next to her certainly seemed to react as he too stiffened a touch.
The Other Me agrees. "It makes me feel sexy, too. It's partly being naked and partly being surrounded by other naked people.  I suppose I'm a bit of an exhibitionist so I enjoy being bare in front of others."
My partner and I haven't actually done anything too sexy when we've been bare on the beach. However, we do tend to linger over a few spots when rubbing in the suncream.  The Other Me admits to going a touch further and indulging in nipple play, the occasional cock rub and even allowing a thumb to slip up a bottom when lotion was applied to the buttocks.  She has seen others take it further but says they are usually discrete.  However, this wasn't quite the case on the beach where my partner and I were lying last summer where some revellers came by after an all-night party and had a foursome in the surf. But perhaps I'll leave the detail for a future article?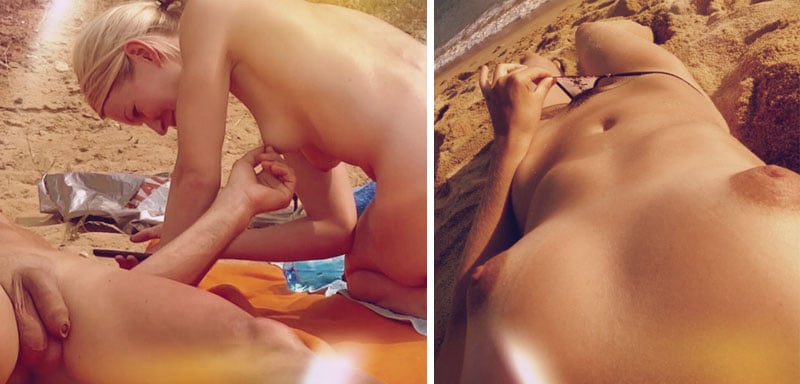 Both The Other Me and I – well, my partner – have experienced a bit of unwanted attention from single males (but usually if you ignore it, or simply say that you are not interested the miscreant will usually move on).  And on one glorious occasion, the complete opposite happened. A thirtysomething woman with lovely, pert, smallish breasts spoke to my partner as she was wading out of the sea and complimented her on having such 'magnificent big boobs'.
If you are thinking of giving this a go next summer, I would urge you to be brave and take the plunge.  The Other Me would strongly agree:  "I feel totally relaxed," she says.  "I let out a sigh when my clothes come off. It's as if I can breathe again.  I feel happier and more content and there is simply nothing else that makes me feel this way. What's more, most people find it hard to believe, but they actually look better bare."
We are both convinced that if you do it once you'll be hooked and will never want to be in swimwear on a beach again.