He always enjoyed a hot bath after a long day and today had been long. Meetings, seminars, smiling, smiling one dull contact after another… thank god for her. She seemed to know when he was tiring, stepping in to charm or divert, her eyes claiming the stare of the most difficult of prospects. She knew who he was meeting next, she knew who they were, what they could offer, how to manipulate their desires into a handshake and a number.
The water lapped against his chest and he saw her. Her smile, her hair, the curve of her skirt, the promise of her open necked blouse. He could smell her fragrance, feel the soft skin of her hand when it brushed his, hear her laugh. What was she doing now? Her room was next to his – same side of the corridor. Was her bathroom through that wall? Was she two metres away lying naked in her bath thinking of him?
His hand went to his cock. Once again the same fantasy as he told her how he felt. She told him  the same and they kissed. How would her lips feel? Her tongue softly slipping across his as they fell together.
A soft beep and a click snapped him to reality. The door to his suite opening? Had he ordered room service? Had she? He called hello. No reply. His towel and robe the other side of the bathroom too far to risk. He sat up to lower his hard cock under the surface. The bathroom door opened.
She walked in.
He looked at her in shock as she came into the room still wearing her smart black skirt and white blouse. What had happened? She said nothing but looked into his eyes across the room. At that moment he knew why she was there. She walked across to his robe but hesitated before taking it. Instead she kicked off her shoes and silently came over to the bathtub. Sitting on the end opposite him she swung both stockinged legs over the side and lowered them into the water. He made to move over towards her but she stopped him with one touch of a dripping foot on his shin. She shook her head lightly and lowered herself into the water to sit across from him.
Her feet slid along the inside of his thighs and gently caressed his cock, now harder than he could remember. She looked at it as its swollen head peeped out of the water. He watched as the water from the bath worked its way slowly up her white shirt revealing her skin beneath as it attached itself to her. Her belly button visible first then the shape of her bra beneath the cotton. She continued to lower herself into the water slowly up to her throat and he took her wet stockinged leg in his hands. As he ran his fingers along her calf she pointed her foot and he kissed the end of her toe.
He could wait no more. He reached across and grabbed her, pulling her across to him and turning her so she lay back on him, her head arching back. He kissed her neck and ran his hands across her wet clothes. One up to her breast and one down between her legs, pushing the wet skirt up and sliding inside her knickers. He could feel her nipple hard through the wet fabric and the rough hairs on the palm of his other hand as he explored her still hidden sex. He mapped it with his fingers, her soft moans signposts to the interior ecstasy. She turned her head and snapped at his chin. His tongue met hers and he tasted her at last. His hand now reaching into the dreamed of open neck of her blouse, sliding along the wet curve of her breast and into her bra where he took her taut nipple between two fingers and squeezed. As he did so he pushed the first two fingers of his other hand inside her. Even under the water he could feel how slick she was and as he moved his fingers between her core and swollen clit she shuddered in his arms and with a cry and a shake shuddered to a climax.
But this didn't settle her but unleash an animal. She rose up, turned and straddled him, looking at him with flashing eyes. He ran his hands over the shiny fabric of her skirted behind as she took his cock in one hand and pushed down on his chest with the other. Her hand made a splash of water with each stroke. He reached up to her chest and undid two buttons of the wet blouse. He freed a breast and sat up to suck on the exposed nipple then run his tongue down into the soft valley between them.
Suddenly she stopped and got out of the bath.
Standing before him, her wet clothes clinging to her body she looked at him for a moment. Then she pulled down her knickers and raised her skirt to reveal herself to him. He sat up to pull her back in but she turned and walked over to the shower cubicle. She switched it on and when it was running hot got in and rinsed her hair under the water. He sat in the bath and watched  her through the glass as she soaked herself. The woman of his dreams.
He could wait no longer. He stood up and got out of the bath. Getting into the shower cubicle he pulled her to him. Her mouth met his and she reached round to grab his behind. The water cascaded down them both as he span her round to face away so he could run his hands up and down her body. She turned back and, looking him in the eye, knelt down to take his cock in her mouth. Her tongue lapped in delicious torture as her lips closed round him. But it was her eyes that fascinated him. The eyes that could draw the gaze of a whole room into them. Looking up at him as she enjoyed his cock, her hair now shining wet and slick.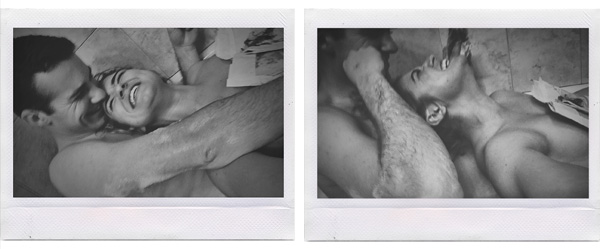 She stood up. He put a hand under her thigh and lifted up her leg. His cock nuzzled against her as his nose met hers. Still keeping her gaze he pushed slowly but firmly inside her. Time passed. The beat of their bodies marked it in a regular pattern. Together they rose through levels of pleasure until he could feel her start to shudder once more. She kissed him and bit his lip gently. Squeezing her thigh slightly he thrust one final time into her and felt the pump of his hot cum as her climax clamped onto his cock again and again.
She lowered her leg and switching off the shower took his hand. She led him back to the bath and he helped her remove her wet clothes. Sinking into the still warm water she lay her head on his shoulder and he held her close.
Thank you to author Mark for contributing his story Hotel Soaking for FrolicMe. Read his earlier article on his lust for wet clothing.