As an athlete, I learned early the importance of keeping your body tuned and maintained. The sports chiropractor and I were on a regular schedule to keep my body inline. Over the years I continued looking for a regular massage therapist that would support my flexibility and my needs to be fit. I was lamenting the loss of another therapist that I had come to treasure for his work on my body to Camille as she worked to eliminate the pain in my knee. She told me about Adam a massage therapist that another triathlete used and had great results.
Adam was in his late 30's 6'2 skin as dark as the night and shaved headed. Physically fit and hands that found spots on your body that I did not know were hurting. Me? In my late 40's, a college athlete who turned to cycling and then ironman triathlons in my early 40's. 5'10 and 210 pounds of thick muscles that yearn for stretching and flexibility.
My first visit with Adam was impressive. Nearly two hours of his hands relaxing, prodding and finding how my body worked under his touch. His approach to draping was relaxed and I was certainly open to this as his professionalism was superb. Somewhere in the middle of the massage, I felt the blood flow to my cock and the swelling began in response to his touches to my body. Nothing was ever said, however, I noted what had occurred.
Over dinner that Saturday evening, my wife asked how the session went and if I liked the new therapist. I told her all about him and that yes, I would be seeing him again. I omitted the part about the swelling he produced by touching my body as I was unsure about my feelings. Tina knows me well and must have sensed something more.
That evening she was the leader in taking me to bed. Her appetite for cock sucking has always been good, but tonight she was slurping me deeply into her mouth as I felt her slide her lubed fingers into my ass. Not a surprise in that we both enjoy anal play, however, tonight was deeper and more aggressive as she continued her assault on my ass and my cock.
Dropping my stiff cock out of her mouth, she was vocal as she encouraged me on. "Come on open your ass for him, I know you want that." Another finger to the mix. "That's right open up for us."
My orgasm was fast approaching, and she swallowed my cock deep into her mouth and took my cock's explosion fully. Tina continued to suck me until I was soft in her mouth. Crawling up my body her lips plumped from cock sucking were covered in my cum as she began to deeply kiss me. I could taste myself on her tongue. Sweet and salty. She continued kissing me as she ground her shaved pussy against me. Harder and harder until a felt the soft whimper in her kisses signalling her orgasm. Sleep came quickly.
In the morning light, nothing was said about the previous night's lovemaking. Adam became a weekly encounter and the results were always the same. Incredible massage work and the ever-present swollen cock of mine. There were a few follow-ups from Tina about how my massages were going and many questions about Adam.
The evenings after my massages were always filled with physical encounters that were more fucking than lovemaking. It finally happened that my car was in the shop and I had a 5:00 pm appointment. I took Uber over and asked Tina to pick me up so we could go to a dinner with a couple that we had shared more than just meals with in the past.
As Adam walked me to the front, there was Tina looking as hot as she could waiting for me. I knew the attire was as much for Adam as it was for me. I introduced them and we headed to the car. Once in the car, it started. "Oh my, you never told me what a physical specimen your Adam is."
The conversation that night was laced with sexual innuendo and suggestions as Tina told our friends about my therapist and the reaction he produced in me.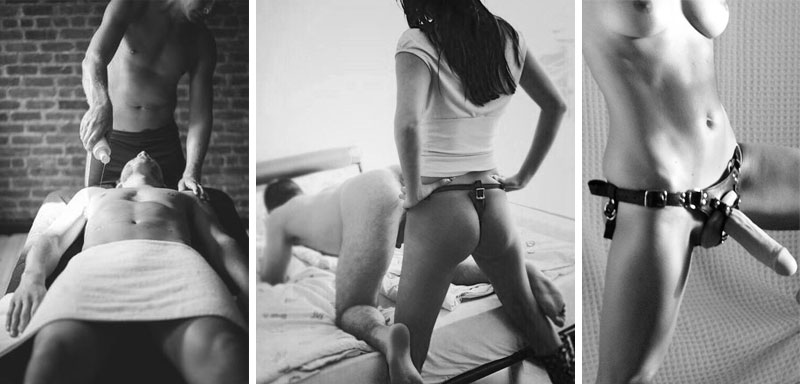 That night the clothes came off quickly and before I could grab Tina and toss her on the bed, she scampered off to the bathroom. When she returned she was wearing her strap-on cock that she used with her girlfriends when they would have a "ladies night out".
This would not be the first time that she had taken me, but normally I would have to ask and get her in the mood. Tonight, she was the aggressor and kept talking about how would it feel for me to have Adam's cock inside me.
We spend hours that night in nearly every sexual position that can be achieved with a couple. Unlike that first time after seeing Adam, he was her topic of conversation over morning coffee. Throughout her inquisition about how would I feel about another man, I kept quiet about telling her the truth. I had thought about it and knew that Adam was very well equipped.
He and I connected over the weeks and months and then he left the place where he was working and began working out of his apartment. I knew that during our massage times together we had progressed to his touching all of me and my staying silent and with body language, it was obvious that I was implying it was ok. I came for my appointment prepared for knowing that this might go further. He is athletic, and smooth all over and has a wonderful thick 9+ inch cock.
The massage began as normal, with me face down. He was wearing only a soft pair of shorts and I could both see and then feel his cock as he massaged my shoulders and back. It was when he began the massage on my legs that I knew I was going to taste his cock and have my first time with a man.
A little too much oil was spread on my legs and the draping was eliminated. Laying naked on the table, I could feel his hands working deep on my hamstrings and into my glutes. My cock began to swell and he noticed. The jolt of his thick oiled hand touching my cock may have slowed him down for a moment, but the swell in my cock answered his touch. A few strokes and then he began to work again on my body. As he massages my glutes and hips, he slowly used his fingers to oil my ass and I now know prepare me for his thick cock. First one to see how I accommodated him. Then a second and I think a third. He was pressing down on my lower back as his fingers were massaging my prostate and he was telling me to open up and relax.
The room was bright as I turned over and I could see the swell in his cock, and the connection in our eyes told him everything he needed to know. As usual, he covered my eyes with a towel and continued his massage. As he was working on my arms and chest, I could feel his cock against my hand. I pushed the top of his shorts down and began stroking his cock to the movements of his hands on my body. He turned to work on my abs and his cock was near my head. I turned and took him into my mouth. I tasted the precum that was dripping and felt him take my cock into his mouth.
Obviously, the massage was ending and the real massage was about to begin. After mutual sucking, he sat me up and we began kissing. Deep kissed as our cocks bounced against each other. He pulled me to the edge and I felt his cock against my ass. He laid me back with my legs now on his shoulders and began to slowly take my ass. His cock was covered with a condom and was lubed for fucking me. I love playing with thick toys, but the feeling of his cock was incredible. The heat was intense. After slow stroking into me, he leaned over me and began a slow thrust and kissed me deeply.
He slowly withdrew and took my hand and led me to the bedroom. The covers had been pulled back and he put me on my hands and knees as he then fucked me. The heat and fury of his assault on my ass was intense and caused my cock to swell like never before. I felt the swelling of his cock and then the pumping of the cum. Together we collapsed on the bed and still deep inside me, we kissed and then fell asleep. I felt his cock stir again in my ass. He got up and went to the bathroom to dispose of the condom. He climbed back into bed and began sucking my cock and fingering my ass. His cock was swollen and I took him into my mouth. I tasted the cum from his first time. I began to feel the beginnings of an orgasm, as he sucked me and I sucked him. The first jets of cum filled his mouth and he began to let loose in my mouth. What an incredible feeling. He turned around and we kissed with the taste of each on our lips and mouth.
We cuddled in bed, and once again he was semi-hard. This time, he put pillows under my ass and slowly fucked me until he came deep inside me. As I dressed to leave, Adam asked if I would be seeing him again. I told him yes, but that he was going to need to come to my house for an evening later that week. I texted Tina and told her to meet me at our favorite BYOB Italian place. It has red checkered table tops and cozy booths. Over the next hour, and a bottle of wine, I told her the afternoons happenings. I also told her about Adam coming to our house on Thursday night.