We were all expats doing international development work and living in a strict and religiously conservative country in Asia.
It was the final week of a hot summer. Impromptu cocktails on Natasha's balcony had turned into an impromptu dinner party and everyone breaking out the illicit booze that they had bought in duty-free shops or had brought back from trips abroad.
We were a tight group who worked and played hard together and relied on each other to get through the adventures and sometimes the struggles of living in a teeming capital city in a developing country. The night had a wildness to it as if the heat and the restrictions of the conservative culture around us had sparked a rebellious defiance in us.
As the night advanced, people began to fall off from the party and go home to sleep, until only myself, Max, a close friend of mine, and Natasha, our gracious host, remained.
Natasha was single, a few years younger than me, in her late 30s. She was stunning, with long brown hair and a fit, lithe body. We had worked together for about a year and I had long fantasised about her while never really daring to approach her because we worked so closely together. We were close friends though, and I followed the antics of her dating life with keen interest. She was sexy—plain and simple.
My friend Max was just that—a good friend, probably my closest friend at the time. He saw the world much the same way I did, was generous and kind, and loved life and its pleasures. He was someone I had bonded with quickly as we had been thrown together in the expat scene.
That night the three of us had been united in revelry, intoxicated from the exotic night air as much as from the drinks. We had no desire to call it a night as the others left, and when we were the only ones left our defiance continued…
Natasha poured us a fresh round of cocktails and turned on the radio and we started dancing. The national radio station was playing a salsa program, and before we knew it, the dancing had evolved into dirty dancing. Natasha wore a light cotton sundress that came to just above her knees and the hem twirled and flipped as she moved.
I started dancing behind her, moving my hands lightly over her body. Max was in front of her, so she was between us, flirting and playing with both of us at once like we were on a crowded dance floor in a club somewhere. It was as if she was teasing two suitors making a play for her, enticing each in turn, and then playing coy as she turned her attention to the other. Except that she seemed to be less and less worried about the playing coy part.
She was letting her hips slide against my crotch as we danced and didn't stop even as I know she felt my cock getting harder and harder under my jeans. I started sliding my fingertips lightly over her body as we danced—up the insides of her thighs, up her sides, over the curve of her ass. I ran my fingertips lightly over her breasts, just barely touching, teasing softly over her nipples. Both Max and I could see they were erect and alert, poking out under the thin cotton of her dress, and it was clear she knew it too.
Suddenly the level of arousal and intensity was palpable to all of us, as if the room had suddenly become more sultry and humid. Max was now dancing dangerously close to her, in front of her, and she was straddling his leg and still pushing herself back against my hard cock. At one point she reached back and ran her fingers over the outline of it in my jeans, and I could hear her exhale sharply.
I moved Natasha's hair to the side and kissed the back of her neck. Max held her face for a second and kissed her lips softly, and she responded with a sort of startled hungry kiss of her own. Then he started kissing softly down her neck and the tops of her breasts.
I was incredibly hard now. I slipped my hand under her dress, between her legs, and slid my fingertips slowly up the inside of her thigh until I could feel her heat and wetness throbbing and pulsing on the skin of my hand. I let my fingertips just kind of hover over the wet spot that was spreading in the crotch of her panties, almost touching but not quite.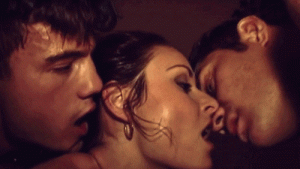 We had stopped dancing at this point. Her breath was shallow now, and a little gasp escaped her lips, and then she kissed Max hungrily. I sank to my knees and slowly slid off her panties from under her dress. The dark wet spot in the crotch was apparent to all of us.
"I think we should move this to the bedroom," was all Natasha said.
Once we were on her bed, her hungry kissing of Max quickly progressed to unzipping his jeans and taking his cock into her mouth. She had spread her legs for me and I had pushed her dress up around her hips and had started kissing and licking up the insides of her thighs and teasing my tongue lightly over her wet slit and clit. I was trying to go slow but when Natasha started whispering "fuck me!" urgently, I couldn't really restrain myself any longer. I unzipped my own jeans and slid my hard cock inside her, savouring her softness and wetness as I slid into her easily, hearing her moan as she continued to suck Max's hard cock.
Max came first, mostly in her mouth but also on her face, and then I felt her come around my cock and I came hard inside her. We weren't close to done, however. The same hungry, almost frenzied revelry that we'd had all night seemed to just keep driving us. Max had gotten hard again after I came, and we switched places and I got hard in Natasha's mouth while I watched him fuck her.
She came again, and a little while later he came again too, adding his load to mine. Our combined cum covered her pussy and was still dripping out when I slid inside her again.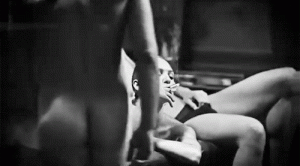 We went on like that for what seemed like hours, though it was probably far less time than that, taking turns fucking her and then switching places and getting hard again and then fucking her again. I've never been as driven and insatiable in bed before for such a sustained period. Max and I both came three times, and she probably came six or seven times.
The final time, Max had told Natasha to get on her hands and knees and he had put the head of his slick cock against her ass and slowly slid inside, her moans getting louder and higher-pitched the deeper he penetrated her. When she tensed and came, he came one last time inside her, and we all collapsed in a sticky pile of bodies.
Seeing her there, her dress still partly on and pushed up around her hips, breathing hard, her hair tangled, spent and satisfied, our cum dripping from her pussy and her ass and sprinkled over her breasts and face, I almost got hard again just from the sight. Alas, I had reached my limit—we all had. We drifted off to sleep, our bodies still tangled together.
We spoke of it only a few times afterward, always with shy smiles and blushed cheeks. Natasha soon found a new boyfriend and got engaged. Max transferred out of the country not long after.
The one time Natasha brought it up to me, she said only that it had been one of the best nights of her life, something that she had always fantasised about, and that she was grateful for it.
As for me, threesome sex with another man was something I had never fantasised or considered before it happened—it just happened—an unexpected and impromptu end to an exotic night. It remains one of the most sensual and erotic memories of my life.