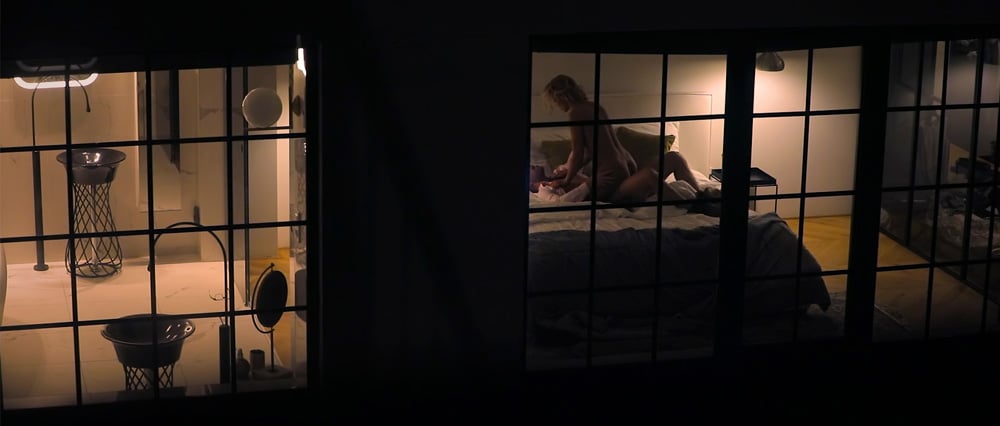 SEE YOU FIGHT - Story
Sexy rough fuck story of a planned and very naughty filmed encounter
Comment
Josephine was feeling very frisky tonight. She wondered if Jasper would notice just how much. She'd been hatching a plan for a few weeks now, and today everything had fallen into place.
When she and Jasper had first met, he'd revealed to Josephine his deepest desire was to be watched  unawares while fucking. And to be filmed without his knowledge. Consensually of course. He'd mused at how he could have that happen without knowing—like organising your own surprise party. Josephine had stowed the information away for a special treat and now had set things in motion to bring the dream into reality for her man.
She knew he liked it rough, so she planned everything meticulously.
That morning after the equipment had been set up, Josephine had found herself so excited by her plan that she sat before the large window in full view of the cameras hidden in the trees outside. She spread her legs wide, hooking her long red nails into her panties and pulled the crotch to the side. Knowing the cameras would already be recording, she stared right down the lens as she pushed the tips of her fingers into her already soaked entrance. Her pussy bucked and spasmed around the beautifully manicured tips and she curled her two middle fingers, pushing them into the first knuckle. It felt so raw and sublime and oh so very naughty, masturbating herself like this. She'd discovered early on in this clandestine journey that she too had a kinky streak and yearned for the moment later when the voyeur himself would tune in to watch their live sex show.
Her nipples puckered and tensed in her bra and she reached up into her blouse and pulled her breast free of the constrictive fabric. She ran her thumb over the tight pucker of flesh at her nipple as she continued to thrum her pussy, smearing her juices all over her lips and vulva. Oh yes, her head fell back, and a groan emanated from her throat, she was overtaken in this sublime seduction of herself. She kept playing the sexual fantasy of watching the film together with Jasper later, after they'd fucked.
She'd told him not to be late and had acted irritated and bossy, knowing this would amp up the atmosphere between them. They both had an arrogant streak, but the difference was, Josephine knew how to work his to her advantage. Her very sexy advantage. They would argue and then fuck like feral things, the make up being rough and passionate and Josephine loved it.
Her juices were now trickling down to the chair soaking through her knickers and the towel...
...to read the rest of this story please login or
register
to read the full story free.
Read all about the wonderful author: Tabitha Rayne
You can also listen to this story