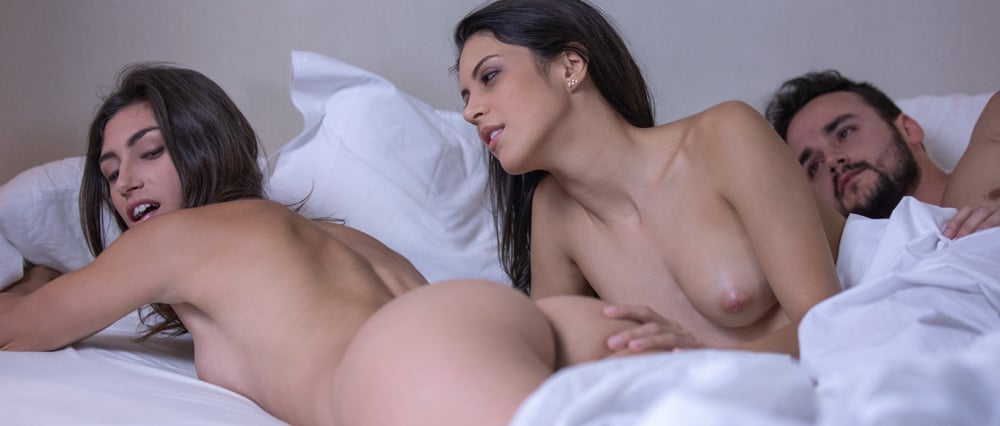 THREE IN A BED - Story
Sensual and erotically passionate threesome story
Comment
Afterwards, Amy would remember the precise moment at which she plucked up the courage to take Mariola to bed. It came with a swallow, too many – or perhaps just enough – of the wedding Rioja. It was a bit cheap and over-oaked, but it cut through the bright haze of Prosecco like a firm hand. A firm hand taking her by the chin, and a rough voice saying: "Look, look at that." And the firm hungry masculine ghost of the wine made her look, look across the teeming dark room, to Mariola, a dark flame in a silver sheath dress.
Sipping the Rioja, Amy let the wine fill her with dark flavours, the rich scents of summer nights and dark fruit. She watched Mariola move. Her face was a marvel, strong, fierce. Light danced in her eyes and on her bright teeth. Shadows at her ear and throat showed off her fine jaw. She imagined the strength of the woman holding her down, that powerful mouth at work. The feel of her body, it's curves and its angles, her taste. Warmth spilt across Amy's belly, and thighs and tickles and tingles danced down her legs. Amy felt herself fill and flower, her flesh moving. Uncurling. Blooming against the soft grasp of her knickers. Decision made, she tore her gaze from her target, began to search the crowd for her plus-one.
Sam was babbling happily at the bridesmaids when she found him, guileless face flushed with the feast. He leaned over the two girls in their silly pale dresses like harebells and listened with all of his six foot four frame and his broad shoulders. In their luminous eyes and their quick nibbles of a lip and the faint bloom of perspiration on the domes of their festive breasts, she could read their intent. Their willingness.
Oh no, ladies, not tonight.
She took his arm and turned him and gave the bridesmaids the face of a blade, all beaming smile and fuck-you dead eyes and they blanched and retreated as she whisked him away. She took his elbow – lord the strength in that arm – and took him away into the outside, the cool mist of the river and the puddles of table-lights in the rose-hung garden.
Away down the silvered and dewy grass were older unlit tables, tucked under overgrown hedges. Dark, private spaces – some already full of gasps and the whisper of zips. Amy could feel her blood sing as she drew Sam on, found a table and made him sit down. She saw his frown, all befuddled with drink, so she sat in his lap and kissed him messily for a while. She was pleased by the pressure he made on her thigh. She stood slowly and drew a firm fingernail down his imprisoned length and laughed at the faint mewl of complaint.
"Sam," she said. Her solemnity silenced him, and he grew still, a dog waiting for a blow.
"I need to ask you something. A favour." She cleared her throat as he unsurely replied.
"Sure, Ames – anything, um.."
It was more difficult than she expected, here, with his cock just there and this table and nervousness and drink and lust and maybe she should just fuck him now and forget Mariola.
A shimmer of silver in the mist-hung trees and a voice like a rusty gate hung with briar roses.
"Amy," the voice crooned, "I thought that was you. Long time, no see." And out of the dark, she materialised, as sleek as a fish rising out of the deep. Muscular, silvery, lithe and fragrant. Mariola. A walking sex fantasy.
Amy woke slowly, the flickering frames of her dream dissipating in the white silence of the morning. White bed, white sheets, the harbour sky white hazed behind half-drawn white curtains. In the bright mist strong shapes. Hard dark strokes of a bed frame and windows and among them, tumbled in the white bed-billows the dips and troughs and ridges, the sine-wave strength of Mariola. As her hand unbidden reached to stroke that naked flank, the warm swell of exquisite arse, Amy remembered snapshots.
Mariola glimmering in the cool dark, silver dress a second skin, scales glittering, eyes aflame and bright white teeth.
Those eyes sliding over her face, her neck, and the swift tug and tightening, the knurling in her own nipples, answering the hard peaks that shimmered through that dress.
An hour, or two of talking there at the dark table, the slow dance of conversation, the slow dawn of the idea on Sam's frank, sweet face. The awestruck disbelief when Mariola cupped a firm hand around the base of her skull and, tilting her fine head sideways, drew Amy in for a kiss.
The cold wine, fragrant in Mariola's mouth. Cool tongue on hers.
Back indoors, the sandwich of them, all three, clumsy, giggling, dirty dancing. The hard club of Sam's straining cock along her thigh.
And Mariola, Mariola, Mariola…
"Forget your shitty hotel, lovelies. I've a place down by the harbour. It's nice."
Click here to listen to my new audio porn stories...
The taxi ride. Fingers everywhere, they pinned her between them, eyes front, outwardly prim. But her skirt pulled high and out of view. Strong fingers rubbing and probing. God, group sex left no cravings unfulfilled.
In the here and now, Mariola moved, buttocks bunching under Amy's slow hand, sliding easily between the perfect arcs, her index finger bathed in glorious heat. Amy grinned wickedly, and as Mariola flexed and turned, a dirty chuckle in her throat, Amy remembered a word. Callipygian – beautiful buttocks.
Sam rose to wakefulness through a soup of hangover and worry. What had happened last night? His own snapshots shamed him:
At the harbour flat, Amy undressing Mariola as they danced and giggled, his cock limp with booze.
Frantic stroking at himself as they twined, as Mariola poured Cava onto Amy's body. Licked.
The two women, knotted together between his splayed thighs, legs entwined and breast to breast, mouths coaxing, teasing. The rich smell of them billowing up. Nothing.
A miserable shower and somewhat refreshed, forlorn. Returning to the others sprawled naked and asleep, the room awash with musk, though none was of his.

Oh.. GOD.
A chuckle, a rustle, and his opened eyes saw Amy's hand reach deep into Mariola, her fingers parting her lips, the split fig of her, the dark, lush hair. His gaze was full, brimming with curve and muscle, split and cleft and ridge, the slow uncurling, melding of the two women. His hand – half-fearfully- found his cock. Thank God. He had heft, and heat, and weight. It felt good and thick in his tentative grasp. A slow stroke and the long inrush of blood and the tightening in his balls and the delirious dance began.
Mariola turned to Amy, the younger woman leaning over her, smiling into her, the lip nipple tongue-tip kissing that made her swell. God, she was lovely, just as lovely as she'd seemed last night, just as lovely as she remembered.
Oh…
Mariola gasped, gaped, her lover's fingers skated down her belly and tickled through her hair like quick and eager fish among the weeds and –
Her voice stopped in her throat, as Amy pounced, spreading, piercing. Holding her dumbstruck gaze. She was awash with heat from nipple to knee, as if the sun was rising in her core, just as it did outside over the water.
Fingers patted and rubbed, and she writhed, the sleek black head descended to an eager nipple and – oh! Oh yes, the third wheel. The sweet, frank face of Sam leaned in and, as they kissed Mariola looked down the sweep of Amy's back and saw him stroking, stroking at a well-woken cock.
Between them they rolled Amy onto her back and explored her, the smaller woman writhing, twitching like an eel and muttering under her breath. Mariola's head slid down, whispered kisses across taut skin. Thumbs hooked into hip-creases, Amy's thighs yawning, her voice growing gruffer, pelvis twitching, circling, jabbing upwards seeking more swiftly for Mariola's hungry mouth. Her vulva was slick and beautiful, its hairless petals those of an exotic flower, her scent heady with the dark notes of last night's arousal, overlain by the bright new wetness. She parted eagerly to Mariola's fingers and on Mariola's tongue her flavour burst, all evening dark-alley fumbles and overripe fruit, sunshine and white wine and the wind of the sea. Mariola groaned at her richness and dug her chin in, her nose, burying herself from nostril to lip in the hot, pink cleft.
Licking and nibbling she saw, out of the corner of her eye, the thick ridge along the base of Sam's cock, the glossy lavender head of it as he stroked. Again the after-thought, the poor boy. Mouth slippery and hot with Amy's arousal she kissed him. Right there on the tip, slowly widening her mouth and drawing him in. Hot and clean, but earthy. Salty and sweet, thick and hot. She bobbed her head slowly, enjoying the music, the bass note of his groans as she mouthed him, felt herself stretch full and hot the raw heat in her cunt spilling, dripping as she realised… She could hardly fit him in her mouth. As wide as she gaped, still there was cock, the hot velvet skin sliding against her stretched lips, she mouthed him, chewed him pulled him in until yes, there he was, the whole fat length of him filling her mouth, and hot in her throat.
Amy growled. That was her cock in her lover's mouth. Scandalised and envious she was also filled with wicked delight. She watched Mariola's throat move, watched Sam's hips circling, propped on her elbows she snarled around nibbled lip:
"I want it, it's mine, stick me – stick it in!"
And with it, with this command, fled her last coherent thought. As she pulled Sam's fat cock to her and watched the fat pink head of it, all glossy with Mariola's spit, she watched it squeeze up to the peach-pink clench of her spread inner lips. She threw back her head and made a noise like a gull, a seabird blown fast over the ocean, lost and delighted in the roar of wild seas.

With breathless reverence Sam watched Mariola's slim, strong fingers press his cock-head against Amy's slit, watched her spread Amy's petals wide, felt her grasping heat envelop him as he thrust inward and in, facing into Amy's wild grin. His cock felt alive, hot and full, full of blood and music that rang through its length and in long trickles of electricity down his thighs to his calves to his curling feet and again in wild circles and arabesques across belly and chest. This was so new. So unlike anything else. Here he was fucking, and yet – being fucked. They were all fucking, the whole conjugated conjugal verb on this one tight white sheet. Amy was gasping and writhing beneath him, squeezing him but here was Mariola, fingers at his cock, at the crux of him and Amy, her rapt attention on their mingling, mouth flitting to Amy to him and back again, as Amy's heat swelled, and he stretched out to meet it and as Mariola's hands and mouth worked he felt the edges move, as if he no longer knew where he ended and Amy began, as if her heat was Mariola's, as if Mariola's stiff fingers were somehow his too. He fucked, she fucked, they all fucked. And the world moved.
Amy ridden hard on her knees, face slapping into Mariola's furred thighs, breath staccato. Mariola's wide grin at Sam's astonished transported a blank face. Sam tongue-fucking Amy. The bed a spiral, a whirl of bodies. The two girls half-kneeling before Sam, seated against the headboard, two nubile young celebrants worshipping a fat-cocked Buddha.
Mariola ran her clenched fist hard up and down Sam's fine cock, slathered the tip with her wet mouth. Amy watched, humping his muscular thigh and, mumbling under her breath, demanded that Mariola fuck him.
"I want to see him in you…stretching…"
She straddled the boy, felt the broad eager strength of him in the tug of her muscles, while he, pinned and breathless, felt the soft prickle of muff along the length of his dick, rubbing, tickling and then as she rose to take him the heat of her lips. Mariola sank slowly, luxuriously, romantic sex the driving force as she savoured his breadth, and every inch of the slide, stretching sensations echoing those in her widening thighs. She smiled and whimpered, shouted and groaned. Lost in the sway of their commingled heat and the hard rod of the boy she was brought back to herself by the touch of the girl. Looking down, she saw the boy's stubbled chin beneath that smooth, beautiful groin, pubis glistening, muscles ribbed and flexing, tasted her breasts and their mingled sweat and through laughter and gull-cries kissed her as they rode, feeling in her core and in the rising beat of Amy's breath the fast growth of, of …
Somewhere deep under her navel, where the quick and hard tip of Sam's cock was nestling and kneading, grew a heat and a brightness, a swirling, a spiral in her mind's eye, flow of lightning outward down thigh to knee and across belly to breast to nipple and tickling up into her throat. She wanted Amy to take her by the throat, squeeze it. It was just a fleeting thought but then, with one last rise up the shaft of Sam's cock, it came, a long ripple of light, a spasm, a clenching that went on and on, a clenching in rhythm to Amy, who laughed and bit her ear-lobe and squealed utter filth into her sweat-glazed collarbone.
Outside in the harbour, the fishing boats moved on the water. A slow groan of rubbing hulls, the rustles and slaps of rigging as the gulls wheeled and dived and the street-vendors noisily set out their stalls. On the big raft-bed, Mariola, cunt stretched and aching, muscles as loose and as fluid as if made of warm caramel, watched Sam's come fly, speckling Amy's oyster-pink belly with sweet pearls of release.
Read all about the wonderful author: E T Costello