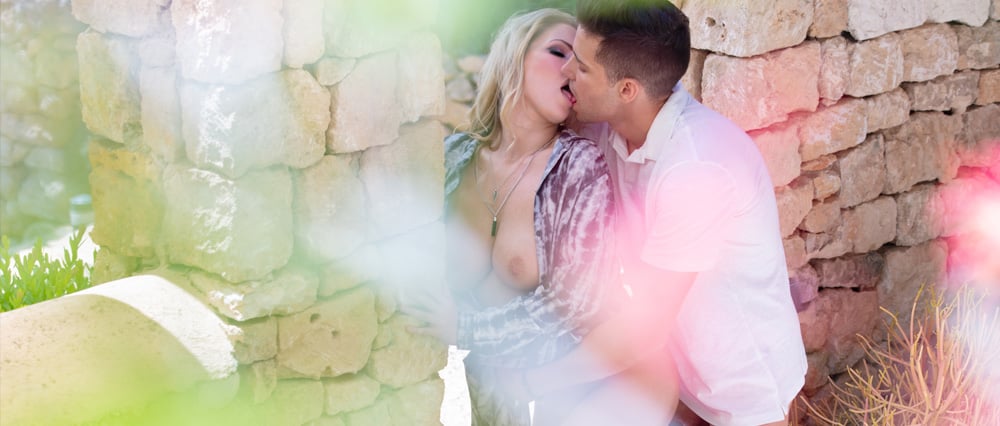 DAYDREAM - Story
Sensual lovemaking story of a woman's sexual daydream
Comment
Georgie's month-long holiday to Tuscany was nearly complete, and she had one more thing to cross off her list to make it perfect. Truth be told, she'd been fantasising about it nearly the entire time she'd been renting the little villa. Sexually fantasising about him.
Alberto Blanco was the owners' son, and he looked as if he'd been specifically crafted to satisfy every woman's secret desires. Tall and slim, Alberto had muscular arms and shoulders from the work he did around the villas. But that wasn't what attracted her to him. Alberto also had a boyish charm with his dark eyes and flirtatious smile. He was supposed to stop by to check on the property once a week after his classes at the university, but Gorgie had noticed him lingering near her villa several times since she'd arrived. Far more than was necessary.
She'd taken to masturbating herself on the veranda of the summer house, sitting in the chair closest to the stone doorway so that he might see her, as she pleasured herself with lustful outdoor sex. Hardly anyone travelled up that garden path. It was too far from the rest of the villas. Last week, she caught sight of him making his rounds, and she'd given him a show. He'd finally seen her as her fingers pulsed in and out of her pussy and the sun kissed her breasts, but he'd hidden in the garden. When she was done, she'd walked to the doorway with her dress still unbuttoned to bare her breasts and hiked up her thighs. "Alberto," she'd called out before seductively licking the fingers that had just been inside her. "Next time you should join me. I'll let you do much more than watch."
For a few days, he'd been absent, and Georgie had worried that she'd scared him off. Today, he'd returned to the garden with some equipment in the back of his cart. She'd walked down to chat him up, and he'd been a perfect gentleman as always. Just when she was certain, he was going to ignore her offer his boyish smile emerged. "If the offer stands, bella, I would love to join you on the veranda."
The unexpected but welcome statement made her take his hand and begin leading him up the path. There was little urgency in their ascent. It was lazy and flirtatious as here and there they stopped to enjoy shady, secluded areas.
Despite the warm day, a shiver ran through her as his hand slid up the back of her gauzy dress so he could cup her ass. It was a...
...to read the rest of this story please login or
register
to read the full story free.
Read all about the wonderful author: Harley Easton