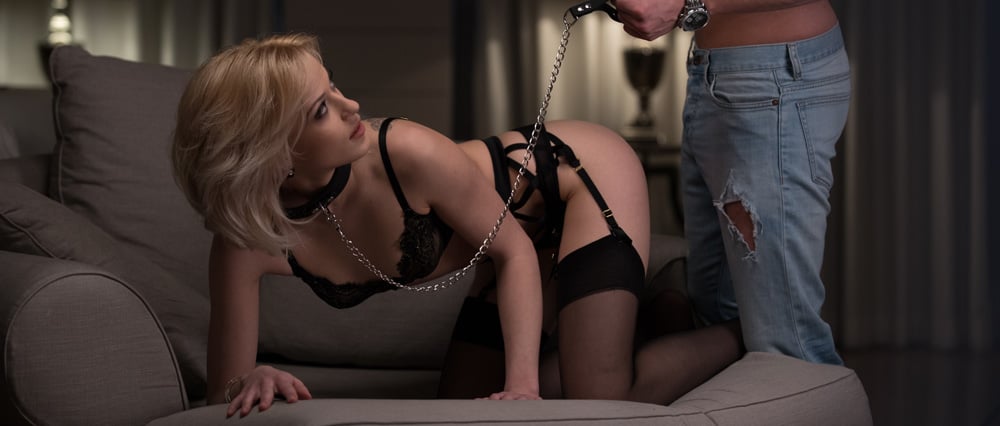 TAKE MY LEAD - Story
Passionate liaison of controlled consensual submission
Comment
As the whippy end of the crop rained blows on the curved flesh of my buttocks, upturned and tilted for his pleasure and easy access, I began to enter subspace, drifting away from the harsh bite of leather against my flesh, I became wrapped in a blanket of endorphins, losing myself in submission and obedience. I often felt drunk from serving Edward, prostrating myself to his desires and debasements, my slit got wet simply hearing him groan or gasp with arousal.
I remembered when I first set eyes on Edward, at a party with my friends. I stood with two girls, also models, while foolish men sharked around, fawning over us to keep drinks flowing or tempt us with tidbits of amusing conversation. Not Edward; he stood to one side drinking champagne and observing. I felt the weight of his stare so I gave him a haughty look then ignored him. Except that I couldn't seem to deny his presence, a power emanated from him which drew my glance his way, but I was discreet. After about an hour I noticed him leave, and suddenly the party felt pointless, no need to pout or strike poses to show my curves to their best advantage. Just then our hostess came to me and whispered:
"Edward is ready to take you home now."
What? I was dumbstruck! I asked her who Edward was, she described him as the art dealer who had been observing me. His arrogance astounded and angered me. Yet I felt a disturbing clench in my pussy to be ordered about by a total stranger, it was a sexual fantasy of mine. My hostess vouched for his good character and told me where he lived, which I recognised as a swanky part of town. I was intrigued where this might lead, so I told my friends I had a headache and left, collecting my coat and heading down onto the street, where Edward's luxury car purred at the kerb.
That night I discovered my true self had always craved light BDSM, being commanded and domineered. Some people find me arrogant and cold. My nickname on the modelling circuit is the Ice Maiden, not just because of my platinum blonde hair and porcelain skin. My emotions seem really damped down, I don't get angry I get irritated, I don't laugh, rather I smile. Edward flicked a switch in me when he drove me to his home – he barely talked to me in the car despite devouring me with smouldering eyes. My confidence wavered under his scrutiny, yet my nipples pebbled with desire. My stomach swirled with nerves while my panties clung to my moistening, swollen labia.
Inside the impressive lobby of his townhouse, Edward removed my coat and prowled round me, his face haughty, his eyes like coals. He unzipped my dress, his fingers delivering goosebumps as they brushed the...
...to read the rest of this story please login or
register
to read the full story free.
Read all about the wonderful author: Posy Churchgate