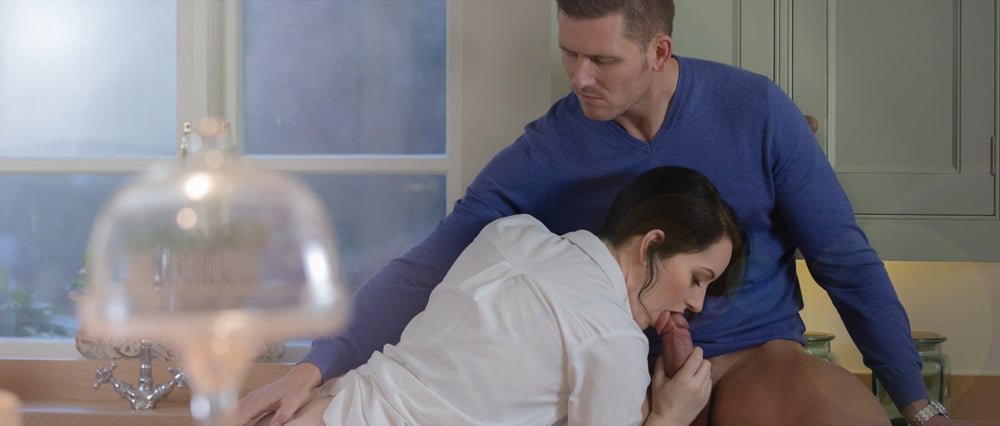 KITCHEN SEX - Story
Couples erotic story of their spontaneous kitchen lovemaking
Comment
Saturday morning, Mark and Jasmine (a couple fucking who have a son) are texting:
[early a.m.]
Mark: Hi Jaz.  You OK? Just got to the rugby club.  Great news. I don't have to take Sammy to the away match.  Will's dad offered to drive them both. I said YES. So we are home alone this morning. Ideas?
Jasmine: Want me to bake something?  I'm brewing some coffee.
Mark: Nice. Any other ideas?
Jasmine:  Like??
Mark:!!!!
Jasmine:O I see where you're going …
Mark: Christen the new kitchen !!
Jasmine: I sense an occasion to wear black and cream lingerie you bought for my birthday!
Mark: Yess!!  I have a special request …
Jasmine:??
Mark: Wear that jumper of mine you always borrow.  Over something, I can unbutton. I plan to go down on you for a loooong time.
Jasmine: Yum! Your reward for that – a mega blow job!  Then take me on the counter.
Mark: What??  Not worried about taking care of the work surface?
Jasmine: Fuck that!… just fuck me on it!
Mark: I really want to take you from behind.  You don't know what your peachy ass does to me!
Jasmine: Oh, I like doggy IF you've really got me in the zone with your talented tongue.  And lots of kissing, deep meaningful kissing. And pussy licking!
Mark: Yeah – like the kissing.  A lot.
Jasmine: Oh I have plans for you! But we must clean the counters and floor afterwards.
Mark: O you and your new kitchen…
Mark: Be ready when I get home!! xx
[Jasmine waiting in the kitchen – a little later]
So, after that text exchange, I was hotly anticipating Mark's arrival home.
It had started as a typical Saturday morning: a rush to get Sammy ready for his match, a mad scramble to get him into rugby kit and down to the school....
...to read the rest of this story please login or
register
to read the full story free.
Read all about the wonderful author: PJA Woode, Posy Churchgate