JUST SYLVAN - Film
The sensual joy of a solo man masturbating
Comment
Let's focus singularly on just Sylvan in this hot scene because quite frankly, it's pretty dam sexy to see a solo man masturbating. I mean, why shouldn't we enjoy focusing on male masturbation films just as much as we do on the beauty and pleasure of solo female erotic movies. Masturbation is something we should champion and enjoy. How else can we know what we enjoy sexually, without first experiencing it for ourselves to ourselves.
Knowing how your body responds and what turns you on is essential for keeping your sexual life in peak pleasure mode. Sylvan is so relaxed with his body in this beautiful location. The glow and shimmer of the pool lights, just below the surface cast a delicious seductive flickering on the wooden panelling. The water beckons like a siren's call and Sylvan answers by slipping close to the edge, dipping his feet in.
He cups his palm into the cooling waters and sprinkles his hardening big dick with the delicious droplets. Sylvan is a master of self-seduction and getting to watch this solo man masturbating is always a treat. Allowing himself to own his desires and enjoy his time with his gorgeous hard cock is an inspiring sight and a great lesson in shame-free pleasure.
When his pace accelerates and the motion of his hand blurs as he pumps faster, we know he can't be far from tipping into his climax. It's so hot to see the muscles and sinews in his shoulders working as he fucks himself hard, bringing himself off, with ribbons of spunk splattering over his torso.
Just a gorgeously sensual moment where we get to witness the joy and intimacy of a solo male masturbating.
And the best bit? That knowing cheeky chuckle at the end when Sylvan acknowledges just how much fun he's had by himself—a perfect end to a lovely wank.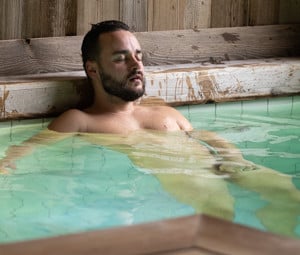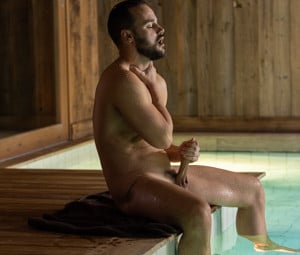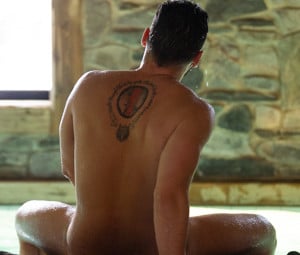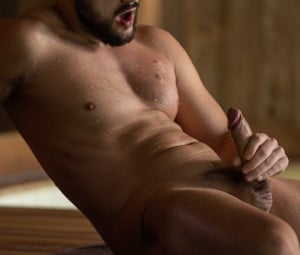 Other Films you may enjoy
Below is a selection of recently updated films and stories, just click on the image to view in greater detail