DIVINE - Film
Erotically beautiful capturing sensual female sex between two women
Comment
This elegant erotic movie is a tasteful and highly romantic portrayal of the beauty of female sexuality and an erotic vision of sensual female sex.
Whimsical and dreamy, Lana and Emylia begin their seduction. Delightfully naked and natural, they are clouded in swathes of sheer white tulle. The light and very feminine surroundings highlight the softness and gentle rhythm of their loving. Loose and languid, they are free in their movements as they dance and sway together.
There is a carefree and dreamlike quality to this erotic video, two women lost in their lust and desire for each other as they share and indulge in the delights of sensual female sex.
The sexy slow dance is revealed then hidden again as the soft screen teases and heightens the tantalising nature of their sexy movements. The airy fabric and white panties draw our focus so deliciously to their smooth undulating flesh. Breasts meeting breasts, lips meeting lips, the heat builds as the women's hips snake together, winding and turning each other on until a hand slips inside underwear, causing knees to tremble and buckle in sensual delight.
Knickers cast aside and still standing, Lana is treated to her first orgasm as Emylia expertly fingers her to climax while they still sway together. It's not long before the two female lovers sink to the bed and begin feasting and devouring each other, their full passions ignited and revealed.
Is there anything more erotic than watching long feminine fingers sinking into the yielding flesh of another woman's aroused pussy? Soon the arousal is dripping and they treat each other to glorious quivering orgasms in the 69 position.
Still partially obscured by the curtains, we are at once participants and voyeurs in this gorgeous portrayal of sensual female sex. And the best part? Just wait for the luminous smiles flashed your way at the very end, hinting that these lovers knew you were watching all along…This is some hot voyeur porn.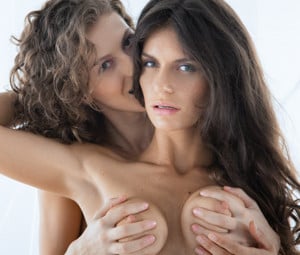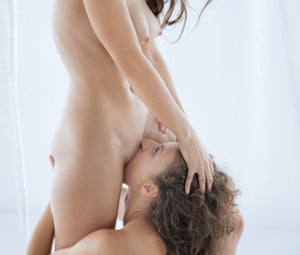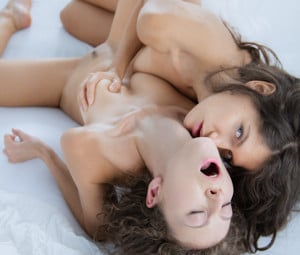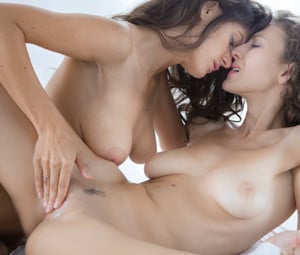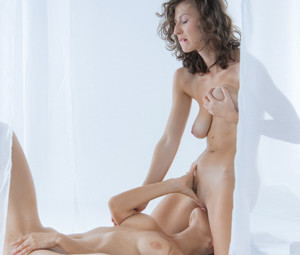 Other Films you may enjoy
Below is a selection of recently updated films and stories, just click on the image to view in greater detail