GOLDEN HOUR - Film
Girls frolic enjoying naked sex amid a beautiful corn field
Comment
What could be a better example of outdoor sex than two girls exploring their bodies and enjoying some delightful naked sex in a field! That perfect hidden place to feel relaxed and carefree, and bare yourself to the sun's warming rays amid the golden crops—what a heavenly thought.
And there it is, we see that tranquil place as we fly overhead and something catches our eye… we zoom down low, not quite believing what we are witnessing, the glorious sight of two beautiful women enjoying some naked sex in a field! We simply must focus in on the delicious action, circling and dipping with the perfect view of the two female lovers completely absorbed in the task of pleasuring each other. Mouths on pussies, tongues arousing clits, nipples, lips… the girls are oblivious to our voyeurism—or perhaps they know full well, whilst being completely hidden from view at ground level, from the sky is completely another matter.
We circle the lovely Victoria and Antonia frolicking naked and so gorgeously carefree, their bodies cocooned and nestled by the full-grown crops, perfect protection from prying eyes, apart from ours. The best seat in the house to watch these natural beauties play and frolic as they find their pleasure together in this hot lesbian porn film.
They scissor and fuck each other with passion and fervour until that glorious moment where their bodies tense and release into mutual climax. Revelling in the after waves, the fun just continues, there's no limit to the orgasms you can give and receive when you have nothing to do and nowhere to be apart from right here and now languishing in your very own sexual crop circle.
Imagine the joy finding such an isolated location! Is there anywhere more idyllic for intimate privacy than being at once hidden and exposed in the great outdoors where you can delight in naked sex in a field.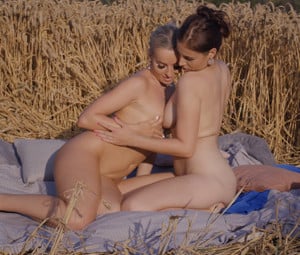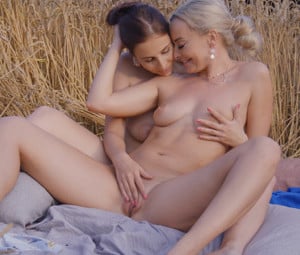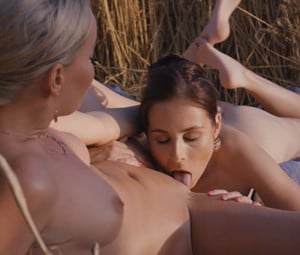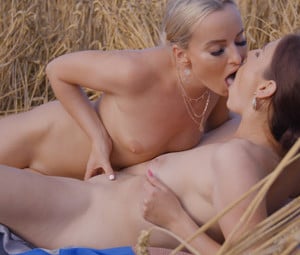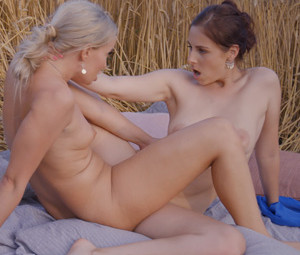 Other Films you may enjoy
Below is a selection of recently updated films and stories, just click on the image to view in greater detail