MATURE SEX - Film
Natural couple enjoy intimate and loving mature sex together
Comment
We know that all too familiar moment, just woken up and time to make the first coffee of the day. George, cup in hand, returns back to the bedroom to find his gorgeous lover Julia still feeling horny from their previous night's passions.
Gentle sensual cuddles soon give way to more real lovemaking and the joys of familiar and intimate mature sex. These two, so well acquainted with each other's bodies and comfortable with their desires, know exactly what they want and need.
Julia reaches into George's boxers beneath his robe, coaxing his cock into hardness. She's keen for a repeat performance of their previous night's sex, and perhaps a little more. They share such trust and intimacy and Julia knows just how to get her way, teasing and sucking George's cock, licking, feasting with her expert mouth until he pounces and returns the favour.
Bodies still pliant and soft, the scent of sex drifting between them, George treats Julia to some delicious oral sex, dipping to her ass for some sensual rimming. She bucks beneath his ministrations and it's almost too much for her to bear, the pleasures tipping her into sexual ecstasy, leaving her breathless but desperate for more. George obliges with a good hard fuck, coming quickly, but there's still more action to be had. George slides his cock over her slippery cream pie using their mingled juices to lubricate her sweet asshole hinting at some lovely morning anal sex. This really is a gorgeous depiction of the delights of mature sex between two lovers.
Julia wants more, she slides on a condom for protection and squirts copious amounts of lube onto his sheathed cock. Taking full control over the situation, Julia lubes up her ass and sinks down onto his shaft to claim her pleasure.
This sex video is already a firm favourite with our viewers, this is a very sensual and intimate scene with lovers sharing mature sex in the most natural and deeply passionate way.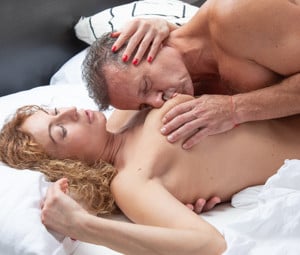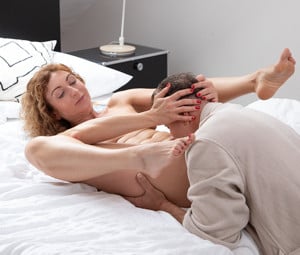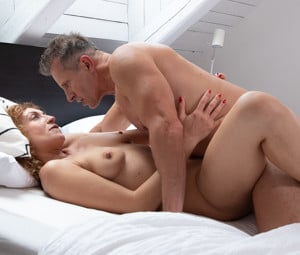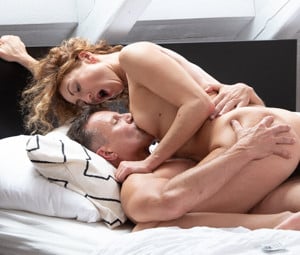 Other Films you may enjoy
Below is a selection of recently updated films and stories, just click on the image to view in greater detail