FUCKING CHILLY - Film
Romantic lovers engage in a quick fuck in the snow
Comment
The winter scene in this outdoor erotic movie is picture-perfect as our romantic lovers walk hand in hand through the Alpine trees that sparkle with frosty tendrils. Isolated in a perfect quiet location, they stop to absorb the moment away from prying eyes, hoping to have found a secluded place for a little sex in the snow.
Passions rising, their natural kissing quickly builds to more lustful pleasure, the chilling weather only fuels their desire for some spontaneous lovemaking.
There's something so erotic about those winter walks, layer upon layer of clothes keeping you cosy inside while the nip of chilly air surrounds you, tempting you to expose just a little more to those elements.
Snowsport gear discarded, Natty and Steve have found the perfect spot to share a kiss under the eaves of a log cabin.
The lovers take the alfresco passion a step further and Steve gently tugs down Natty's salopettes exposing her delicious looking bottom to the cold air. When he sinks his face into her warm ass cheeks, we know a different kind of thaw will be coming very soon. Temperature play and the thrill of outdoor sex in the snow can really drive some naughty raunchy adventure and we love it.
There is real tenderness between these two and Steve truly worships his lover, using his face and fingers to give her a delightful winter treat. It might be fucking chilly outside for outdoor sex but Steve has found the warmest place to sink his cock—Natty's fiery pussy, dripping and ready for his thick dick.
Frosty days aren't often depicted so passionately in films so we are excited to be able to bring you some sex in the snow to dial that temperature down as well as up.
The snow begins to fall, sprinkling over Natty's beautiful bottom reminding us this is real time love in the zero degrees.
Some absolutely gorgeous passion in stunning surroundings—going off-piste has never been so sexy!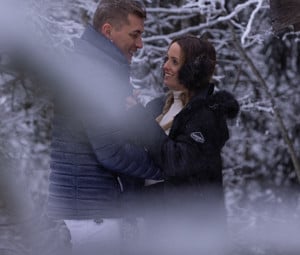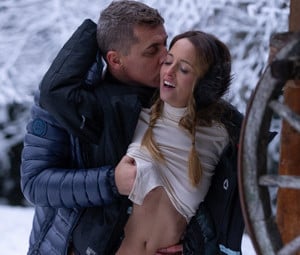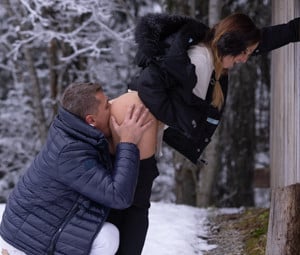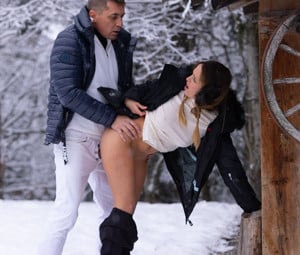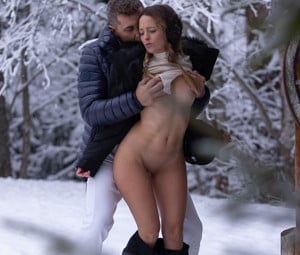 Other Films you may enjoy
Below is a selection of recently updated films and stories, just click on the image to view in greater detail