PAST TIMES - Film
Elegant hot couple enjoy a very sensual sexy fuck
Comment
The soft notes of a sexy sax opens up this lingerie porn scene in a lovers sophisticated apartment. With its Parisian feel, there is a subtle sense of days gone by, as it exudes a somewhat vintage aura. The elegant setting and interior offer a perfect backdrop for some very passionate times and a sensual, sexy fuck. Anna is looking refined perches on her stool, her delightful body exposed in her skimpy lace lingerie while she continues with her dressing. Her hair beautifully coiffed and elegantly arranged. Black tights and sassy short dress complete her look while her lover Max is still looking too hot in a semi-dressed state.
In fact, Max is so damn hot; Anna finds him too hard to resist and once dressed, she is soon on him. While shirtless, she finds him hard to resist. Her hands freely roaming and exploring his toned physical body, gravitating towards his groin. Sexually feeling his growing bulge, she teases with her hands, stroking his hardening cock, releasing it free to continue on her rampant conquest. All this focus on him, she soon finds herself at his mercy, taken onto the bed where she devoured. Her dress is off, and her tights soon round her knees as he launches into some heated pussy licking.
Turned on they continue with their lustful desire and sensual sexy fuck. He is exploring her fabulous big boobs and athletic toned body. Before long, her panties are pulled to the side as he launches into her swelling pussy. Her vulva aroused and stimulated. Max ensures their fucking is passionate and meaningful and orgasms met. Fucking on the bed and standing up before their needs fulfilled and they collapse, embracing and kissing as passionate lovers do. A very elegantly naughty and beautiful sex video and idea porn for women, one to definitely enjoy.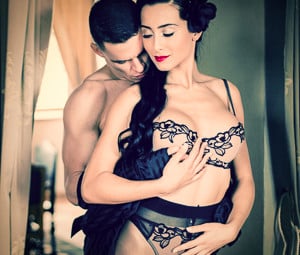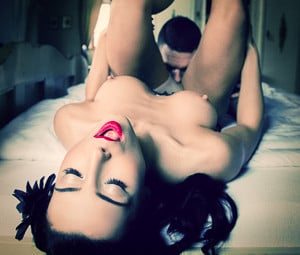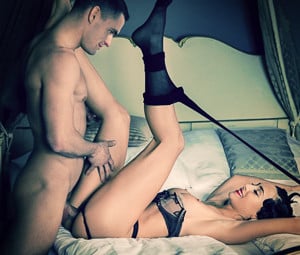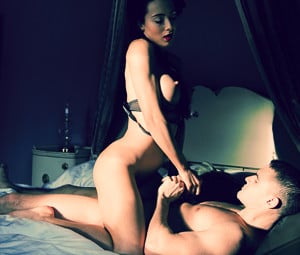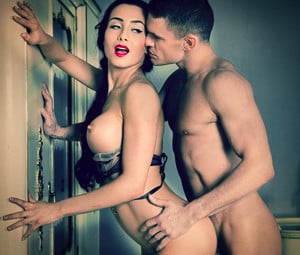 Other Films you may enjoy
Below is a selection of recently updated films and stories, just click on the image to view in greater detail