FREE SPIRITS - Film
Two girls enjoy a spontaneous lesbian frolic outdoors
Comment
This free-loving girl on girl outdoor porn video is full of the carefree joys of sensual touches, kisses and spontaneous lesbian fucking.
With the sun shining and their vintage car loaded for a weekend away, the girls can't control their giggles as they embark on a naughty countryside adventure. There's nothing quite like the thrill of a road trip to get the mood turning frisky. The open road, the freedom, a hand straying to a thigh, and the cheeky glimpses in the rearview mirror all add up to a hankering for a sexy girl on girl outdoor porn romp.
Taking a saucy detour, the two find themselves driving across secluded hills to a hidden spot by a river which is ideally placed under the shaded cover of a leafy forest. Our lovely ladies can't wait to be naked as they twirl in the summer sun and paddle barefoot into the fresh stream with only one thing on their minds.
Wet and giggling, their summer dresses are discarded as the girls splash and frolic in the cool water. They tease each other, hot kissing and pleasuring themselves in the crystal clear pool, creating an image of sensual feminine passion. Like two nymphs, they cavort and play, exploring together and being at one with nature, completely owning their sexuality.
Kissing becomes fondling, fondling becomes fingering, and at last, legs wrap around legs to ensure maximum mutual satisfaction as the girls get down to some sexy scissoring. The smacking and splashing sounds heighten the raunchy scene leaving every one of us absolutely soaking wet.
The joy these two share is palpable, and it's clear to see that wherever their final destination was meant to be, for now… it can wait.
A romantic lesbian countryside encounter, we hope you enjoy watching the delights of this girl on girl outdoor porn film, one of many female-produced porn films ethically made for our sexual pleasure.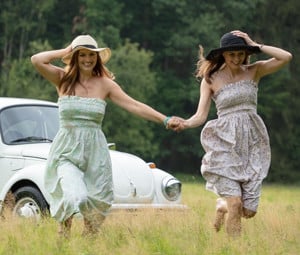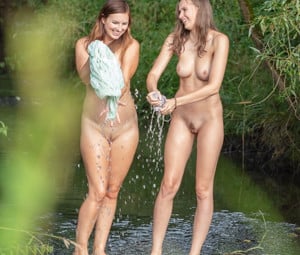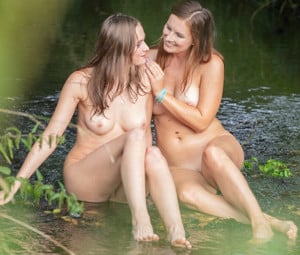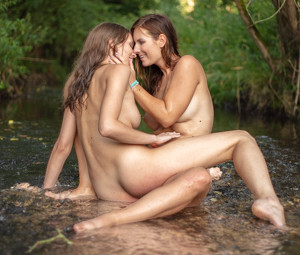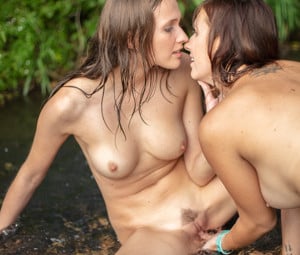 Other Films you may enjoy
Below is a selection of recently updated films and stories, just click on the image to view in greater detail