GEORGE'S CROSS - Film
Dominatrix uses BDSM kink to tease her submissive male lover
Comment
Exploring sexual pleasure taken from BDSM dungeon kinks, a professional dominatrix teases submissive male in this erotic adult film. 
Watch George enter her sex dungeon; dressed in a smart shirt and trousers, he is a stark contrast to his latex-clad Domme, who quickly discards his formal attire. Scraping her nails over his exposed back and stroking his dick, she hints at what is to come and bids her submissive face his cross. 
Naked and at the sweet mercy of his dominatrix, George can only wait in anticipation while tied in an X-cross, standing spreadeagled. 
Oh, and she takes her time, fully aware of her role. Domina, our professional dominatrix teases submissive male George and sets his nerves alight as he gives himself over to her.  
Sliding her touch up his spread inner thighs, she cups his balls from behind… was that a squeeze? Achingly slowly, Domina takes a crop from her armoury and gently spanks George's perfectly peachy rump, raising just a slight bloom on his flesh. The flogger comes next with a satisfying thwack, the leather fronds searing his ass. 
Witnessing George show his submissive side is a real treat as it's usually he who is dishing out the punishment and pleasure. We love showing all aspects of human sexuality in all its glory and celebrate the joys of trying everything out. After all, how could you know what might send tingles to your nethers if you've never tried? Or, at the very least, watch someone else have a go and see if it whets your saucy appetite.
After being afforded the sweet torture of pain, George is then treated to worshipping his dominatrix, who knows exactly what she wants and needs. George's prize? A glorious foot fuck from his mistress. 
And it doesn't end there… 
This is a fabulous introduction to the sensual pleasures of Femdom in kink and BDSM dungeons. Now sit back and relax while this dominatrix teases submissive male, our ever-popular George and enjoy the sexual tension.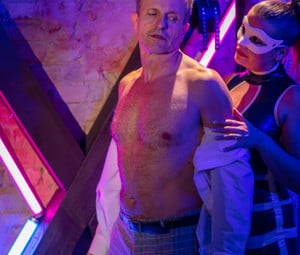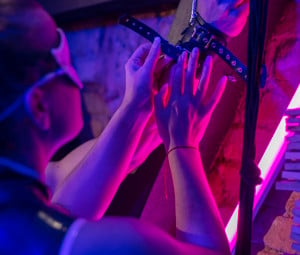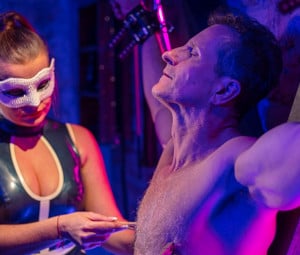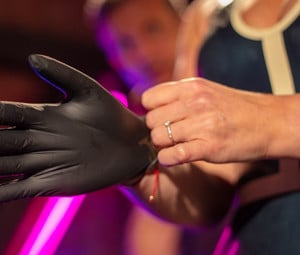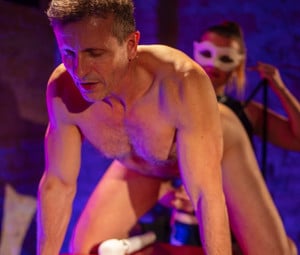 Other Films you may enjoy
Below is a selection of recently updated films and stories, just click on the image to view in greater detail