PARTY ON - Film
Girls party and plan a sexy hot ride for all
Comment
This New Year I wanted to bring you a fabulously naughty reminder of the fun in store for 2021 as we look forward to normality returning.
Excitedly anticipating a time when we can all mix and mingle as friends and lovers, to enjoy and celebrate the intoxicating delights and pleasures that sex can bring. So what better way than some deliciously debauched fffm group sex with the gorgeous Alexis, Jenny, Eveline and Angelo as they get down and party into the night in the best way possible. Expect some fun crazed hedonistic sex with plenty of giggles and laughter as the girls just want to have fun.
Join the foursome on the ride of their lives as they unleash all that pent up sexual tension and indulge in the action they've been craving during lockdown. They simply can't take their hands off each other for a second on this fabulous journey.
And what a way to break your fast! The champagne is flowing, the hour is late, the back of the limo is just cramped enough to allow for some sexy bumps and grinds as the driver takes you through the city. Feel the charged night air as you open the windows and let the world that's been denied to you for so long rush in and invigorate your passion.
This deliciously lustful depiction of joyful fffm group sex will have you feeling high as a kite while you watch their bodies mingle – three beautiful, glamourous girls taking their hot sexual pleasures out on one very lucky guy.
Watch as they fuck, let yourself fall into the space beside them, be free and get lost in the tangle of bodies as you struggle to figure out where you end and the next person begins as flesh and fucking mesh together in this glorious fffm group sex erotic movie, where you witness that girls truly do just want to have fun.
I don't mind saying it's one hell of a limo ride! Happy New Year.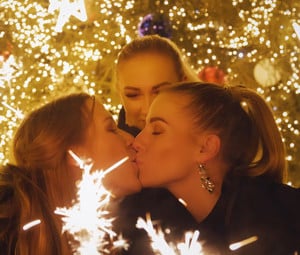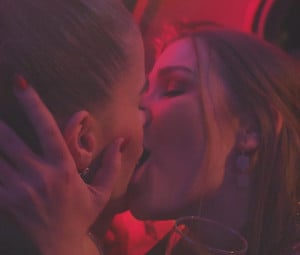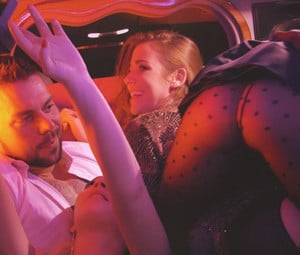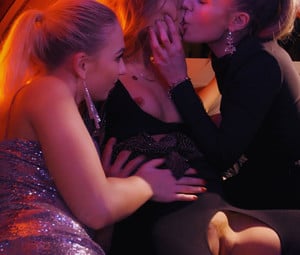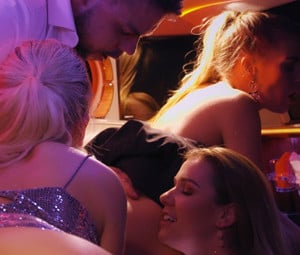 Other Films you may enjoy
Below is a selection of recently updated films and stories, just click on the image to view in greater detail