FULFILLING - Film
Multiple delights during some erotic group pleasure
Comment
Oh, can you imagine having not one partner, but multiple partners all intimately intent on fulfilling your innermost desires during some erotic group pleasure.
Being the sexual focus of potent masculine need and arousal is an intoxicating place to be and this erotic porn movie takes you on a journey deep into foursome fantasy.
First, one hand reaches to your shoulder, fingertips trailing down to your chest, the outline of your breast beneath your specially chosen lingerie… Then the warmth of another set of fingertips, then another, and before you know it you are being caressed by six attentive hands. All with one quest—to give you the time of your sexual life.
You can't tell which fingers belong to who, so you simply have to let yourself fall deep into fulfilling your erotic group pleasure fantasy. Who wouldn't want to be the centre of such a celebration of touch, sex, and sensuality?
Who will be the first to slide their fingers into your needy clutching pussy? Or who just pulled your bra down to reveal your tightening nipples, craving and straining, rising to the touch of all those fingers.
Your body is hungry, but so is your mouth and you turn to seek out the first of three delicious cocks. You just need to taste, and your lovers are more than happy to oblige. As they tweak and pull your nipples, electricity darts straight to your clit and your arousal dampens your beautiful new panties.
And then, as two men stand before you, their rock-hard cocks demanding attention, you reach out—each of your fists wrapping around a thick erect dick. While lubricating them with your saliva, you arch your back as you sense another man standing being you. You back on to him, pussy ravenous and he fills you up with his big thick dick as you service the others in front.
The ultimate in erotic group sex pleasure, where everyone gets exactly what they crave.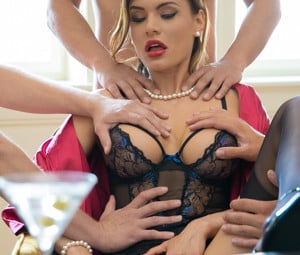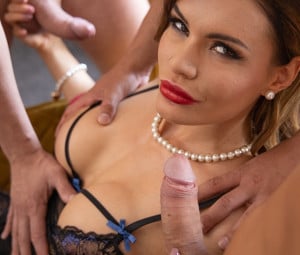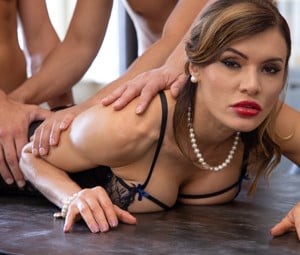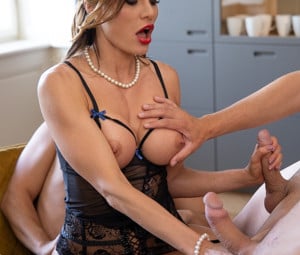 Other Films you may enjoy
Below is a selection of recently updated films and stories, just click on the image to view in greater detail