I was thrilled to chat with Sonia Hensler, a UK based artist who got in touch with frolicme.com to discuss her recent new project called La Punani which is all focused on bespoke erotic portraiture. I found it a fascinating step into erotica for someone who has forged such a highly recognized career, her work often centred on her love of Victorian fashion, design and architecture.
She has recently created a new project called La Punani – which is all focused on bespoke erotic portraiture   Using this similar style and technique she has adapted some of my own erotic imagery and discusses with me here how this technique is used and how it all evolved.
What triggered your interest to create this new bespoke erotic portraiture?
"It was a very simple process; for my partners 30th birthday I wanted to create something special for him – something naughty and sexy – so I drew a portrait of myself. I wanted it to be very simple, but powerful and, when I showed it to my family, they loved it and asked me why I am not doing this for others. And here the journey began…"
How long have you been working on this project?
"It's super fresh – a few months ago I finished the first 20 portraits of my friends so I could have them as examples on my website, facebook etc."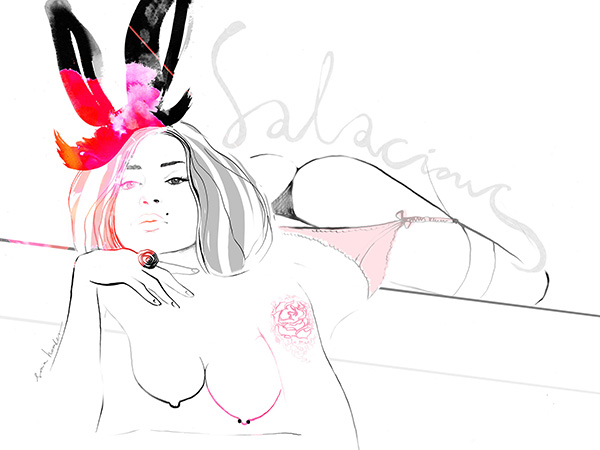 What drew you to FrolicMe?
"I was looking for some websites that featured erotic, sophisticated images presented in a creative way – a site that was sexy but not in a typical sense, in which I could both share the joy and inspire myself."
Where are you wishing to take the project? What future plans have you in store for your erotic illustrations?
"Good question, I was so excited about it, but I never thought that some people might not be so. I thought everyone loves sexy, naked bodies but it seems, within my direct experience that many people find my work distasteful. I would like people to accept our natural impulses and not be afraid or ashamed of their bodies. The fact that I am an illustrator softens the overall impact of the subject I think, which I hope will allow my work to appeal to those who are unsure or just dipping their toes into different forms of erotica for the first time."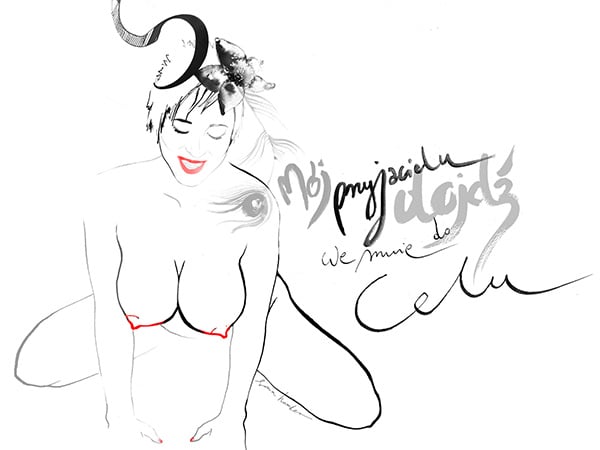 Do you do gallery exhibitions?
"I would love to, and I am sure there will come the right time and [quite importantly] the right gallery. Any galleries out there interested?"
What erotic work have you created to date?
"I was commissioned by Sam Roddick to design packaging for Coco de Mer's range of stockings; I also had a private commission to design a huge bespoke wallpaper for a master bathroom, featuring erotic drawings and portraits of the clients – It was great fun!!!! For the same client I also designed an image to be featured on a private bar front, using illustrations based on some of Helmut Newton's pieces."
I was thrilled when you chose to illustrate a few of my photographically images from my gallery collection which are below which are absolutely stunning. Can you explain your process. How long does it take to complete your illustrations? Where do you sell them?
"I draw everything from the scratch using inks, watercolours and pencils. The elements within each portrait such as background, colour splashes and fonts are usually drawn separately, by hand, and then I piece the whole think together and tweak the overall composition using a computer.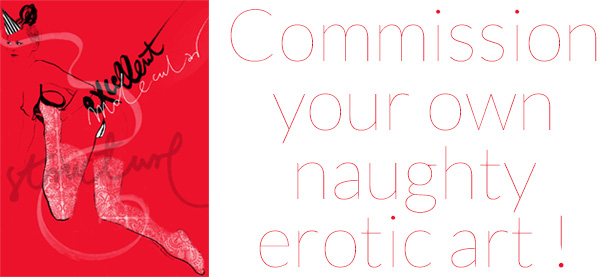 Each piece usually takes around 3 to 4 days to conceive and create although sometimes a little longer…
I have also started to collaborate with an erotic magazine, Quite Delightful Project, where I will be selling my La Punani cards."
Sonia Hensler does accept one off commissions where she can create one of her bespoke creations from your own personal erotic imagery, all beautifully presented and packaged with no personal meeting required, these make a fabulous gift for either yourself or your loved one. Visit www.lapunani.com for more information and please mention frolicme.com
Sonia Hensler is a UK-based artist with extensive, worldwide experience in a variety of areas, ranging from editorial work and art direction to web design and bespoke portraiture. 
Her work is often centred on her love of Victorian fashion, design and architecture. The Victorian aesthetic manages to combine unique, British elegance with a dark, sometimes challenging, gothic flair. There is a playful balance at work in this period where whimsy vies with formality, creating an unlikely juxtaposition that undoubtedly informs and enriches her work as an illustrator.
Selected clients include: The Wall Street Journal, Loewe (LVMH), TopShop, Reem Acra, The Fold London, DAKS London, Bionda Castana, Scene Magazine (The Observer Media Group), Coco de Mer, Wendy Rowe, Nathalie Eleni, WMS Spear's, Luxury Publishing Ltd, Emap,  Courrier International, Diplomat Magazine