A sexy free erotic story for you which I hope you will enjoy together with some sexy images to focus your mind and give you a naughty glimpse into my world of erotica.
Enjoy…Loves Anna x
Have you ever stepped out knowingly wearing less than you should but holding that secret to yourself and from those unknown eyes around you? I did, and enjoyed every sweet moment of the sexy sensation, knowing how my naked flesh slightly rubbed against the inside lining of my coat, bearing cold pockets of fabric against my skin which was ever so keenly turning me on. Every step I took aroused the senses of my skin, my look and appearance playing on my mind and body. In my ever so deliciously arousing attire I felt I was playing a role, taking on an alter ego of feisty girl. Hidden below was my waist clinching waspie beautifully shaped and encasing my body in an enticingly manner, revealing just enough warm flesh at the top of my thighs, I felt for certain a saucy temptation for any man before the convergence of my sheer silky black stockings which lost themselves into the depth of my thigh skimming boots. A final little addition which I felt most excited by, and most certainly my best accessory of all, some very sparkly, black sequined nipple tassels, adorned in such a manner as to delightfully cup my nipples leaving just the sensual curves and soft movement of my elegant pert breasts visible to see. This complete look gave me an enough excitement and inner sexual pleasure, and elevated my overall arousal. As much as I had dressed for him, this inner goddess moment was also about me. The though of my appearance quickened my breath and raised my sexual desire. I wanted this thrill, to knowingly feel I had become this other woman of lustful desire, I had knowingly removed for the time being the mantel of his long term girlfriend and delved deep into my new persona and felt ready to unleash her upon him.
What I had hidden under my coat, he was totally unaware.  As I moved with conviction growing as I did in more and more confidence, little was revealed in my high boots, the tops of which were certainly hidden under the bottom edge of my mac. I felt brazen and bold, and alive with excitement desiring the role of his escort.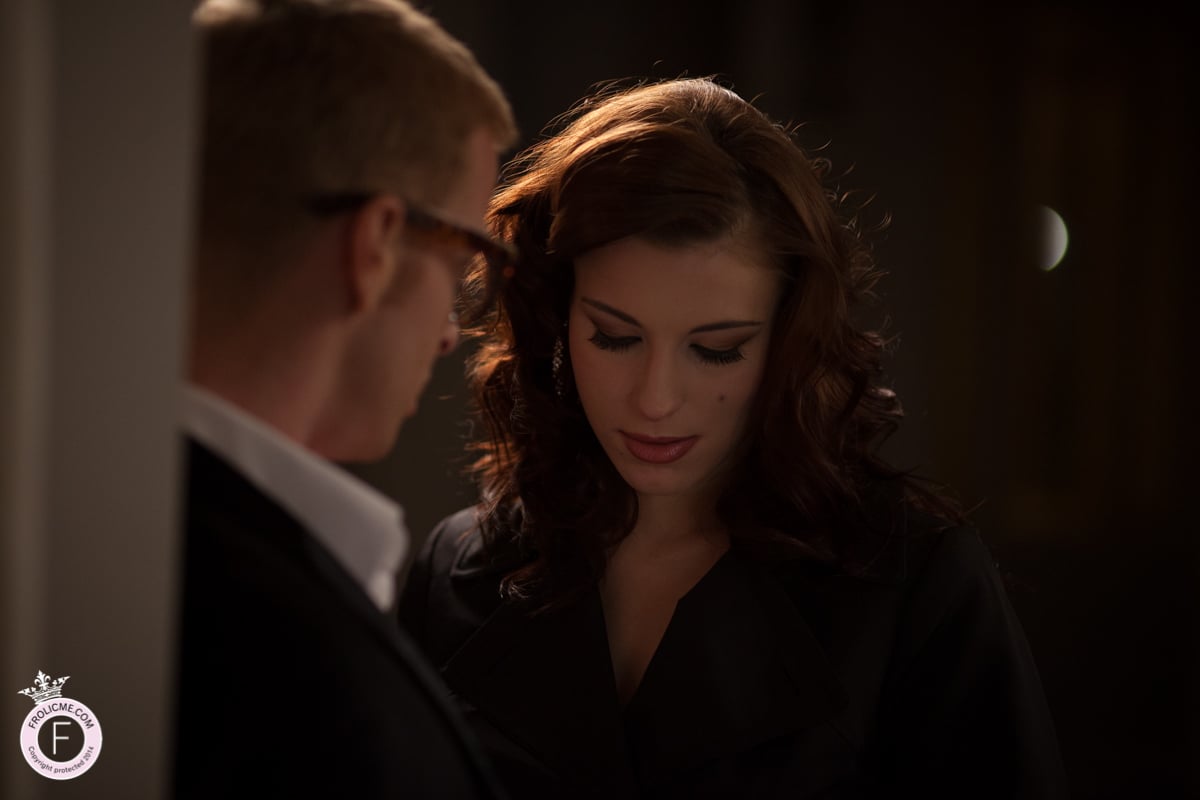 I had planned my night most carefully, my sexy but sometimes more serious boyfriend was in for such a sexy thrill tonight. Too many late nights and many long working hours, had seemingly hampered his mind to entertain many sexual yearnings, but tonight I wanted to blow his mind. I wanted to be a pleasure feast, a complete distraction for his eyes and body.
As I strode into his home apartment I scanned the room for my ideal location. Steering him on I turned and pushed him meaningfully against a blank wall, and pressed his back against the smooth surface. This was just where I wanted him. Motionless, he said nothing, but a quizzical look crossed his face, and I enjoyed seeing his eyes soak up my appearance. I stood and looked intently to see his appreciation growing, his eyes increasing with warmth and feeling. I watched as they slowly dropped and left my vision scanning all over my body, looking for evidence of what I might be doing but soon moved back to capture the meaning in my face.
Not loosing my eye contact I loosened his buttons, spreading open his shirt to reveal the strong nape of his neck and the top of his muscular frame. I moved closer, inhaling his warm body scent, before trailing gentle kisses across his lusty neck. He showed no evidence of moving, maintaining an intent glare at me through his glasses in a very beguiling fashion. I continued on my assault of his body, unbuttoning more of his shirt deep and wide, revealing his well-toned athletic frame. His beautiful, firm body, ripped and curved to perfection initially masked by his sobering work attire, something that gave little evidence of the desirable torso lurking beneath.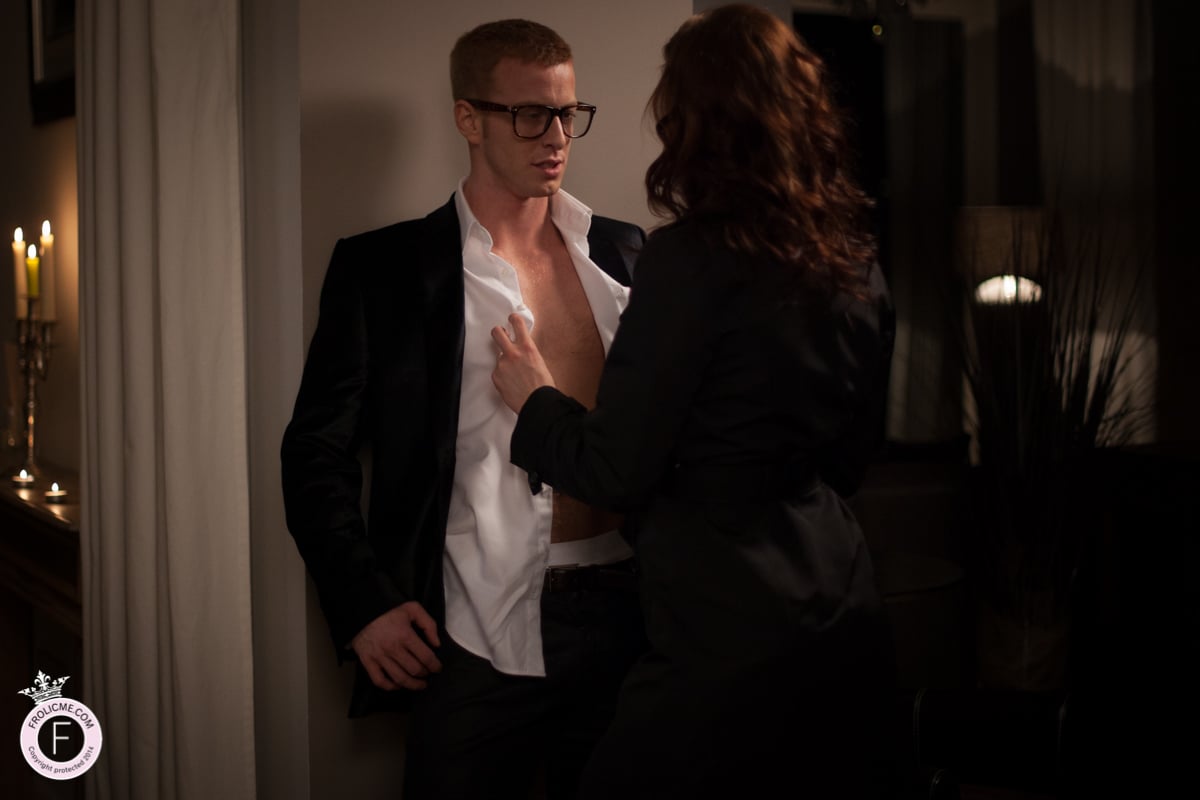 I pulled back the tails of his shirt and continued my descent, opening the top of his trousers, revealing the first sign of his arousal bulging before me. Still taking the full extent of my prize, I allowed a rye smile to cross my lips as my tongue caught the corner of my mouth offering up the first real indication of what was to come. In his response his eyes burned with such anticipation and never left mine as I stepped back to loosen my tight belt. Opening the buttons of my coat the true state of my dress become evident and I felt my nipples respond to the scrutiny shown, the lights in the room dancing off the sparkly fabric of my tasselled nipples as they revealed themselves. I heard a short intake of breath, followed by the movement in his chest. I know I had his full and utter attention, which was now all mine to command. Slipping the coat off my shoulders his eyes were drawn further to the image before him. Taking in the sexual treat I was offering, I felt elated to see his increasing desire, his body signally his continued arousal, cock twitching, a slight fidget in his stance, his mouth opened to draw more breath. My pussy started to murmur in appreciation, while a wetness grew between my lips, my pussy started to pulse with anticipation. I loved how he could create such a response in my body.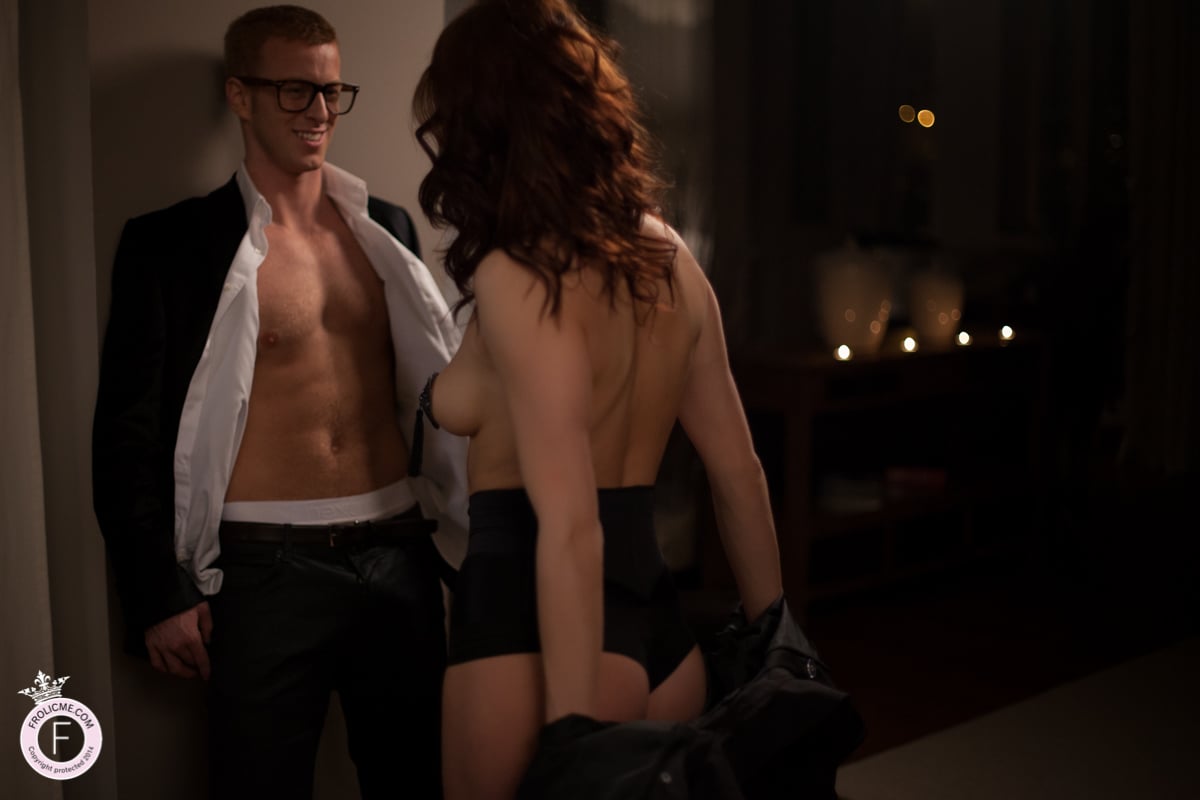 As my coat puddled on the floor, I felt alive before him. So aroused I couldn't help playing to the moment and enjoy teasing his eyes, I began moving my body sensually and seductively before him. I touched and caressed myself, arousing my skin as I felt my own hot touches creating their own pleasure.
Looking at him standing before me his sexy ripped torso so beautifully exposed, I couldn't resist provocatively dropping down to a squat. I levelled my red lips to that of his cock, bulging and pulsing behind the fabric confines of his trousers. With ease I lowered his pants allowing it to escape, presenting the full extent of his hard magnitude all before me. So rigid and extended it was seeking the attention of my hot mouth it so wanted. Swirling my tongue along its length I felt the full delicious impact of his aroused state. It felt so good knowing how much I pleased him, how much he responded to my touch and movement. Within moments I felt just a few drops of sweet salty liquid ooze from him, as he quietly leant further back against the wall letting out a small moan of pleasure, fuelling the growing passion burning deep inside me.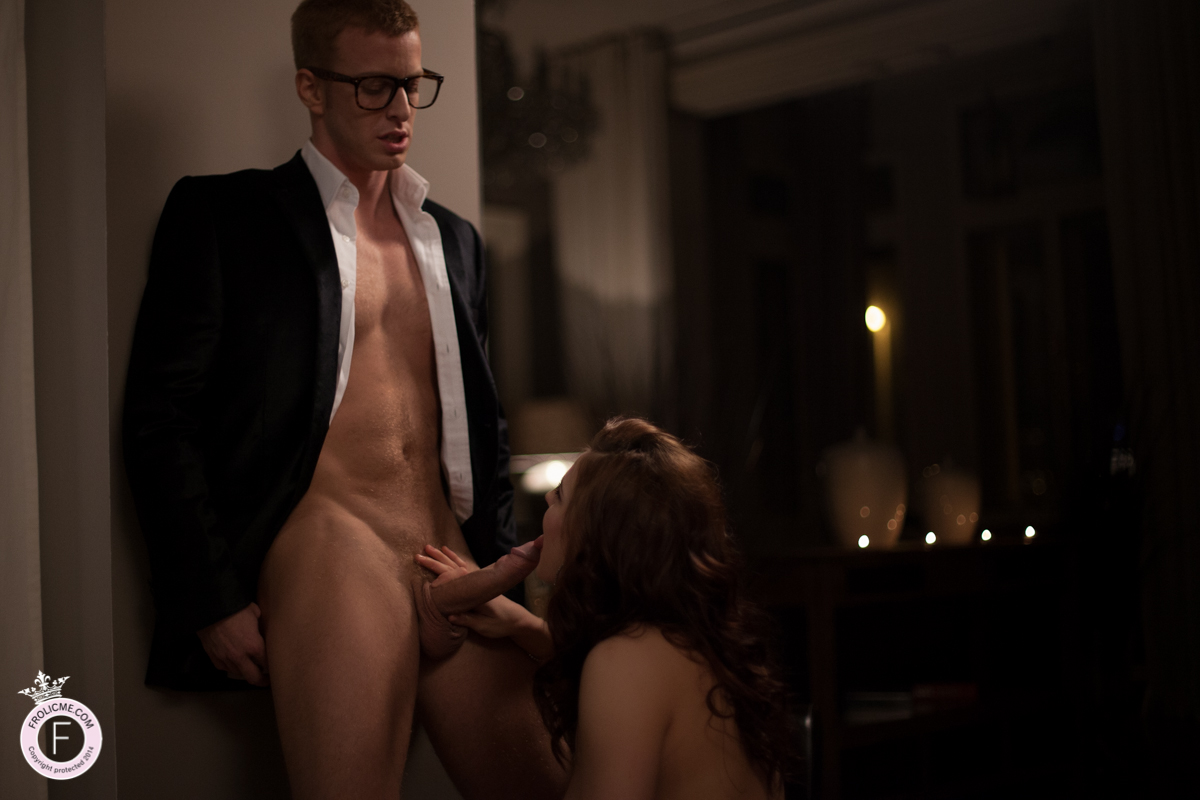 He pulled me to my feet, so I could see the full smirk playing on his lips. I quickly helped remove his shirt. For a few moments I enjoyed looking at him, standing before me completely naked and gorgeous but so short lived. My body was turned and I was thrust against the bare wall, his arms bearing down on me either side and I felt the full extent of his sexual advances hard up against me. With passionate kisses unrelenting, he traced up my neck and face planting with such desire more upon my mouth. I felt captured by my horny lover as he feasted upon me rigorously, swelling my mouth from so much attention. I felt ravished with love and lust.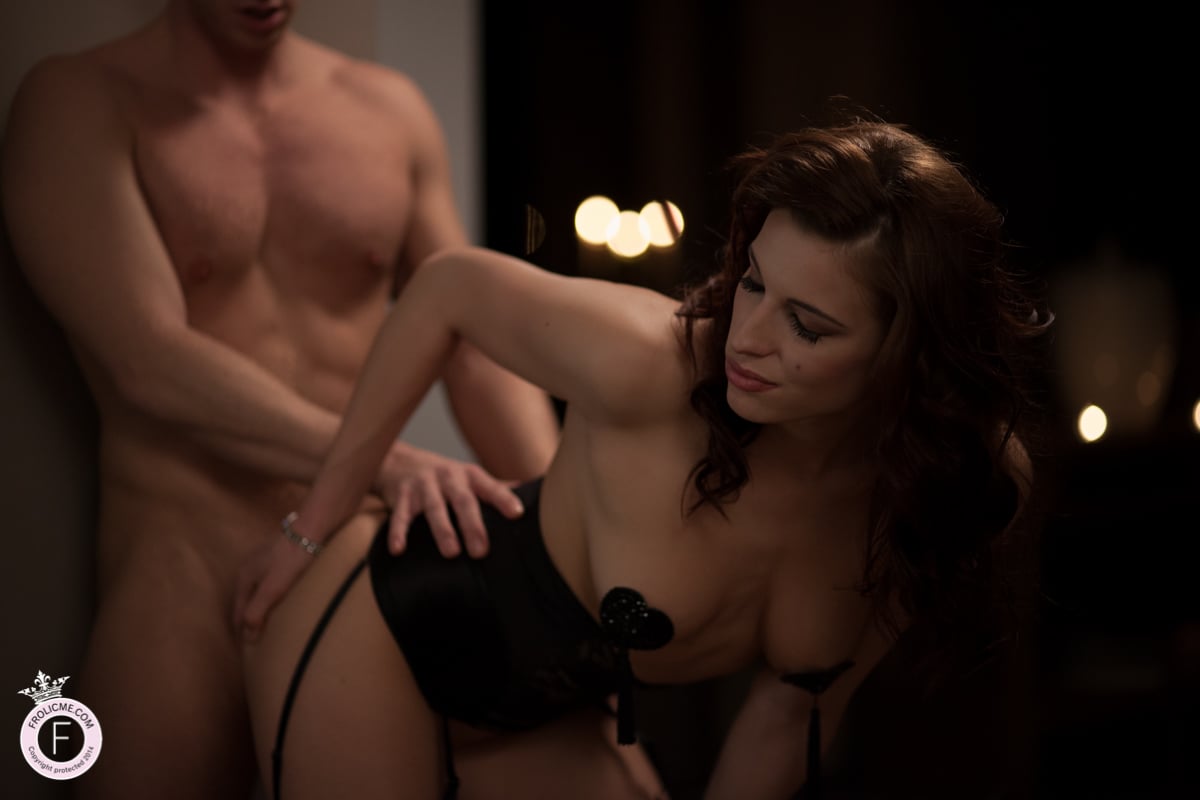 Saying nothing he moved quickly down my body to taste my sweet pussy, my juices already flowing, his kisses continued with vigour through my damp panties, while he inhaled my female scent. His tongue slipped the fabric to the side he found my sweetness, evading first with his tongue, then finger. My body quivered as he teased and flicked at my aroused clit, bringing such delicious agony and pleasure to my body. Slipping off my panties he exposed my swollen lips to be further satisfied, my pussy stretching as his fingers continue to invade my wetness. As the pleasure so overcome me he turned me round, feeling his hard cock hard against my back, he bent me forward and I felt him thrust his cock deep into my pussy. Such sweet fucking continued as he assaulted my body, I continued to sigh as I felt every long hard inch delve deep inside me. Again and again it invaded me. His rhythm quickening to a pace that developed such a strong inner wave. I couldn't stop my expression of such intense pleasure and continued to cry out with every thrust he made. Desperate for my release I felt it coming yet wished I could sustain this feeling for so much longer. Legs weakening, my body convulsed and contracted with such desirable ecstasy and I came hard with his next thrust. Unable to take any more, I wanted him in my mouth again, now it was my turn to give him that welcome release and taste his pleasure exploding in me. Squatting down I continued to devour his cock, deep and fast knowing he was close to his moment. With my mouth full with all I could take, I felt a sudden repeated pulse on my mouth and the rapid expulsion of sticky sweet trickle down the back of my throat, holding him deep in me I let him pump his sweet juices, while he cried out.
His body now damp with sweat from such exertions I gave my horny cock a lasting kiss before standing up and moving away, leaving him just momentarily enjoying the outcome of having his escort.
THE END
Now check out the amazing film ESCORT AT HOME or the beautiful erotic photograph gallery HERE
As ever, I thank all my gorgeous members for their continued support and to anyone asking themselves is this for me?…Why not take advantage of my Annual Membership and join the thousands of other women and couples enjoying all my naughty form of sexy erotica for ONLY £4.99 per month!