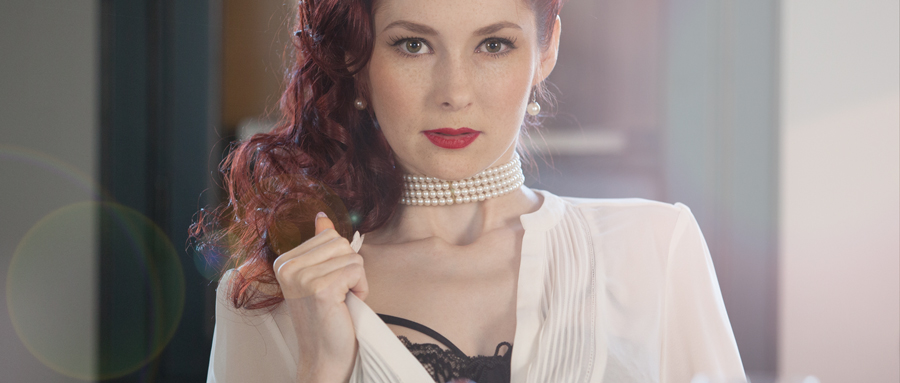 TEASEME - Story
Horny lingerie clad red-haired female teases her man at the dinner table
Comment
"I want you to play me like you played your piano," I said. "Play me, use my body."
"I have something different in mind, cheri." He motioned toward the kitchen and his chef brought out two plates.  The chef placed a plate of grapes in front of each of us.
"That will be all for today," he said.  The chef bowed and closed the door behind him as he left.
"I would like you to enjoy some sweet fruit…a dessert," he said.  I watched him stand and walk to my end of the table.  He reached in his pocket and took something out and placed it on my plate with the grapes.  "And I would like for you to perform for me as I performed for you…a solo. A masturbation solo."  I looked down and saw a small golden vibrator, and I squeezed my thighs together at the thought of the music I would make for him.
"A solo?"  His eyes looked the same as while he played.  Soft, intense, demanding, filled with lust and passion.
"Yes, mon cheri, a solo.  And if the music you make is…sweet, we will play a duet that will make us both weep."  He kissed the back of my hand and walked back to his chair and sat down to face me.  "You may begin any time, my beautiful sexy fantasy."
I took a grape from the plate and I kissed it with my dark red lips, my eyes locked on his. I let my tongue circle it until it glistened with my saliva. I bit into the soft flesh and its sweet juice spilt into my mouth.  I imagined that I'd taste a similar nectar from him soon, and my pussy tingled with the anticipation of what I was doing to myself. To him.  For him.  I lifted up from the chair and shimmied my skirt down my legs, and I spread my legs as wide as the arms of the chair would allow and took a sip of my wine.
I slid my hands across my breasts and rested them on either side of my neck before I unbuttoned my silk blouse.  I closed my eyes and caressed my skin with the tips of my fingers, and scraped the tips of my fingernails down my neck to my breasts. I imagined they were his fingers, and my skin grew taut as I shivered.  My nipples stiffened under my palms as I made soft circles with my hands.  I slid my blouse off my...
...to read the rest of this story please login or
register
to read the full story free.
Read all about the wonderful author: Erika Foxx