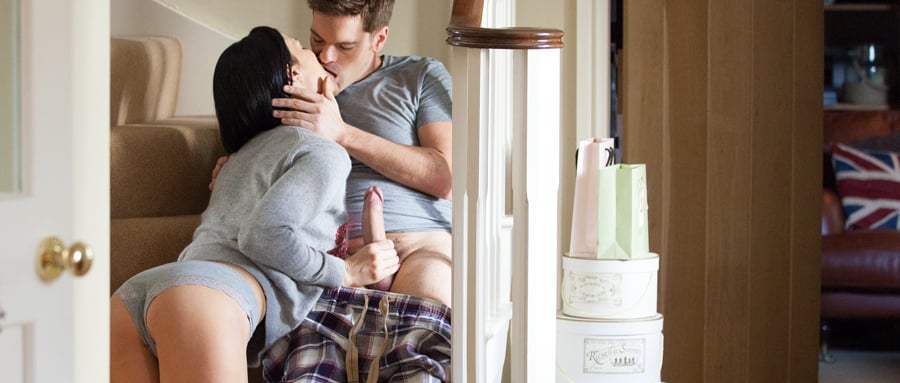 LOVE LIPS - Story
Story of husband and wife sex on the stairs
Comment
To the untrained eye, the adorable hunk in his pyjamas sitting on the stairs outside my kitchen doesn't look like a sex god from a free erotic sex story. I admit I didn't see it at first either, but after last night—oh, my God last night—I won't ever see him the same way again. Just thinking about the things he did to me, as I spy on him from the doorway, make me wet.
I want to run my hands through his hair. I want to feel his hands roaming over my body. I want to feel his lips on mine—both lips, wet with an unquenchable appetite for the unassuming man I call My Love. He looks almost innocent reading the paper and pretending he didn't have the best romantic sex of his life last night at the party. We both know better.
"Tea?" I approach him and offer my mug. My voice is still hoarse, and the crack in it makes him smile. My vocal cords can only take so much screaming and moaning in one night.
He takes the mug and sips while I sit behind him and wrap my arms around him. Last night's cologne still lingers on his skin; musk, moss, and oak. My lips kiss his strong shoulders, and I absentmindedly flick my tongue out to catch a taste of salt from last night's exertions.
He pulls me to his lips and I can still taste the hot tea on his tongue. His hands run over my legs and, without a thought, they spread open for him. I don't know if I'll ever be able to keep them closed around him again. I'm surprised the bruises on my thighs haven't shown up yet, but it's only been a few hours since he savaged my poor little pussy. Soon his finger marks will reveal themselves, where he threw my legs over his shoulders and gave me the deep fucking I begged him for. For now, he pulls away and my pussy is flooded in anticipation as his mouth moves slowly down my body.
"Be gentle. I'm still sore," I whisper. I don't know why I said it. He already knows. His mastery of my sex is instinctual…almost animal. His blue eyes sparkle along with his sly smile. His lips are feather-light as they kiss and caress my mound over my soft cotton...
...to read the rest of this story please login or
register
to read the full story free.
Read all about the wonderful author: Veronica Savage