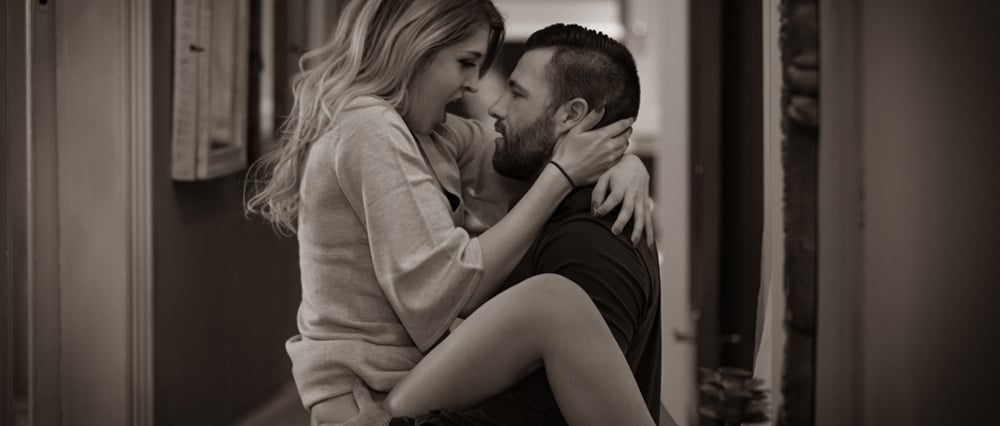 ONE FOR HIM - Story
Steamy passionate lovemaking story as couple rekindle their desire
Comment
Life had become so hectic recently, Max was up for a big promotion and he'd been working longer and longer hours at the office. Sometimes he didn't get back home until late, organising business strategies or preparing sales pitches for new, important Belgian clients. Rhiannon knew that she was being selfish, but she couldn't help it—she thought back to the early days of their marriage when they couldn't seem to keep their hands off each other. They'd only been married three years but already their original chemistry and romantic sex seemed to have become side-lined as they struggled to manage the demands of their busy lives.
She'd been thinking of the way that she used to wear the sluttiest lingerie she could find—of the thrill she used to get from his fingers stroking the top of her thighs and teasingly playing with her stocking tops as they sat together on the sofa. It hadn't taken her long before she'd straddle him, riding him hard while the TV blared, forgotten in the background.
Rhiannon ached to rekindle the raw desire of those early days and vowed that tonight would be the night. He wasn't just going to come in, collapse on the sofa and fall asleep—she was going to seduce him and make him rediscover the way he used to need her, the urgent way they used to fuck.
It was seven o'clock before she finally heard his car pull up outside. Rhiannon had been longing for this moment, waiting for him at home alone all afternoon. She was on her two weeks' annual leave from work and had spent all day thinking about him, about the hotwife sex she was dying to put out on. She'd planned a surprise show for him, something she knew he wouldn't be able to resist. The sound of the door opening and car keys jangling onto the hall table sent a rush through her.
After a moment, her heart racing, she steadied her voice and called, "I'm in the living room!"
As he stood at the doorway and looked at her, she witnessed the tiredness of the day drain away as he saw her sitting there waiting, wearing a soft grey cashmere jumper and nothing else. It was just long enough to skim the tops of her thighs and was so low cut it revealed her flimsy bra, giving him a tempting glimpse of her pert nipples, straining to escape from the delicate lace. Her body was tanned, glowing in the light of the table lamp and she'd made sure her long, blonde hair hung sexily over her breasts in tousled waves.
It was a late spring evening, still light but just dusky enough to give a seductive glow to the room. She sat on the armchair in front of him knowing full well that the way she looked right now was guaranteed to get him feeling horny and take his mind off a tiring day at the office.
Her skin was so hot, it felt like she was on fire with yearning and need. Savouring the frisson of shocking him, she slowly uncrossed her legs and spread them wide to show Max her sheer lace panties. Pulling the crotch to one side, she revealed her tight, shaven little pussy, already aroused, and glistening with juices. Looking at him brazenly, she wriggled her hips to tease him and show him her juicy slit. Her fingers traced the outline of her pussy lips, pausing deliberately over her clit and stroking it with exaggerated slowness.
He watched in silence, a leisurely smile of anticipation playing on his lips as he untied his tie. Without taking his eyes off her, he threw it on the floor. Next, still holding her gaze, he unbuttoned his navy shirt to reveal a smooth, ripped torso, a line of dark hair snaking its way down from his navel to his belt.
"Oh baby, you look so good. I could eat you." His voice was low with sexy approval and his eyes shone with longing.
Rhiannon could see he was already hard by the way his trousers strained across his swollen cock. She knew Max couldn't wait to fuck her, but first, she wanted to put a show on for him to tempt him into giving her what she wanted. She'd been thinking about this, imagine how much fun they were going to have. A break from the stress of her job as an Office Manager had given her the chance to recharge, to relax and pamper herself with a pedicure and a leg wax. She felt relaxed, revitalised and now she was ready to have a little fun. Oh yes, the thought of being his hot wife, waiting for him with an appetising pre-dinner treat made her feel so naughty. Her pussy had been damp and aroused, thinking about him, but she'd resisted the urge to play with herself, preferring to wait and enjoy their time together.
Half closing her eyes, Rhiannon licked her fingers ever so slowly and moved them in and out of her lipsticked mouth. Tugging her jumper aside, she traced a line down her flat stomach. She watched Max's face carefully as her hands moved up to cup her tits and start pulling on her nipples so that they puckered and stood up, hard and rosy, ready for him to suck and gently bite.
Click here to listen to my new audio porn stories...
The show was too much for him to just stand by and watch. Rhiannon bit her lip as he pushed her further into the chair and knelt down, almost ripping her panties off in his haste to plunge his face between her legs, sucking her clit powerfully, his tongue and skilful fingers probing inside her.
Rhiannon held his head, ran her fingers through his hair and pulled him in closer until she felt his tongue hitting her sweet spot, lapping at her pussy urgently. She squirmed with desire and cried out, her breath ragged with arousal, "Oh God… I've been waiting for you all day, fuck me, please…"
Max quickly knelt back up to unbuckle his belt, unzip his trousers and free himself, he dragged her down the seat whilst she wriggled in anticipation, pulled her panties to one side, and rammed his cock right into her open, juicy cunt. She gasped at the force of him filling her up, wrapping her legs tightly around him as he pounded into her, harder and harder.
God, this was so good—Rhiannon moaned as Max manhandled her, dragging her off the chair so that he was behind her. He bent her over the arm of the chair, ass in the air, she held herself wide open as he slid back in, filling her so deep that she could feel every hard, swollen inch of him.
Max used the flat of his hands to spank her playfully, first one tender buttock then another as he pounded into her. Each thrust and each smack brought Rhiannon closer and closer to ecstasy. Her pussy tightened around his cock and Rhiannon bucked, arching back against him as the force of her orgasm gripped her in exquisite waves. Her face was crushed up against the chair, but Rhiannon could still hear him breathing hard behind her and knew that he was close to climax too.
"Max, not yet, don't come yet, baby, come on, let's go up to bed, I haven't finished with you," giggled Rhiannon, "Let's take this upstairs."
Smiling mischievously, Max followed her into the hallway, he pulled up her jumper as she swayed in front of him to reveal her pert, bare ass cheeks and squeezed them as she led him towards the stairs. They hadn't done this in so long and now it was like a switch had been flicked and all their horny, pent-up frustrations had come tumbling out. He pushed her against the bannister at the bottom of the stairs, his fingers searching for her hot little clit through her panties and rubbing it insistently.
"Wait," said Rhiannon, turning around, and stopping him with an outstretched hand placed firmly against his bare chest, "I need your cock in my mouth first."
Max groaned softly, showing his enthusiasm. He leaned back against the doorway and she turned to squat before him, legs apart and gazing up at him as he twisted her long hair back, away from her face.
"You know how much I used to love doing this, Max. You've been working so hard; you deserve a treat."
"Yeah, it's been so hard, you need to feel how hard it is." He grinned wickedly as he guided his cock towards her warm, waiting mouth.
She licked her lips and opened up to take it. With a tender, teasing motion, she circled the glossy head with her tongue and tasted the salty pre-come already oozing from the tip. Rhiannon swallowed it down greedily as his hands slid through her blonde curls. A look of lust flashed across his eyes just before they flickered and closed.
Max grunted and held her scalp, controlling the speed and depth of her mouth as it enveloped him.
As she sucked him deep into her throat, she stuck her fingers into her knickers to play with her wet pussy, plunging her them in and out, right up to the knuckle. She was in a frenzy, delving deep and then pulling out to rub her clit. She couldn't wait for him to fuck her again but, oh God, this felt so good!
"Don't play with yourself—use your hands on me!" Max commanded and she obediently sucked them clean of her juices before putting them around his cock and stroking rhythmically up and down.
Her hot pussy throbbed, and Rhiannon dripped with lust at swallowing his girth. She couldn't help feeling a naughty clench of desire at how dominant he was, it made her crave him even more, and she ached to be fucked by him again.
She sucked his swollen cock, tightening her lips around it. With the flat of her tongue underneath his length, she sucked him the way she knew he liked it, and he began thrusting, fucking her mouth hard.
Pausing for a moment, she withdrew her mouth, "Better now?" she asked and gazed up at him, licking her lips and opening her eyes wide with pleasure before sucking him once again, as deeply as she could.
*
"Mmm, yes, much, much better, now come here." He pulled her up to in front of him and quickly tore her lace panties down so that they fell around her ankles. He was the horniest he'd been in weeks. He'd been so stressed at work these past few months and he knew that he'd neglected Rhiannon, always putting business before pleasure, and forgetting all about his beautiful wife.
Not anymore—thoughts of him and Rhiannon in the first days of their marriage fuelled his desire—they used to fuck everywhere they could, like horny teenagers. He remembered the thrill of almost being caught in the dark of the packed cinema and she'd made sure he was watching before she hitched up her mini skirt and opened up her legs to finger herself until she came. Or the time when they'd fucked in the toilets of their local Italian restaurant, Rhiannon's hands clamped over her mouth to stop herself from making any noise. Max's mind was flooded with umpteen images of Rhiannon sat astride him in the car. She loved doing that—there had been one particularly hot August day when they had parked by the river. Rhiannon was braless, her slutty nipples pressing up against the fabric of her floaty, white dress, it was so flimsy, it was almost see-through. He'd roughly pulled her dress open to expose her tits and hitched it right up around her waist. She had cried out in ecstasy as she rode him, the pleasure making her quiver and squirm as she bounced up and down, the steering wheel pressing against her back.
The show that she'd put on for him in the living room when he first got home had recalled those sultry days and he was overwhelmed by his hunger for her. The sight of her looking up, doe-eyed as she sucked him was almost unbearably hot. He had to have her, oh yes, and now he was going to have her right there in the hallway. He couldn't wait for them to get upstairs, it had to be right now.
He bent her over, spinning her around so that she could show him her gorgeous, slick cunt, holding herself open for his viewing pleasure. She knew how much he liked to see that. Breathing hard, greedily massaging her nipples and kneading them roughly, he stood behind her and rammed his cock inside her again. Rhiannon stretched her arms out wide to grip the windowsill as he pounded into her, the force of it making her gasp. Max used one hand to hold her hip, pulling her closer into him and the other to pull her hair back and bring her head upright. Whimpering, she arched her back to show off her delicious curves before turning to look at him for a moment, her eyes hazy with lust.
*
Rocked by Max's urgent rhythm, Rhiannon's mouth curled into a contented smile. It seemed her saucy antics earlier had been successful. They had the desired effect and now she was going to get her reward. All those months of frustration and all-day imagining just how hot it would be when she and Max got together again. Now she'd turned Max on, she'd triggered all his desires and the sex was unstoppable, uncontrollably wild.
"Baby, yes, yes, yes, fuck me," she squealed as Max ploughed into her, his cock thrust deep inside. The hot smell of him and the musk of her juices enveloped her, mingled with the faintly sweaty scent of his day at the office.
Finally, he lifted her cashmere jumper over her head, tore her lacy bra off and she was naked, her body writhing as he crushed her up against the windowsill to fuck her some more. He pulled the voile curtain open and she was vaguely aware of traffic passing on the busy road outside. She thought about how horny it must look—Max behind her, fucking her fast and her eyes rolling back, moaning in wild pleasure as her breasts bounced up against the glass. Ah well, it might give them something to think about on their journey home. Perhaps they had hot wives waiting for them too, perhaps it might remind them not to neglect them? The thought that someone might see made her even wetter and she could feel the heat of her juices dribbling down her legs as she spread them wide.
He turned her around to face him and picked her up in one swift movement so that she sat astride him, his hands holding her ass and her long legs stretched out wide so he could pound her some more. One foot was extended out in the air and the other was wedged against the bannister, her toenails painted a vampish, glossy red. Her arms were wrapped tightly around him, and she moaned as she drew him in, deeper and deeper. Traffic noises roared, and she thought of all those shocked commuters' faces. They must be able to see Max's muscled back, gleaming with sweat, against the window, him holding her up to fuck her and her legs spread out either side of him. They must be able to see her face, moaning with desire and Max holding her as he bounced her up and down, moaning, "Yes – oh God, yes!" as the intensity built between them. The thought of them being seen drove her wild and she tilted her face to give them a better view.
"Please baby, come for me," she groaned, "You need to come."
Max was only seconds away now; her quick gasps of pleasure as he ploughed into her were irresistible. Unable to hold back any longer, his cock pulsed, and her pussy gripped him tightly as hot jets of come flooded inside her, wave after wave, as she screamed out his name.
"Fuck, Rhiannon, that was amazing. You know what I need, God, you know me so well." Spent, he let her down gently and they stood breathless, facing each other while the room stopped spinning around them. His arms were still locked around her and he looked intently into her eyes.
"I guess we never made it upstairs, baby, what happened to waiting 'til we were in the bedroom? You couldn't wait to have me, could you? Greedy boy, I think I made you too excited." Rhiannon giggled, gazing at him in mock sternness and stroking her fingers teasingly up and down his shoulders.
They were both panting with exhilaration and basking in the afterglow of their naughty hallway adventure.
"Darling, I don't care, that was wonderful," he murmured as he kissed her tenderly and nuzzled into her neck, "Oh my God, I needed that."
And so did I, thought Rhiannon, it seems to me that my plan worked perfectly.
The End
Read all about the wonderful author: Sophia