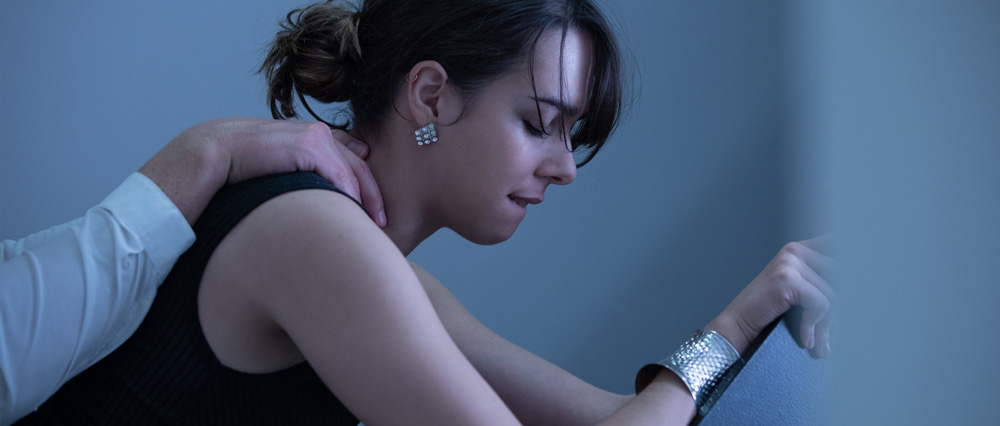 MIDNIGHT MOOD - story
Adult sexual story of an intimate liaison
Comment
Harry Marx sat at the foot of the stairs as drunk as he'd been in a while. Drunk enough to be there, drunk enough to have agreed, drunk enough to be led here to the bottom of Tom's staircase at midnight, led here by the pair of damp knickers that still sat in his jacket pocket, scrunched and fragrant and feeding the coals of his banked-up lust. Lust for Felicity, his boss's hot fucking wife.
This had been building for a while. In the kitchen, Felicity held a full glass of water and leaned against the cool edge of the sink, feeling the countertop bite into her belly, the sharp edges hard against the crests of her pelvis. She looked at her reflection in the window and drained the glass. Tom had been away for most of the month, and Felicity had been very good. She'd stuck with her toys and her own fast fingers, stuck with strangled conversations mobile to mobile, the thing nestled in her pillows while she tugged and thrust and shared her needs with her absent, similarly gasping husband, as she masturbated herself into oblivion.
Tom, you terrible slut, she thought. I was a good girl once, but then you told me that I needn't be. Felicity remembered Tom watching her watching Harry at the beach. That dumb summer barbecue, enlivened by Harry's trunks. She'd been letting her idle mind – a little buzzed by cheap prosecco – drift over Harry's tan torso under his Tommy Bahama shirt, and had felt her mouth open slightly when she noticed the length of him, the easy movement of his half-curled cock in sea-damp black. She wanted suddenly to be in the surf with him, naked as a seal. And then Tom laughed in her ear and said:
"Quite something isn't he?"
For half a year or more, Harry had been in their bed. It was Tom, at first. The whispered fantasies of couples fucking with another man. Harry's hands under her dress, tracing her outlines through a whisper of tights. Her hands in his flies in a stock cupboard. Harry's cock in her mouth, Harry's come spilling down her shaking legs. At a wedding, they went to, after hours at a conference, on the back stairs at work. She had to admit they weren't far from her own. And then last month the invite had landed. A weighty old-school thing on glossy card stock. The 150th anniversary of Gallowglass & Rudd. Dinner at Aubrey's with dancing to follow. Tom couldn't go – off to Berlin – but everyone else would be there for sure. Tom had scribbled on the back of it as he left. "Now's your chance." Yes, this had been building for a while.
Felicity looked at...
...to read the rest of this story please login or
register
to read the full story free.
Read all about the wonderful author: E T Costello
You can also listen to this story