ONE FOR HIM - Film
Elegant video of a young couple making love in the hallway
Comment
Real passionate sex doesn't need to be limited to a bedroom. Nor should it. Spicing up the moment with some sexy spontaneity can mean some very hot sex can happen just about anywhere in a home. A hallway is most definitely not an exception as we see in this sexy video of a young couple making love.
Max and Rhiannon can't resist taking the opportunity from a cheeky meaningful embrace to get hot and horny just where they stand.
Imagine being out for the day and so turned on by each other that by the time you get home you are literally tearing each other's clothes off as you stumble through the front door. It's this level of passion that we witness from this young couple making love just as Rhiannon steps back into their home.
That feeling of utter desperation to be intimate and sexual with someone can be really distracting and you simply can't wait to be alone to let that raw lust out.
Rhiannon perches on the hallway windowsill and Max starts to finger her right there as she spreads her legs for his ministrations. Still with their clothes half on she drops to her knees and begins sucking his big dick, feasting on his hard length kneeling in the hallway. It quickly becomes clear that their want for each other is too intense and they need to be fucking, right there, desperate and lustful they take their pleasure in this passionate couple sex video.
There's no denying the connection and passion between this young couple making love, devouring each other, as we get to watch their beautiful bodies intertwine. It's a gorgeous moment when Max lifts Rhiannon onto his cock and holds her high while they fuck.
A lovely scene of frantic passion culminating in some good hard sex up against the doorframe.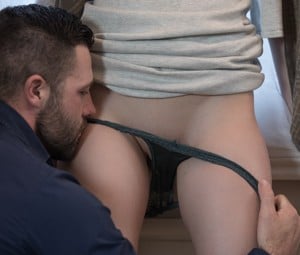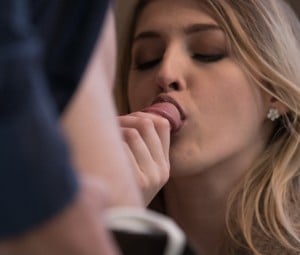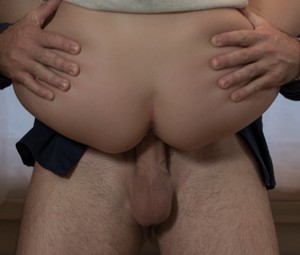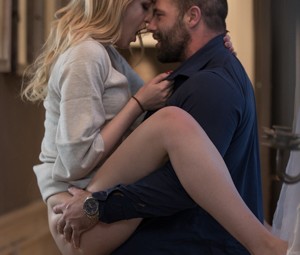 Other Films you may enjoy
Below is a selection of recently updated films and stories, just click on the image to view in greater detail