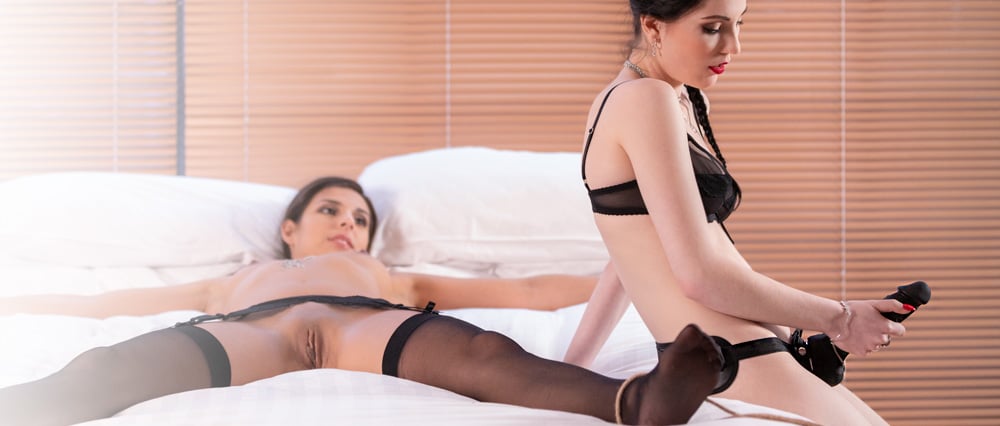 MEET MR BLACK - Story
Sexy lesbian story of girls enjoying a strap-on
Comment
Mia and Angela were having a girly weekend in London. Mia had booked an urban-chic Airbnb and train tickets, Angela just had to pack a bag and turn up at the station!
They spent the morning exploring Camden market. Amid the bustle of leather goods and clothes, the jewellery stalls had drawn Mia like a magpie. She'd treated herself to some dainty new rings, and Angela bought her a pretty silver bracelet which emphasised her fine-boned frame.
Late morning, when they were browsing leather corsets at a steampunk stall, Mia got the idea to visit Soho next.
"Let's grab something to eat, then go shopping for sex toys! Spice up our lesbian sex."
Both girls giggled, but Angela blushed. "Really? Won't it be sleazy? I'd rather get that stuff online, where we can read the reviews."
"But we've got nothing to play with this weekend! We could try a little BDSM"
Mia was persuasive, letting her hand rest on the dip at the base of her girlfriend's spine, long nails teasing under the edge of Angela's t-shirt.
"Please Pixie? Anyway, I've already read lots of reviews. I found some great bloggers who are bi-sexual, so I've made a list of what I'd like us to try."
Angela thrilled to Mia's subtle teasing touches, melting at the use of her pet name, 'Pixie'. Their relationship was new. So far their sex play had been limited to lips and tongues and fingers. Of course, each girl had a vibrator, Angela's was tiny with an angled tip for pinpoint clitoral stimulation. Mia's was more girthy with a curve to reach her g-spot, but she'd left it at home.
"It makes sense," Angela pretended to be thoughtful. "Okay – lets!"
As Mia hugged her close and kissed her, fizzy with delight,...
...to read the rest of this story please login or
register
to read the full story free.
Read all about the wonderful author: Posy Churchgate