MEET MR BLACK - Film
First time strap-on for the girls as they experiment
Comment
OK girls so what if you fancied switching things up a bit. Clearly, the one aspect missing from girl on girl fun is a hard penetrating appendage in order to extend your repertoire of sexual pleasure. So we thought we would introduce one in this first time strap-on scene.
So believe it or not, strap-ons are becoming a bit of a go-to accessory not just for lesbians lovers wanting to ensure they have another means of fucking their girl and fulfilling her wants but there are also the girls wanting the sexual thrill of knowing they can take their man and dominate his pleasure.  Either way, it's not because anyone feels they are missing something, but that there is more fun and pleasure to be added.
For some, it might be a step too far, but once you become a firm lover of your dildo, the strap can offer you some additional sexy freedom and allow you to go hands-free.
Here in this visually sexy erotic movie portraying some light and fun same-sex action, our eyes are soon taken by the large black strap-on, Mr Black, who is the mainstay of the naughty action between these giggling girlfriends, as they play in this new sex toy porn video.
Harness adorning the petite little figure of Mia, the big cock is ready for lubing, the girls find the first time strap-on use a fun extension of their girlie lesbian sex play.  Steering the strap-on carefully both girls enjoy the sensation of receiving Mr Black. Gently at first, easing him into action. This is no quick fuck but a slow intimate exploration of feminine pleasure and first use of such a sex toy.  The kinky sex here is fun and playful with an erotic tease of girls enjoying the initial thrills and stimulation of managing a black dildo handsfree, albeit strapped firmly into place.
We have to remember there is always a first time for everything and more to explore with Mr Black.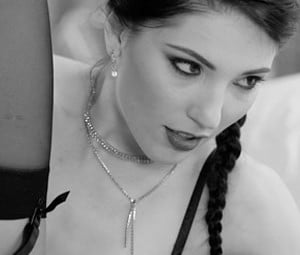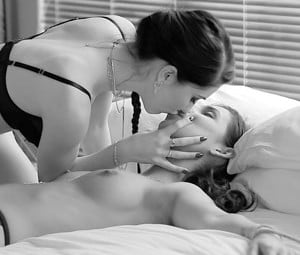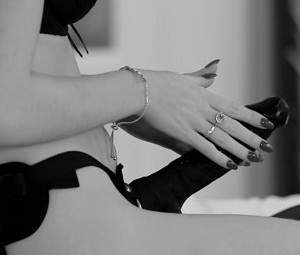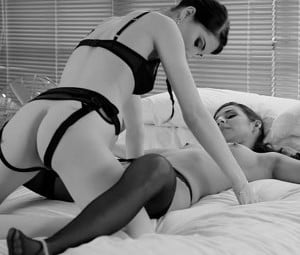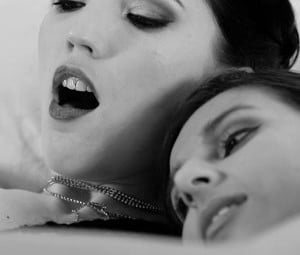 Other Films you may enjoy
Below is a selection of recently updated films and stories, just click on the image to view in greater detail