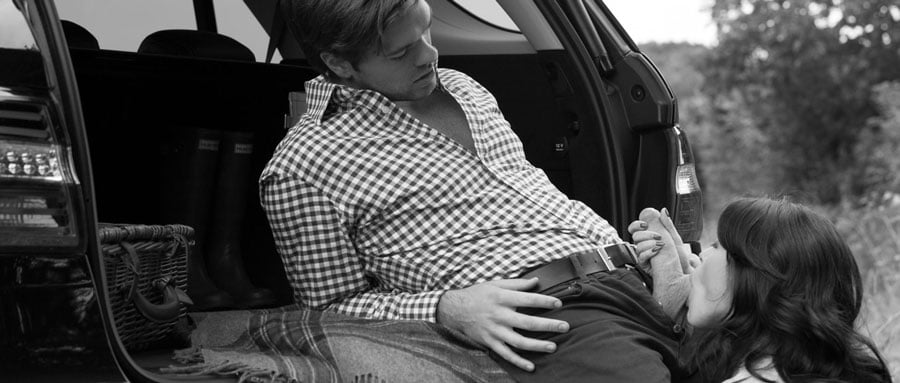 DRIVE ME CRAZY - Story
Couple enjoy a risky outdoor fuck session
Comment
There are times you create your moments and others when you seize them, for me I was grabbing with both hands every part of him and every second. How can just a few thoughts arouse such wetness in me? But I could feel juices forming while my muscles ached with anticipation. Here and now was pure delight, and my body was aching to be consumed, devoured and had and the chance to pleasure in return. A chance to be alone and in such a perfect location had found me and I wasn't going to turn my back on it.
Seeing him leaning over his knees putting on his boots, I slide up by his shoulder and begin to plant my soft kisses on him.  Already I can't help feeling so heady, I can smell him close, breathing in his warm scent, my mouth so quick to feel his, nothing in my body could tell me otherwise. My gentle yet demanding lips are quickly upon those of his masculine fleshy mouth. But moments are all that are needed before I feel us both searching and exposing our sexual craving. How I so love to kiss him, feel how intimate we both are and how his kisses arouse in me such a burning appetite of crazy lust.
I glance around at such a tranquil spot, how perfect for some outdoor sex and peaceful away from anything or anyone. There's a little wildness too in its unkempt landscape, just a few clumps of trees, little bracken, and wild grasses nothing perfect but all uninhibited, which just adds to my spontaneous and impulsive feelings. What a perfect place to be in, here with him.
The afternoon air feels fresh, a clean cool feeling in my sheer blouse. I turn and find myself quietly admiring him from just a few feet away. Scanning my eyes over his features I can't help...
...to read the rest of this story please login or
register
to read the full story free.