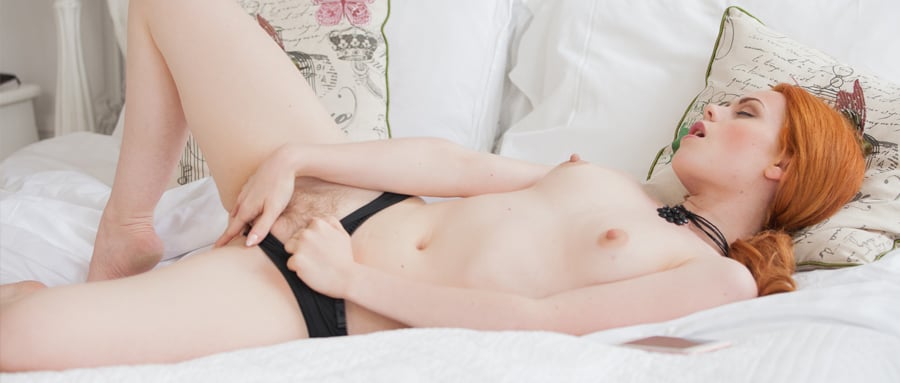 GOOD VIBRATIONS - Story
Female masturbation story of sensual solo pleasure
Comment
She was perfect, and she knew it. Tall, gorgeous, with long red hair, pouty lips, a slender neck, small yet pert breasts, and a body that made everyone she walked past jealous with envy. She was literally a goddess on stilettos, and she made sure to flaunt her perfect, God-given beauty everywhere she went.
Not in a mean way, of course, like those petty high school girls who cling to the arms of the fittest jocks. No, she was much too sophisticated for that. She let her beauty be known in more subtle manners—a flick of the eye. A lingering stare. A glance across a crowded bar.
"Come get me, if you dare," was generally her state of mind when she got dressed up for the evening and went out on the town looking for a good time.
There were a few men she'd had her eye on recently who were victims of those lingering stares—and a few women, she had to admit, as curiosity often found her interacting with both sexes. Yet, as she flipped through her mobile phone while lying across her bed she knew none of the numbers she had acquired would provide her with the release she needed. There would be a fine dinner, maybe some dancing, and it was nearly guaranteed whomever she did choose to spend the evening with would end up returning to her flat where they would spend the hours until morning shagging good and hard.
Except she didn't want that—not tonight.
She wanted adoration. Pure, intense, adoration of her beauty. Romantic sex. 
She wanted to be ravished.
She wanted to be pleasured beyond compare. Her body craved the deep, exquisite release that could only come from true, pure adoration of her perfect, heavily form. An adoration she had masturbated out many a time. While there was a chance this type of adoration may be found in a midnight encounter with a total stranger, or a devilishly naughty romp at the hands of a talented lover, there was no denying...
...to read the rest of this story please login or
register
to read the full story free.
Read all about the wonderful author: Sidney Sitravon